Virginia, State With Most Recorded Executions, Set to Ban Death Penalty
Virginia Governor Ralph Northam is expected to sign legislation outlawing capital punishment that passed both chambers in the state legislature on Monday.
The legislation will make Virginia—the state with the most recorded executions in U.S. history—the 23rd state to ban the death penalty.
Northam, a Democrat, previously voiced support for outlawing capital punishment and celebrated the final steps state lawmakers took on Monday to make the change official.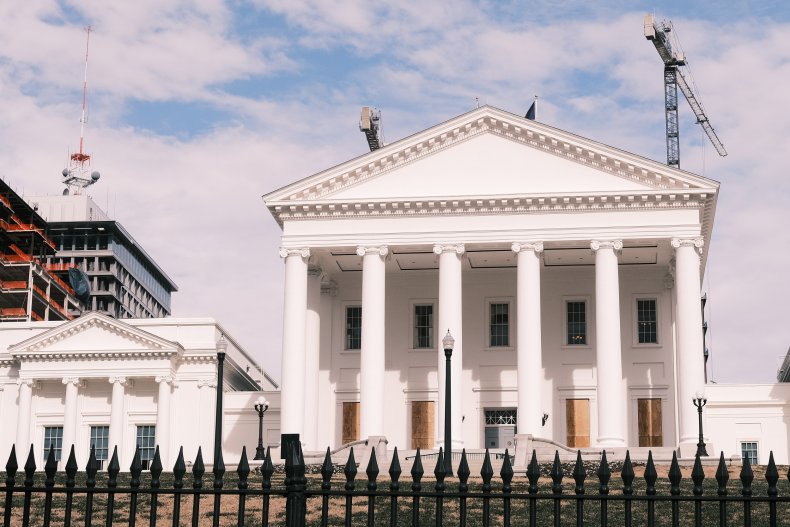 "With final passage in the Virginia House and Senate, our Commonwealth will soon join 22 states in abolishing the death penalty—an important step in ensuring our criminal justice system is fair and equitable," Northam wrote on Twitter.
Northam also issued a statement in collaboration with Virginia House Speaker Eileen Filler-Corn and Virginia Senate Majority Leader Dick Saslaw after the legislation cleared its final hurdle.
"It is vital that our criminal justice system operates fairly and punishes people equitably. We all know the death penalty doesn't do that. It is inequitable, ineffective, and inhumane," the statement began. "Over Virginia's long history, this Commonwealth has executed more people than any other state. And, like many other states, Virginia has come too close to executing an innocent person. It's time we stop this machinery of death."
"Thanks to the vote of lawmakers in both chambers, Virginia will join 22 other states that have ended use of the death penalty. This is an important step forward in ensuring that our criminal justice system is fair and equitable to all," it concluded.
The American Civil Liberties Union of Virginia (ACLU-VA) also celebrated the legislation's passing on Monday.
"In Virginia, the death penalty has always been about race," the ACLU-VA said in a statement highlighting the racial disparities in death penalty cases. "We are grateful that our legislators finally acted to abolish this racist and inhumane practice. As we celebrate, we acknowledge that it is thanks to the collective work of so many advocates and organizations over many years that delivered this victory for justice today."
Virginia has more recorded executions than any other state in the nation, with the Death Penalty Information Center (DPIC) reporting 1,390 death row prisoners who were put to death—including military and federal executions—in total. The state, which executed more than 100 death row inmates since the mid-1970s, last executed an inmate in 2017 and currently has two prisoners on death row, according to the DPIC.
Democrats, who currently have a majority in Virginia's state legislature, led the efforts for a capital punishment repeal, according to the Associated Press. Though some Republicans who opposed the legislation questioned the punishment that death row inmates would receive in lieu of the death penalty, both chambers approved versions of the legislation by Monday afternoon. Two Republicans joined Democrats in approving a version of the legislation in the state House, and one Republican joined Democrats in approving the version that passed in the Virginia Senate, the AP reported.
Newsweek reached out to Northam's office for further comment and will update this article with any response.