Virginia State Representative Suggests National Guard Be Called to Force Enforcement of New Gun Legislation
Virginia representative Donald McEachin suggested Wednesday that Governor Ralph Northam may have to call out the National Guard to enforce the stricter gun laws Northam wants to pass. Northam brought up the new laws after more than 70 places in Virginia plan on declaring themselves Second Amendment Sanctuaries.
In Second Amendment Sanctuaries, cities have the option of not using public funds to enforce laws that could restrict the gun rights of residents.
"If we have constitutional laws on the books and law enforcement officers are not enforcing those laws on the books then there are going to be some consequences, but I'll cross that bridge if and when we get to it," Northam said, according to WSET.
Newsweek reached out to Governor Northam's office for comment but did not receive a response in time for publication.
McEachin commented on Northam's statement saying military force may have to be utilized to make sure gun laws are enforced.
"I'm not the governor," McEachin said, "but the governor may have to nationalize the National Guard to enforce the law. That's his call, because I don't know how serious these counties are and how server the violations of law will be. But that's obviously an option he has."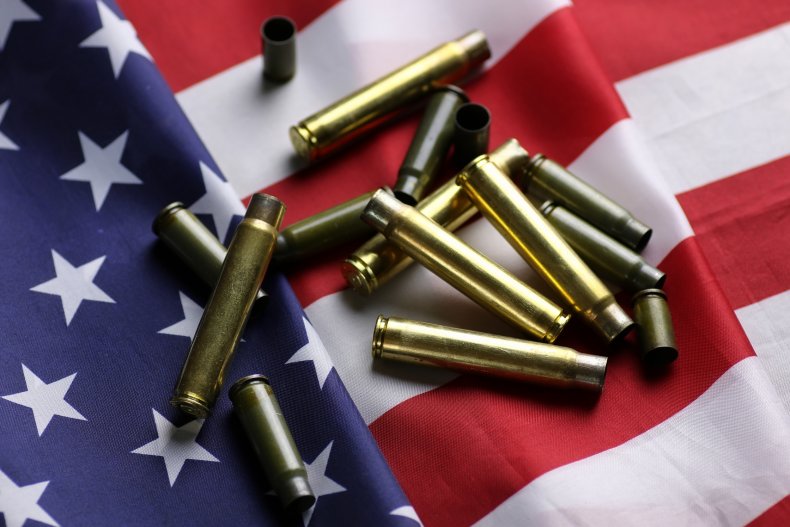 McEachin also suggested removing state funding from areas that do not comply with Northam's gun laws.
"They certainly risk funding, because if the sheriff's department is not going to enforce the law, they're going to lose money," McEachin said. "The counties' attorneys offices are not going to have the money to prosecute because their prosecutions are going to go down."
Today, the Virginia National Guard responded to both McEachin's comment and questions from Virginia's citizens.
"We have received multiple questions regarding proposed legislation for the 2020 General Assembly session and the authority of the Governor of Virginia to employ the Virginia National Guard in a law enforcement role," the Virginia National Guard tweeted on behalf of Adjutant General of Virginia Major General Timothy P. Williams.
"We understand and respect the passion people feel for the U.S. Constitution and 2nd Amendment rights," the tweet continued. "We will not speculate about the possible use of the Virginia National Guard. We have not received any requests from the Governor, or anyone on his staff, about serving in a law enforcement role related to any proposed legislation."
Second Amendment Sanctuaries gained popularity in Virginia after the legislature attained a Democratic majority in the last election. Believing their "right to bear arms" as protected under the Second Amendment of the U.S. Constitution would be threatened, some conservatives have turned to the idea of Second Amendment Sanctuaries in order to keep their rights.