Virginia State Senator Who Attended D.C. Protest Asked To Resign
Amanda Chase, a Republican state senator and gubernatorial candidate in Virginia, has been asked to resign by some of her colleagues after attending a pro-Trump riot at the U.S. Capitol that ultimately turned violent and deadly.
Chase attended the "Stop the Steal" rally for President Donald Trump in Washington D.C. on Wednesday afternoon, but said she left before rioters violently stormed the Capitol building.
However, she has since praised those who participated in the riot, and has suggested without evidence that outside agitators posing as Trump supporters may have been responsible for the violence.
In response, Virginia Senate Democrats issued a statement accusing Chase of "empowering a failed coup d'état," and calling on her to resign.
"As we all watched in shock and disbelief at the insurrection in Washington, DC, Senator and gubernatorial candidate Amanda Chase was horrifyingly empowering a failed coup d'état. She galvanized domestic terrorists who violated the United States Capitol on Wednesday afternoon through riots, destruction, and desecration, joining them on their march to Capitol Hill," the Virginia Senate Democratic Caucus said in a statement on Friday.
"Senator Chase has not demonstrated either good judgment or leadership for Senate District 11 or the Commonwealth of Virginia. It is in the best interest for the Senate of Virginia and her constituents to resign," the statement added.
In a Facebook post on Wednesday, Chase said she attended the rally to "represent those of us who believe this election was stolen from We the People. This was not a fair, free election. We don't believe the lies, deception and complete stealing of this year's 2020 Presidential Election."
Chase said the riots could be the beginning of "a revolution" in a video message uploaded to her political account that evening, according to the Chesterfield Observer.
"When you give them no other options, when you cheat them of their elections, when you take away their constitutional rights and freedoms, you're backing patriots like myself into a corner. We would like to have a peaceful [resolution] to the events of today, but as you can see, there are already many patriots that have ... we've had enough," she said.
Five people died as the riot broke out, including Brian Sicknick, a Capitol Police Officer and Iraq War veteran, Ashli Babbit, an Air Force veteran, was shot by Capitol Police and later died from her injuries. Three others died from undisclosed medical emergencies.
Additional damage includes broken windows, shattered glass, ransacked offices and stolen property from the Capitol building.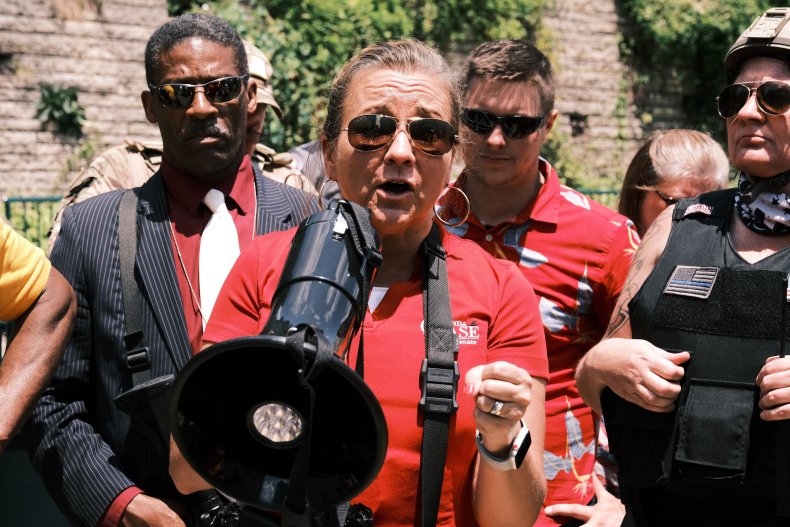 On Thursday, Chase wrote two Facebook posts accusing ANTIFA of infiltrating the rally and initiating the violence. Facebook has since flagged the posts for violating its company policies and has suspended Chase's political account for the next 60 days.
In response, Chase accused the social media platform of eliminating "any free speech or expression that doesn't meet their narrative."
"The liberal left controls social media and systematically targets vocal supporters of President Trump. It's an all out collaborative effort to silence our voices...this is an all out attack on our First Amendment right to free speech. Facebook has weaponized its community standards policy to eliminate any free speech or expression that doesn't meet their narrative," Chase told ABC 8News.
Chase is currently one of two elected officials seeking the Virginia Republican Party's 2021 nomination for governor.
Her opponent, Republican House Delegate Kirk Cox, called the attacks on the Capitol "an affront to the Republic."
"I am both heartbroken and angry at what is happening. America is so much better than this. My sincere prayer is for the unending and matchless mercy and love of our God to rain down on this country at this moment," he said in a statement.
In response to the calls for her resignation, Chase said Friday that Senate Democrats were "traitors to both the United States Constitution and the Virginia Constitution."
"Virginia Democrats have orchestrated a complete disenfranchisement of Virginia voters by allowing and legalizing what used to be considered fraud. They should all resign because they orchestrated an all out attack on our Republic and our Democracy," she told ABC 8News.
Newsweek reached out to Chase for additional comment, but did not hear back in time for publication.