After Virginia Tech Massacre, How Presidential Responses To School Shootings Evolved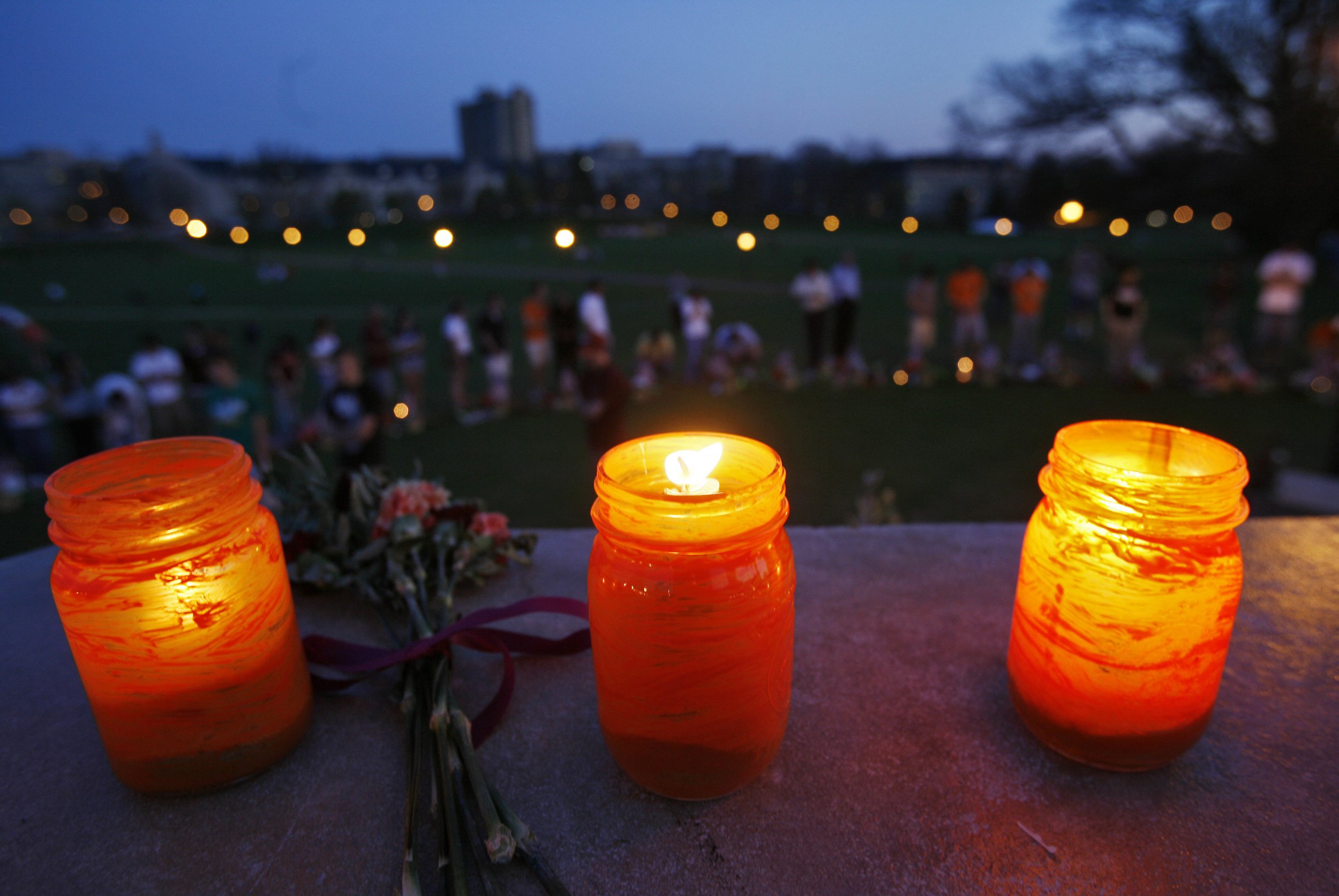 One day after Virginia Tech senior Seung-Hi Cho opened fire in a dorm room and classroom building, killing five university staffers, 27 students and himself, President George W. Bush stood before an arena of people and mourned. In a six-minute speech in the Cassell Coliseum, Bush offered his condolences to the survivors of the deadliest shooting on a U.S. college campus.
"It's impossible to make sense of such violence and suffering," he said, speaking slowly in his Southern accent. "Those whose lives were taken did nothing to deserve their fate. They were simply in the wrong place at the wrong time. Now they're gone—and they leave behind grieving families, and grieving classmates, and a grieving nation."
Related: Trump Set to Overturn a Mental Health Regulation on Gun Purchases
It was April 17, 2007. Wide-ranging implications were to come for higher education, school security and American journalism. But that day, Bush also helped cement a precedent for presidents responding to campus tragedies—a tradition that not only still exists a decade later but could present a challenge for the nation's newest commander-in-chief.
"It's somber, sober and certainly a time for presidents to be one of reflection," Robert Denton, the head of Virginia Tech's department of communication and an expert on presidential discourse, tells Newsweek. "You want it to be authentic but not political."
The U.S. has seen dozens of shootings since the Virginia Tech tragedy. Since 2013 alone, 220 school shootings have been reported, according to advocacy group Everytown for Gun Safety. They pockmarked Bush successor Barack Obama's presidency, bringing him to tears as he mourned the 20 children killed at Sandy Hook Elementary School in Newtown, Connecticut, in 2012.
Obama even cried years later, in 2016, as he was introducing executive actions to decrease gun violence.
"Every time I think about those kids it gets me mad," he said, wiping his eyes.
Obama pushed to make people who sell firearms register as gun dealers. Bush passed a law enabling mental health data to be shared between state and federal databases to improve background checks, USA Today reported. But should President Donald Trump find himself giving a speech after a school shooting, Denton cautions against pivoting too quickly to policy.
"It becomes polarizing rather than wholesome," Denton adds. "That's when he quits being the president to all of us expressing our collective grief and sorry to 'Oh, there he goes again on guns.'"
Presidents have to walk a fine line in the hours and days after incidents, mixing grief and sensitivity with historical context and policy, Denton says. People want to feel like the president understands them and can handle the job. Denton praises then-Gov. Tim Kaine's speech at Virginia Tech in 2007, calling it a mixture between "a eulogy and sermon."
Trump hasn't spoken out much on school shootings so far.
In 2012, he tweeted that "President Obama spoke for me and every American in his remarks in #Newtown, Connecticut." In 2015, after a man killed an assistant professor, eight students and himself at Umpqua Community College in Roseburg, Oregon, he said it was "a horrible thing to behold" and there were "millions and millions of sick people all over the world."
Trump, a supporter of Second Amendment rights, later suggested arming professors. "It was a gun-free zone," CNN reported he said at a rally after the community college shooting. "Let me tell you, if you had a couple teachers with guns in that room, you would have been a hell of a lot better off."
But this week, as president and an avid social media user, Trump was criticized for not responding to Monday's shooting in San Bernardino, California, where a man fatally wounded his estranged wife, himself and an 8-year-old at North Park Elementary School. Though Education Secretary Betsy DeVos put out a statement thanking first responders and calling it "senseless violence," a tweet from political director Michael Skolnik asked why the president had been "eerily silent." It was retweeted more than 26,000 times.
For Denton, who was on campus at Virginia Tech when the shooting occurred and can still recall the "knee-dropping moment" when he found out the death toll, a White House statement observing the 10-year anniversary of the 2007 massacre Sunday isn't necessary.
That's not because of politics. It's because he says he is constantly remembering the tragedy.
"We don't look at anniversaries," Denton says. "Every spring day when there are snowflakes, it reminds us."