Virginia Woman Jasmine Moawad Allegedly Posed as Immigration Attorney, Threatened Clients With ICE
Police have arrested Jasmine Moawad-Barrientos, a Virginia woman accused of posing as an immigration lawyer. She allegedly threatened her undocumented clients to pay her by saying that she would call Immigration & Customs Enforcement (ICE) to deport them if they didn't.
Fairfax County Police arrested the 45-year-old woman on Wednesday. Police said she wasn't a licensed attorney. They also alleged that she collected money from vulnerable immigrants even though she didn't provide any of her promised legal assistance.
She has been charged with two felony counts of larceny by false pretenses. She has also been released on an $8,000 unsecured bond, meaning that she'll have to pay the money if she doesn't appear in court. If convicted, she could face up to 20 years in prison and up to $200,000 in fines.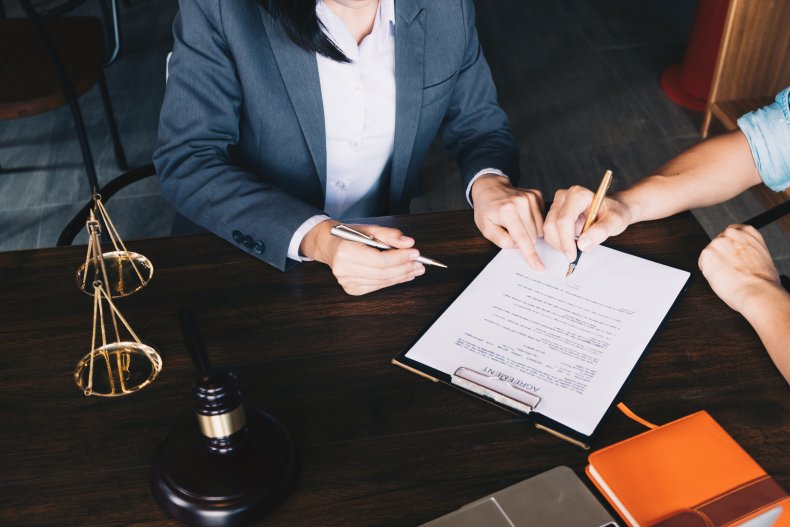 Police began investigating Moawad-Barrientos' business, allegedly named Americanos for America Party Incorporated, when one of her victims reported her misdealings to local legal authorities.
She allegedly rented office space and contacted victims through word-of-mouth referrals from those who had sought her help. She also allegedly advertised her business by posting flyers in laundromats, restaurants and other local businesses, WJLA reported.
Though police investigated Moawad-Barrientos for months, they said the investigation remains ongoing. Thus far, police have only identified five victims, The Washington Post reported, but police suspect that others exist. Police said that undocumented people who allegedly hired her have been worried about talking to them for fear of deportation.
Fairfax County Commonwealth's Attorney Steve Descano said that his office doesn't work with ICE on immigration enforcement.
"If you have relevant information, you do not need to fear ICE or deportation if you come forward," Descano told WJLA. "We have no tolerance for individuals who prey on our immigrant neighbors."
Fairfax County Police Captain Ronald Manzo said that he estimates that Moawad-Barrientos may have made tens of thousands of dollars through her alleged scheme.
Manzo noted that immigrants can sometimes fall prey to such schemes due to the complexity and unfamiliarity of the U.S. legal and immigration systems. Immigrants can also be vulnerable to such schemes, he said, because they feel they can't turn to police due to their undocumented status.
Moawad-Barrientos also had political ambitions. She briefly ran as a 2018 write-in candidate for the Virginia state Senate but dropped out before the election. Her LinkedIn profile also claims that she once ran to become president in her native country of Bolivia.
The profile also said she had previously worked in real estate, wealth management and the nonprofit sector as an advocate against hate crimes.
Newsweek contacted the Fairfax County Police Department for comment.