Virginia Woman Sentenced For Making Pornography With 6-year-old Boy Claimed Boyfriend Made Her Do It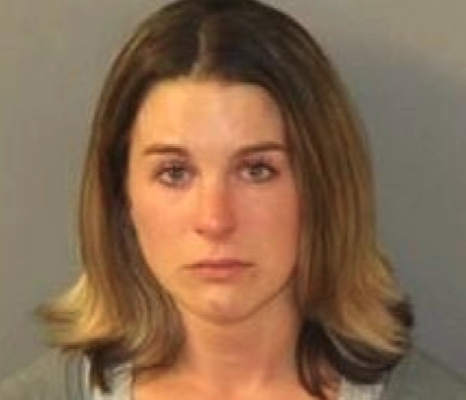 The defense attorney for a Virginia woman, sentenced to 40 years in prison for producing child pornography, has claimed the woman's boyfriend pressured her into committing the crime.
Christine Alyce Slayman, 28, pleaded guilty to filming 18 separate pornographic videos showing her abusing the young boy over a period of several months, but her defense attorney has argued that she was "critically instructed" by her boyfriend to have sexual relations with the boy.
The court in Jacksonville, Florida, sentenced Slayman on two counts of producing child pornography on February 7. She will also serve a life term of supervision following her release.
The sheriff's office in Jacksonville, Florida, discovered the footage, filmed on a cellphone in 2015, in Slayman's home following a tip off. The abuse had taken place while she was living in King William, Virginia.
The computer files containing the offensive footage were, however, in the possession of her boyfriend when the pair moved to the sunshine state, her attorney Dale Carson wrote in court documents. The boyfriend, who has not been identified by authorities, is yet to be indicted.
The defendant's attorney said she had been put under pressure by her boyfriend to engage in sexual acts with the minor, film the abuse and then send it to him, NBC12 reported. "Following [her boyfriend's] orders, Ms. Slayman then sent those videos from her cell phone to [him]," Carson wrote.
Unbeknownst to Slayman, the court heard, the boyfriend copied the disturbing videos onto a USB thumb drive. He then used the files to blackmail the defendant. "Later, [he] personally brought the thumb drive to Jacksonville in 2017 when the couple moved from Virginia. [His] purpose in retaining the videos was to later extort behavior consistent with his desires."
Despite the claims of blackmail, one of Slayman's classmates suggested the defendant could have asked police to intervene when she was first asked to produce the child pornography. "She absolutely had the ability to involve police after the first demand of child pornography," the classmate said. "There were so many actions she could have taken. It's sickening."
Homeland Security Investigations Tampa Special Agent, James C. Spero, said: "While today's sentencing marks an end to the investigation and prosecution of this criminal, it is important to remember that a child will carry the scars of this crime for their lifetime."
Slayman was born in Mechanicsville, a suburb of Richmond Virginia, and had no criminal history prior to her arrest over the child pornography charges.