Social distancing can go a long way in terms of preventing further spread of the coronavirus, but let's face it: All that alone time stuck in the house can be a drag.
Luckily, we live in a time when people don't need to be face to face to connect, and a number of people are taking full advantage of the technology available today to keep tabs on their friends and family while technically remaining apart. Whereas texting, instant messaging and email seemed to be the main veins of communication just a few weeks ago, folks are now turning to FaceTime, Google Hangouts, Zoom and other services to stay virtually connected with the world outside their homes.
And now, these services are being used to try and keep in touch with coworkers and to mimic a normal day in the office.
It's no surprise that companies are checking in with self-quarantining employees and hosting video conferences while actual in-office meetings are not an option. However, some workers are taking it a step further by scheduling virtual lunches with their colleagues and buddies since raiding the company mess hall is no longer an option. Even Chipotle announced plans to host virtual lunch parties so people working at home can dine together digitally.
"I think virtual lunches, especially right now, is a fantastic practice that people should explore," Erin Blaskie, the Director of Marketing at Fellow.app, told Newsweek on Monday. "Aside from the obvious professional benefits—continued networking, ability to learn from others—it's a great social practice, too, and will help prevent social isolation and loneliness."
Blaskie, who lives in Ontario, was supposed to attend a special ladies luncheon hosted by Borden Ladner Gervais law firm in honor of International Women's Day last week. But COVID-19's surge across Canada and the U.S. forced the firm to make some adjustments. Instead of canceling the event altogether, a virtual lunch was initiated and registered attendees were able to watch and interact with keynote guest Komal Minhas, who spoke from her home, virtually.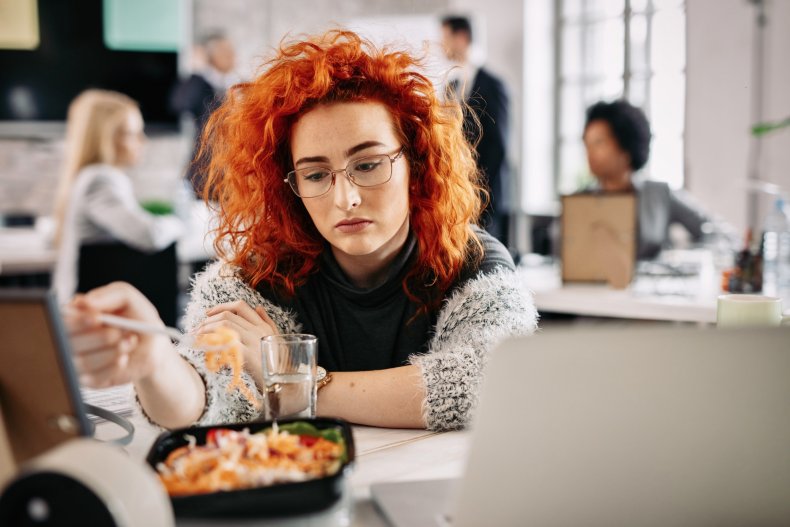 "The experience was great! I felt like I could still participate in the event and listen to the keynote without running the risk of getting sick," Blaskie said. "I still had a sense of connection with the other participants as we leveraged the video conferencing chat to talk to each other as well as ask the keynote speaker questions. Quite honestly, it felt more engaging because I could chat and ask questions in real-time versus waiting until the speaker was finished.
Peep Laja, CEO of marketing training company CXL in Austin, Texas, recently tweeted about his plans to connect with people during lunchtime over Zoom while he's self-quarantining.
"I'm a firm believer of 'never eat alone' and used to consistently meet somebody over lunch three to four times a week," Laja told Newsweek. "Now that most are practicing social distancing and self-isolation, virtual lunch just seems to make sense. We will need to build relationships, learn from each other, and contribute where we can."
While swaths of people on social media have posted about spending lunchtime with friends, Laja is using his virtual lunch as a means to connect with people across different industries and states to directly learn what others are experiencing in their respective locations in the midst of the coronavirus pandemic.
"The world of business still runs on relationships, and the more people who know you, like you and know what you do, the more opportunities you create for yourself. It might not be as effective as meeting face to face, but I believe it's 80 percent," he said.
With more than 200,000 people globally infected by coronavirus as of Wednesday, virtual lunches could be the new normal for a while. And though nothing quite beats physically breaking bread with the ones you most care about, the luxury of technology allows us to still feel some sense of connection in the midst of uncertainty.
"I find it helpful, especially in times of crisis, to find ways to make things feel as 'normal' as possible, and that includes socializing and connecting, even when we are meant to be practicing self-isolation. The best part is that because we have access to technology and so many great and free tools, we can socialize and connect without ever being in the same room," Blaskie said. "To be honest, it feels a little like we're in the Ready Player One movie, but I'm incredibly grateful for tech and the Internet right now."