Virtual Reality Skin Patch Lets People Touch Each Other Over the Internet
Scientists have created a skin patch that can communicate touch virtually.
The soft, wireless silicone device sticks to the skin and gives off vibrations. Its creators hope it could one day be used to help people simulate touch online, in phone calls and games.
The patch links up to devices such as smartphones and tablets, enabling users to transmit sensations to the wearer. By harnessing near-field communication, seen in electronic payment in smartphones, its designers were able to make the piece of tech wireless and battery-free.
A set of 32 actuators help to replicate the sensation of touch on the wearer's skin, while an interface allows users to adjust the frequency and amplitude of each actuator.
"We tailored the designs to maximize the sensory perception of the vibratory force delivered to the skin," explained John A. Rogers, professor of Materials Science and Biomedical Engineering at Northwestern University's McCormick School of Engineering.
Rogers, who is also professor of neurological surgery at the Feinberg School of Medicine, said in a statement that people have tried to make similar technology, but they involved hindrances like wires or batteries.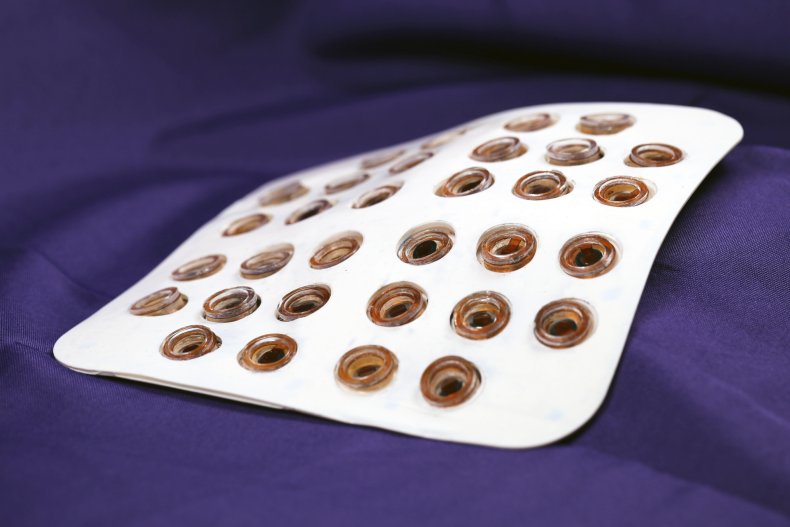 "We feel that it's a good starting point that will scale naturally to full-body systems and hundreds or thousands of discrete, programmable actuators," he said. "We are expanding the boundaries and capabilities of virtual and augmented reality.
Co-author Yonggang Huang, professor of Civil and Environmental Engineering and professor of mechanical engineering at the McCormick School of Engineering, said in a statement: "You could imagine that sensing virtual touch while on a video call with your family may become ubiquitous in the foreseeable future."
Rogers said the equipment "could be very powerful for social interactions, clinical medicine and applications that we cannot conceive of today, beyond the obvious opportunities in gaming and entertainment."
That includes amputees. U.S. Army veteran Garrett Anderson, outreach coordinator at the University of Illinois' Chez Veterans Center, lost his lower right arm at war and has a prosthetic limb. When he wore the patch on his upper right arm, he could feel the fingertips of his prosthetic hand.
Anderson explained: "Say that I'm grabbing an egg or something fragile.
If I can't adjust my grip, then I might crush the egg. I need to know the amount of grip that I'm applying, so that I don't hurt something or someone."
By repeating this process, Rogers believes the brains of people like Anderson could one day be trained to have phantom sensations. The team is also working toward making the device thinner and lighter, and eventually implanting it in clothes.
"Virtual reality is a very important emerging area of technology," Rogers said.
He added: "Currently, we're just using our eyes and our ears as the basis for those experiences. The community has been comparatively slow to exploit the body's largest organ: the skin. Our sense of touch provides the most profound, deepest, emotional connection between people."