Visa Overstays Far Exceed Illegal Border Crossings in U.S.—and a Wall Won't Change That, Study Says
As President Donald Trump fights to get money for his long-promised border wall—bringing the country into its 27th day of the partial government shutdown—a new study has highlighted the fact that visa overstays have far exceeded illegal border crossings in the U.S. for seven consecutive years.
The study, released on Wednesday by the Center for Migration Studies, found that from 2016 to 2017, people overstaying their visas made up about 62 percent of new undocumented immigrants in the country, compared with 38 percent who crossed the border outside designated ports of entry.
Read more: Trump's military border mission could cost U.S. $470 million in Fiscal Year 2019 alone
The findings lend support to critics of Trump's border wall bid, who argue that building a barrier between the U.S. and Mexico would do little to address illegal immigration.
"It is clear from our research that persons who overstay their visas add to the U.S. undocumented population at a higher rate than border crossers. This is not a blip, but a trend which has become the norm," Center for Migration Studies Executive Director Donald Kerwin said in a statement published online.
"As these numbers indicate, construction of hundreds of more miles of border wall would not address the challenge of irregular migration into our country, far from it," Kerwin added.
In addition to finding that visa overstays significantly exceeded entries without inspection, the CMS study also found that the undocumented population in the U.S. from Mexico fell by almost 400,000 in 2017. For the first time, according to the study's findings, the Mexican population constituted less than one-half of the total undocumented population in the U.S.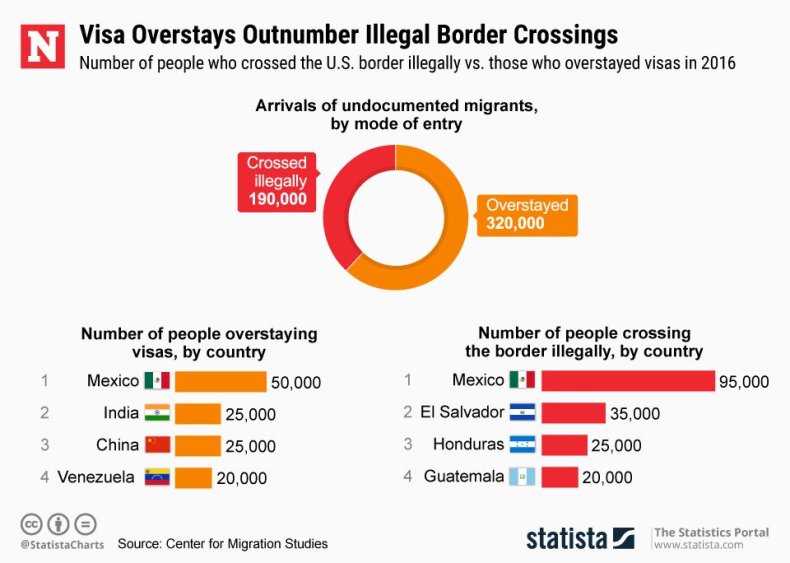 The CMS study also found that since 2010, the undocumented population had dropped by 1 million to include fewer than 10.7 million people.
Looking at California, the study found that the undocumented population from Mexico had declined by 26 percent since 2010, falling from 2.0 to 1.5 million, in addition to dropping by 50 percent in Alabama and by one-third in Georgia, New York and New Mexico.
Mexico was, however, found to be "the leading country" for overstays in 2017, with about twice as many people from the U.S.'s southern neighbor overstaying their visas compared with those from India and China.
With Trump refusing to sign any spending bill seeking to reopen shuttered parts of the federal government unless it included $5.7 billion to construct his border wall, Kerwin said that "not only is a wall expensive, it fails to address the issue at hand.
"Our elected leaders in Washington need to reopen the government and begin reforming our broken system in a humane, effective, and balanced manner," Kerwin said.
The CMS said it arrived at its estimates from information collected in the Census Bureau's annual American Community Survey, with the research center using annual estimates of the undocumented population from 2010 to 2017.