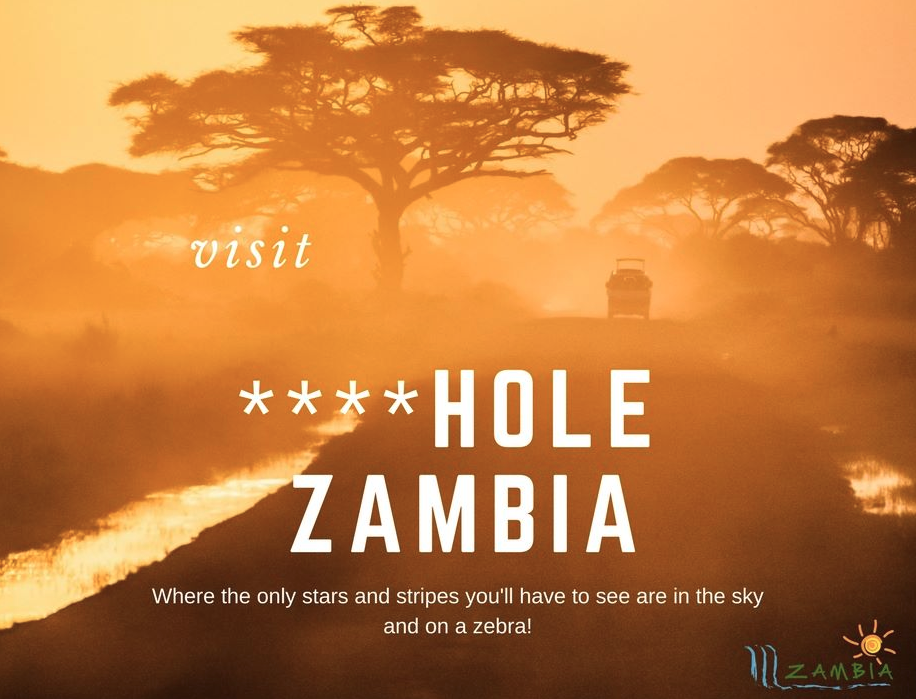 A prominent Zambia tourism website appears to have been inspired by President Donald Trump, launching an ad that invites tourists to "visit ****hole Zambia."
The ad, posted on the Zambiatourism.com's Facebook page, features a stunning sunset vista and the slogan: "Visit ****hole Zambia ... Where the only stars and stripes you'll have to see are in the sky and on a zebra."
Zambiatourism.com, which operates independently of the official Zambia Tourism Board, also advertised the country as a destination "where beautiful vistas and breathtaking wildlife are our trump card!"
The ad mocks the U.S. leader's reported reference to El Salvador, Haiti and African nations as "shithole countries" during an Oval Office meeting on immigration.
Zambiatourism.com said on Facebook the new advertisement "is a pure play on the latest comments to come from the U.S.," adding: "We most certainly do not see our precious country as anything less than spectacular!"
The website aims to provide general information about Zambia, as well as travel tips and "plenty of images and videos that help capture the African experience."
A representative for the official Zambia Tourism Board told Newsweek the Zambia Tourism website is not affiliated with its office or the government and is "run by an individual."
Zambiatourism.com says on its Facebook page that Zambia Tourism's postings "are not representative of the opinions of Zambia Tourism or the Government of Zambia, nor do we confirm their accuracy."
Its ad, which has been shared hundreds of times since it was posted on Monday, has made waves on social media, with some celebrating the website's quick thinking, while others have been more critical, calling it "bad advertising."
Former political journalist Chris Humphreys tweeted his approval:
Another commenter was less supportive, writing on Facebook: "This isn't funny.This is BAD advertising."
Someone else pointed out: "You forgot about the other stars and stripes we see in Zambia funding half our public utilities," adding an image of the U.S. Aid logo.
According to the U.S. Aid website, the Sub-Saharan African country is slated to receive as much as $797 million in development assistance, which includes loans made on concessional terms.
Zambia Tourism and the Zambian government could not immediately be reached for comment.