Putin Ally Pushes War as Way for Russians to Prove They're 'Real Men'
Vitaly Milonov, a Russian politician and member of Russian President Vladimir Putin's political party, touted what he said were the benefits of going to fight in the Ukraine war during a recent appearance on state television.
BBC journalist Francis Scarr provided a translation of Milonov's comments, explaining that the State Duma member said that joining the conflict would allow potential soldiers to show that they're "real Russian men."
"Regarding men with multiple children, I think it's a chance for men to prove that they're men, not only because they're able to make use of their primary sexual characteristics but are also men on a fundamental level," Milonov said, according to Scarr's translation. "And at the present time, every man is getting–I'm speaking about my personal feelings–the opportunity to prove that you're a man. That you're a Russian bloke. Because if you're a man, if you want to aspire to the role of a real Russian, the president has given you this chance."
Milonov's encouragement for more Russians to enter the war in Ukraine comes after Putin announced a partial mobilization on Wednesday that will call up to 300,000 soldiers to fight for Russia in Ukraine. While the Russian president said that the draft was needed in order to protect his country's "sovereignty, security and territorial integrity," many Russians have strongly opposed the order.
A petition on Change.org titled "No to mobilization" had received more than 327,000 signatures as of Thursday morning, while protests against the draft have broken out across Russia.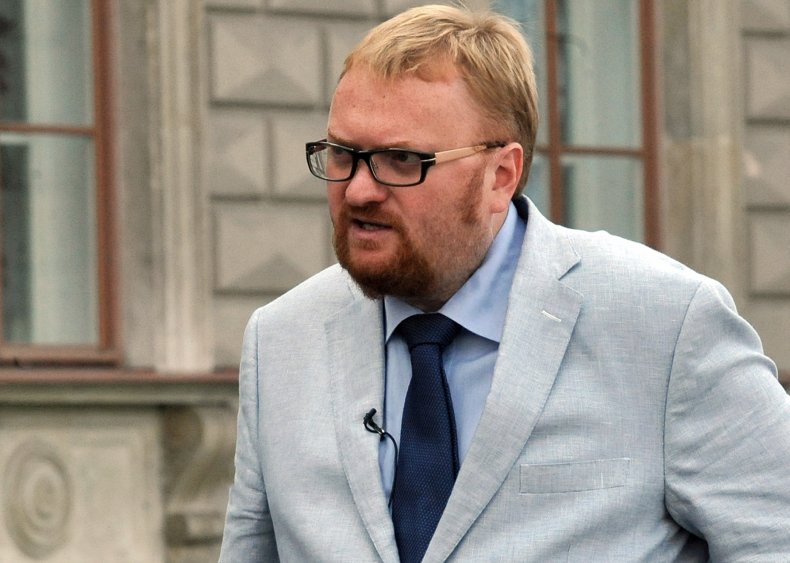 Milonov is the author of a controversial St. Petersburg law from 2012 that banned LGBTQ "propaganda" among minors, legislation that helped lead to the passing of a similar national law, the BBC reported. During his Russian state television appearance, the lawmaker also said that if Russians joined the fight in Ukraine as contracted soldiers, they'll be able to pay off their mortgages early "because the pay is more than decent."
"Everybody who goes to serve will discover this," he said.
But Russian soldiers who are already in Ukraine may be facing problems with their pay. Earlier this month, the U.K. Defense Ministry said in an intelligence update that Russian troops were suffering from discipline and morale issues amid the Ukraine war, with pay issues likely to be one of the main grievances among soldiers.
"In the Russian military, troops' income consists of a modest core salary, augmented by a complex variety of bonuses and allowances," the update said. "In Ukraine, there has highly likely been significant problems with sizable combat bonuses not being paid."
"The Russian military has consistently failed to provide basic entitlements to troops deployed in Ukraine, including appropriate uniforms, arms and rations, as well as pay," it added. "This has almost certainly contributed to the continued fragile morale of much of the force."
Newsweek reached out to Milonov via Russia's State Duma for further comment.