Vivo's iPhone X Killer: New Nex Phone Has No Notch, and Almost No Bezels
Chinese smartphone manufacturer Vivo has confirmed it will mass-produce the Apex concept design unveiled at Mobile World Congress in February.
The Apex was unveiled at Barcelona to widespread crowd appeal but Vivo quickly dashed hopes by announcing the phone was not being made. Four months later, Vivo announced the Nex.
The Nex has three key features missing from the iPhone X:
A display without a notch cut out.
A fingerprint scanner that is placed underneath the screen.
A headphone jack.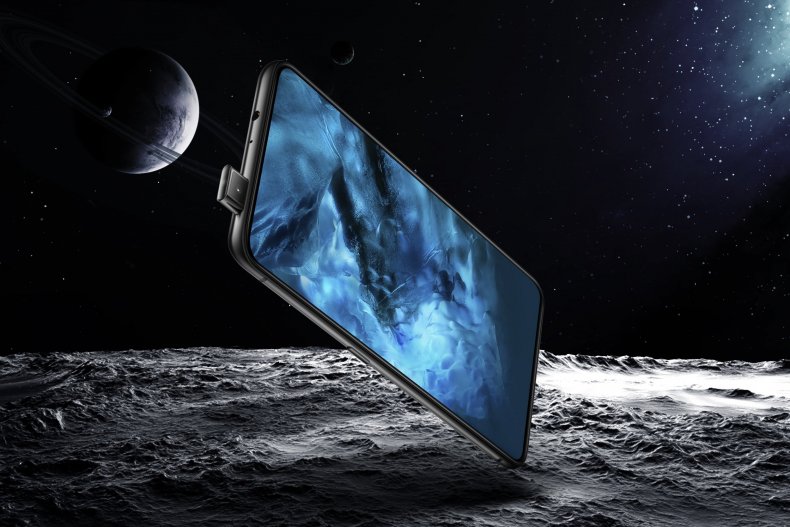 Without a notch, Vivo had to make several engineering upgrades to allow users to receive calls and take selfies, since neither a speaker or camera are on the front of the phone. The front-facing camera now extends and retracts from the top of the device whenever someone wants to photograph themselves or make video calls.
The speaker has been replaced by a vibrating glass mechanism called "screen soundcasting technology." The fingerprint scanner is located in the centre of the display and shows a small logo whenever someone wants to access their phone. It is the "third generation" of the tech and reportedly runs faster than the X21—the first phone with a fingerprint scanner beneath the display.
Countless Android phones have copied Apple's notch design from the iPhone X. Vivo's Nex is the closest a phone has come to a full screen display—91.24 percent. The total screen size comes in at a massive 6.59 inches and is an OLED display.
The phone is also loaded with top-end specifications: Snapdragon 845 processor; 4,000 mAh battery; 8GB of RAM; and 256GB of storage. The rear camera includes a 12 megapixel f/1.8 lens and 5-megapixel f/2.4 lens. The hidden front facing camera will boast an 8 megapixel f/2.0 lens.
Best of all, there is still a headphone jack on the Nex. It will cost 40% less than an iPhone X as well.
There is a catch; the phone will only be sold in China. If you want one, you'll need to pay around 4,498 yuan (about $700 USD). There is no word yet if Vivo will one day release the phone in the United States or Europe.
The next generation of iPhone is expected to be announced in September, but given how far along the design process must be, it is unlikely Apple will make any changes in response to the Nex.
The iPhone X notch-design was always likely to last more than one generation. Apple is rumored to be releasing three models: a 6.5-inch OLED iPhone X Plus, a 5.8-inch OLED iPhone X and a 6.1-inch LCD unnamed iPhone, which includes a notch.