Putin Once Congratulated Ukraine on Its Independence
Russian President Vladimir Putin, who has been waging a monthslong war against Ukraine, once congratulated the country on its independence and spoke of "friendly" Russia-Ukraine relations.
A release on the Kremlin's website dated August 24, 2007, explained that Putin sent a message of congratulations to then-President Viktor Yushchenko on Ukraine's 16th anniversary of declaring independence from the Soviet Union.
"Our peoples are linked by centuries of spiritual and cultural ties and inseparable friendly and neighborly relations," the message read in part, according to the release. "I am convinced that the stability and consistent development that exist today, as well as the progressive strengthening of the Ukrainian government on a sound legal basis, namely that of democratic principles, is in both of our countries' core interests. We are in favor of further developing mutually advantageous Russian-Ukrainian cooperation in all possible ways and expending joint efforts to make our relations those of truly strategic partners."
The old message's friendly rhetoric is a stark contrast to current Russia-Ukraine relations and the damper that the ongoing war has put on Ukraine's upcoming Independence Day, which will fall on Wednesday and will also be the six-month anniversary of the start of the conflict. Several major Ukrainian cities have banned, restricted or warned against large public gatherings after Ukrainian President Volodymyr Zelensky said in an address Saturday that Russia could do "something particularly nasty, something particularly cruel" to coincide with the holiday festivities.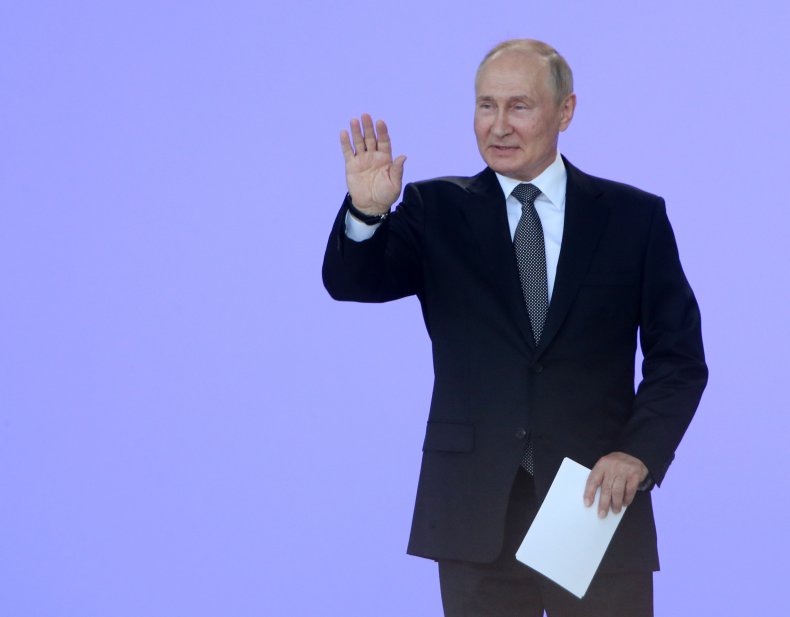 Reuters, citing a document published by the Kyiv military administration, reported Monday that local authorities in the capital city had prohibited large public events, rallies and other holiday gatherings from Monday until Thursday over concerns of potential Russian attacks.
In Kharkiv, the second-largest city in Ukraine, a 4 p.m. to 7 a.m. overnight curfew was put in place from Tuesday to Thursday. Authorities in Mykolaiv also encouraged city residents not to gather in large groups and planned a precautionary work-from-home order on Tuesday and Wednesday, Reuters reported.
There have been several other unconfirmed indications that Russia might be planning attacks or other events to coincide with the Ukrainian Independence Day. Last week, intelligence from the Centre for Strategic Communications (StratCom), a Ukrainian NGO, said that there was a threat of "massive shelling" from Russia on August 24.
Ukraine's military intelligence service also put out a report last week alleging that Russian forces are planning to display captured Ukrainian soldiers in iron cages during a "show trial" on Ukraine's Independence Day. The report said that event will take place in the Russian-occupied Ukrainian city of Mariupol.
Newsweek was not able to independently confirm Russia's alleged plans for the Ukrainian Independence Day display, but Zelensky warned Russia against going forward with the Mariupol "show trial" in an address Monday.
"If this despicable show trial takes place, if our people are brought into this scenery in violation of all agreements, all international rules, if there is abuse...this will be the line beyond which any negotiations are impossible. Russia will cut itself off from the negotiations," he said.
Newsweek reached out to the Kremlin and Ukraine's Foreign Ministry for comment.