Vladimir Putin Accuses Poland of Anti-Semitism, Colluding With Hitler
Russian President Vladimir Putin called a former Polish ambassador to Germany an "anti-Semitic pig" on Tuesday and accused the country of colluding with Nazi Germany during World War II.
"Essentially they colluded with Hitler. This is clear from documents, archival documents," Putin told Russian defense leaders at a meeting, according to a translation of the footage by The Independent.
The comment marked a continuation of Putin's fiery rebukes of a resolution by the European Parliament that condemned the Soviet Union's 1939 pact with Adolf Hitler, which prevented the two nations from attacking each other at the onset of the war. The September resolution claimed the agreement paved the way for Nazi Germany and called on Russian leadership to reconcile with its history.
Days after Joseph Stalin, then-leader of the Soviet Union, signed the treaty on August 23, 1939, Hitler invaded Poland, beginning World War II. Germany later broke agreement and attacked Soviet Russia without warning in 1941.
Putin said Tuesday that the country had been forced into the nonaggression treaty after other European nations signed similar deals with Hitler, according to reporting by the Agence France-Presse (AFP).
Most Western historians agree that Stalin was worried about Western democracies' reluctance to oppose Germany and fostered some affection for Hitler's cause.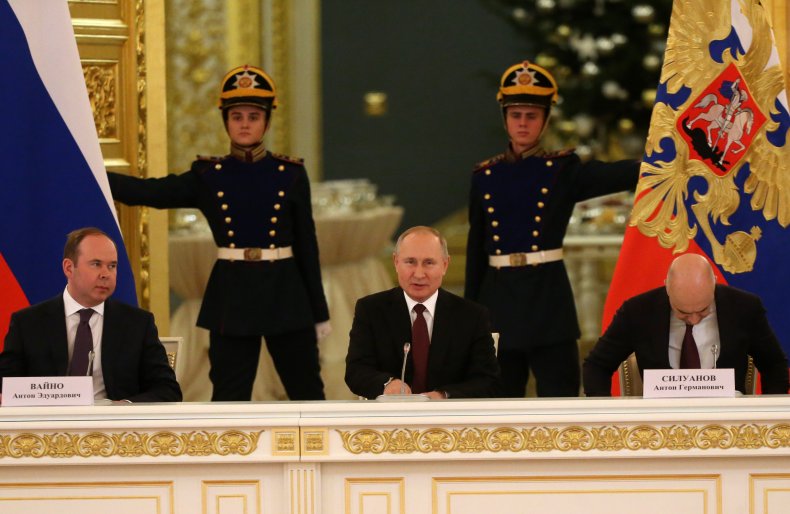 Putin claimed that after reading the wartime diaries of a Polish ambassador to Germany, identified only as "Beck," he was disturbed by an exchange between Polish officials and Hitler, wherein Hitler described a solution to the "Jewish question": deporting Jewish people to Africa and other colonies, Putin claimed.
In response, the Polish ambassador said his country would erect an "excellent monument" in his honor in Warsaw, the nation's capital, Putin recounted.
"A bastard, an anti-Semitic pig, you cannot put it any other way," Putin said of that official, continuing: "He expressed full solidarity with Hitler in his anti-Semitic views."
In September, the European Parliament wrote they were "deeply concerned about the efforts of the current Russian leadership to distort historical facts and whitewash crimes committed by the Soviet totalitarian regime" and that these crimes "cannot be excused or exonerated."
Putin has scorned the remarks as hypocritical and has cited as an example the 1938 agreement between Germany, Britain, France and Italy allowing Hitler to annex Czechoslovakia in efforts to keep the peace, according to reporting by The New York Times.
Critics say Putin's remarks have downplayed the Soviet Union's simultaneous role in attacking other nations and aiding Nazi Germany during their active treaty years, but Russia is sensitive to these criticisms as the country lost more than 20 million civilian and military members and proved essential to defeating Hitler in later years.