Putin's Backing of Assad Severely Weakens Merkel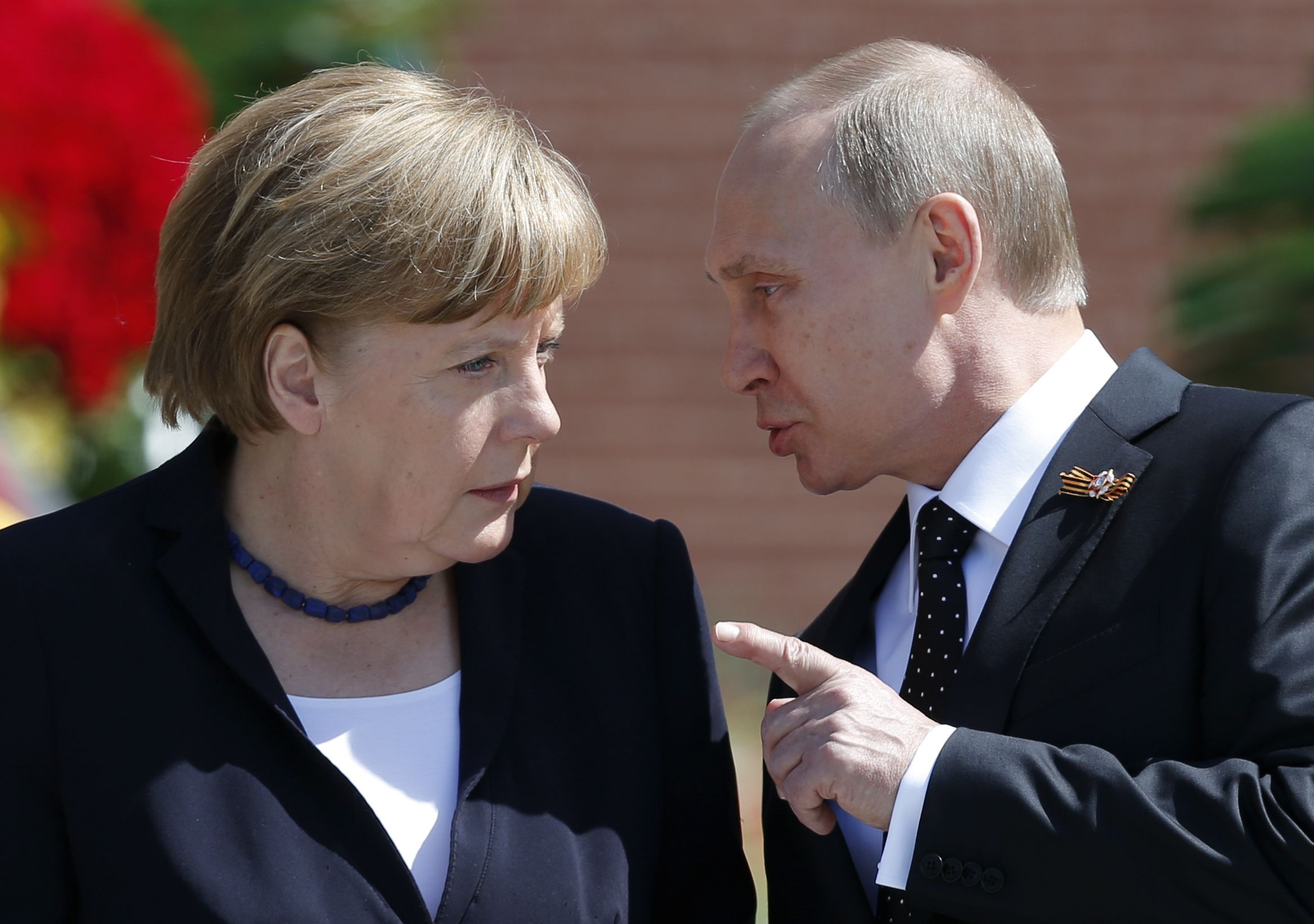 This article first appeared on the Carnegie Europe site.
Back in December 2015, when it became clear that refugees from the Middle East would continue to head toward Germany, Chancellor Angela Merkel reassured her conservative Christian Democratic Union party that everything was under control.
All she needed, she told party members, was more time. Germany could manage the influx of more than 1 million refugees and asylum seekers.
Merkel was banking, naively or not, on two things: peace talks that would end the five-year-long war in Syria, and cooperation from Turkey to stop sending refugees to EU countries, improve the conditions for refugees and strengthen the EU's external border.
Neither has materialized. Merkel's task of reassuring her party and voters is becoming trickier by the day.
The peace talks in Geneva aimed at ending the Syrian war collapsed on February 5. U.N. Secretary-General Ban Ki-moon blamed Russia. On the eve of the talks, Russia had bombarded the rebel-held city of Aleppo. Syrian President Bashar al-Assad's forces were back with a vengeance.
So much for those Western leaders who believed that Russian President Vladimir Putin was an essential partner in weakening the Islamic State militant group (ISIS) and ending the war in Syria.
Putin's policies in Syria have wreaked further havoc in the region. During the weekend of February 6–7, tens of thousands of refugees were trying to flee to Turkey, itself in the throes of a war with the insurgent Kurdistan Workers' Party (PKK).
Many refugees will try to make it to Europe rather than remain in Turkey. As the war in Syria continues relentlessly, Merkel is coming under siege from all sides, no thanks to Putin and no thanks to her EU counterparts.
Putin's continuing support to keep Assad in power has a direct correlation with Merkel's weakening support at home. The longer the war in Syria endures, the weaker it could make Merkel.
This has consequences for the rest of the EU. A weakened Merkel means a weakened, more divided Europe. The bloc will be in no shape to deal with the ever-mounting security challenges it faces, not least the ongoing political crisis in Ukraine, where on February 3 the economic minister resigned in disgust and frustration over corruption.
Against such a background, it is going to be very hard for Europe's most powerful leader to try to swing the mood in her country. Germans are increasingly skeptical of her slogan "Wir schaffen das!" ("We can do it!") and increasingly critical of other EU countries' refusal to accept the moral, political and humanitarian principle of taking in those fleeing war.
Yet this is what EU governments will have to do if they want Turkey to help protect the EU's external borders. "Europe can't completely keep out of this," Merkel said during her weekly podcast just before she headed off to Turkey on February 8.
Merkel's latest plan is for Turkey to stop the flow of refugees to Greece, which can no longer cope under the immense strain. But outsourcing the refugee problem to either Greece or Turkey is not a sustainable option.
In return for Turkey's assistance, Merkel said EU countries, many of which have already refused to take in refugees or are closing their borders, would have to be willing to accept quotas of migrants. They must share the burden of providing shelter to refugees with Turkey, which has taken in more than 2.5 million people fleeing Syria.
"We need to protect our external border because we want to keep Schengen," Merkel said, referring to the system of passport-free travel among most EU countries. "And if we can't protect it, then this huge region of free movement, our internal market, which is the foundation of our prosperity, will be in danger, and we need to prevent that."
But one has to wonder if those political parties and movements opposed to giving refugees shelter actually care about Schengen—and, as a corollary, about the EU. This is Merkel's other problem.
Month by month, the Alternative for Germany (AfD) is creeping up the opinion polls. Once a bourgeois Euroskeptic party, it has shed its sheep's clothing. It is now becoming a home for the far right. The more EU countries refuse to take in refugees, the more the AfD can tap into this dual anti-Europe and anti-refugee sentiment.
This is not lost on Merkel and her coalition government. A poll published on February 3 by the German public broadcaster ARD showed several worrying trends for Merkel. The government's popularity has fallen from 54 percent in August 2015 to 38 percent during the first week of February 2016. The AfD is now Germany's third-largest party, with 12 percent support.
Eighty-one percent of those polled believe the government doesn't have a grip on the refugee situation. Sixty-three percent want a limit on refugees entering Germany. Of some relief for Merkel is that the overwhelming majority of Germans (94 percent) say it is right that Germany accepts people fleeing war.
With Putin helping continue the war in Syria, the time Merkel needed back in December seems increasingly elusive. More than ever, she needs a respite as voters prepare to give their verdict on her leadership in three important regional elections in March. That respite will not come from Putin.
Judy Dempsey is a nonresident senior associate at Carnegie Europe and editor in chief of Strategic Europe.