Vladimir Putin Calendar Is a Major Hit in Japan, Outselling Those of Other Celebrities
Russian President Vladimir Putin's iconic strongman calendar has found a seemingly unlikely fanbase in Japan.
The calendars, which feature photographs of 66-year-old Putin doing a range of activities such as riding a horse, cuddling a dog and bathing shirtless in frigid temperatures, have been flying off the shelves of the popular Japanese store Loft, Japan Today reported. The chain store, which has exclusive rights to sell the calendars in the Asian nation, has said they are even outselling those featuring other popular local celebrities.
The Russian president's calendars were first officially sanctioned and went on sale in 2016. Referred to as the VVP calendar—for the president's full name, Vladimir Vladimirovich Putin—some have also quipped that it could stand for "Very Virile Person." Previous editions have shown the Russian leader fishing shirtless and practicing judo.
Back in September, Loft began selling 2019 calendars with photographs of a range of famous stars. Despite competing against Kei Tanaka, a popular 34-year-old actor, and Yuzuru Hanyu, a 24-year-old Olympic figure skating champion, Putin has been the top seller until now.
Other media reports from Japan have said that "many of the people buying the calendars, including a large number of women, were drawn to Putin's unconventional style and unashamed machismo," according to British newspaper The Guardian. Commenting on social media, some Japanese had mixed feelings about the calendar, however.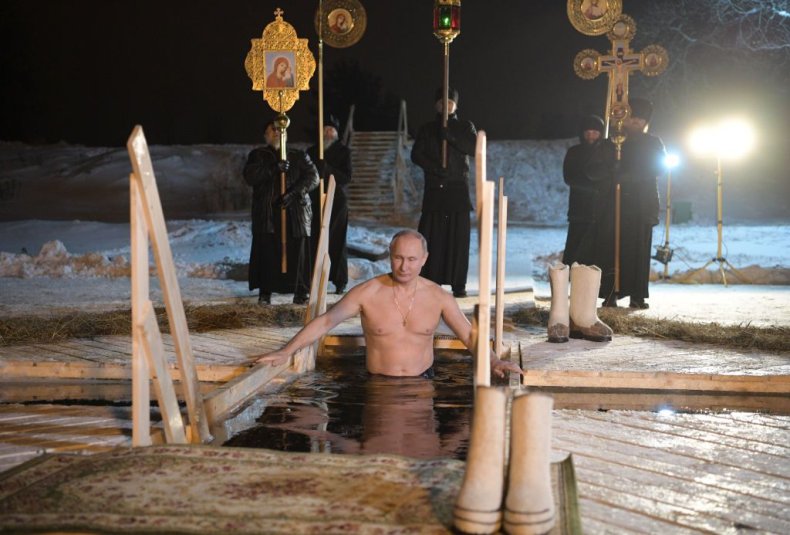 "I'd be weirded out if I went to a friend's house and saw Putin hanging on the wall," a social media user wrote, according to Japan Today. One commenter thought it could be "a good luck charm." Another suggested a conspiracy theory, saying that "I think this is all a ploy to make him look more favorable in light of the current Kuril Island negotiations."
Russia said Monday that it had constructed a new barracks for troops on the Kuril Islands (known to Russians as the Northern Territories) near Japan, Radio Free Europe reported. Moscow also said it will build more military infrastructure there in 2019.
Japan and Russia both lay claim to the islands, but they have been occupied by the Russians since the end of World War II. Both countries aim to reach a resolution over the dispute, and Japanese Prime Minister Shinzo Abe reportedly may visit Moscow in January to discuss the issue directly with Putin.