Vladimir Putin Calls Escalating Israel Conflict a 'Direct Threat' to Russia's Security
Russian President Vladimir Putin called the escalating Israel-Palestinian conflict a direct threat to Russia's security on Friday.
During a meeting with the Russian Security Council, Putin said that the proximity of the violence in Jerusalem and the Gaza Strip to Russia "directly affects" his country's agenda on security.
"I would like to ask my colleagues to comment on the current situation in the Middle East, I mean the escalated Palestinian-Israeli conflict. This is happening in the immediate vicinity of our borders and directly affects our security interests," Putin is quoted saying by the Turkish state-run news agency Anadolu Agency.
The Israel Defense Forces declined Newsweek's request for comment, citing military policy that does not allow the IDF to speak on foreign policy matters.
Tensions have continued to escalate since an Israeli court ordered the eviction of Palestinian families from the Sheikh Jarrah neighborhood of East Jerusalem. Palestinians protesting in solidarity with the area's residents have been targeted by Israeli forces.
On Sunday, Palestinian militants in Gaza fired hundreds of rockets into Israel, followed by Israeli airstrikes.
A week of back-and-forth attacks has left more than 120 Palestinians killed—including 31 children and 20 women, according to the Associated Press. An additional 900 have been injured. Seven people have been killed in Israel, including a 6-year-old boy and a soldier, the AP said.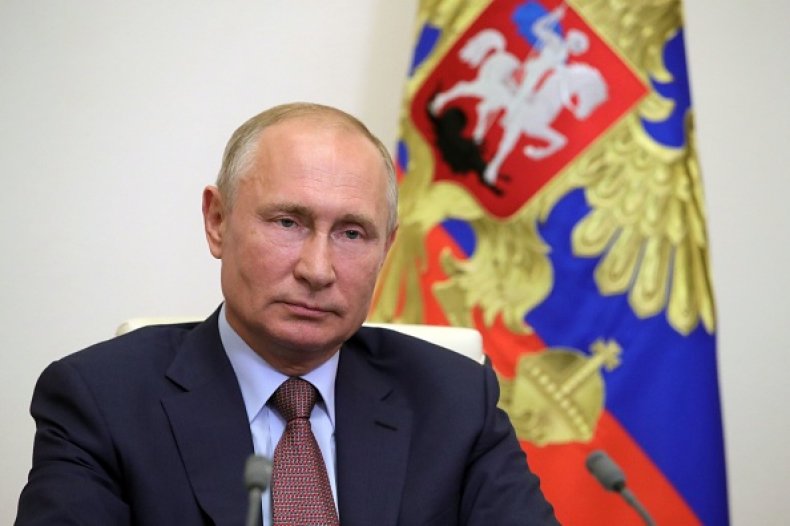 On Wednesday, Russian Foreign Minister Sergei Larov pushed for an international effort to diffuse the conflict, calling for a "quartet" to meet on the situation.
"I think we came to a common conclusion that the most urgent task is calling a meeting of the quartet of international mediators: Russia, the United States, the U.N. and the European Union," Larov said at a joint briefing with U.N. Secretary-General António Guterres, adding that Guterres should act as the coordinator of the meeting.
Russian Deputy Foreign Minister Sergei Vershinin has called on Israel to "immediately" stop all settlement activities in the Palestinian territories, according to Russian state-owned news agency RIA Novosti.
Vershinin said Moscow wants the "status quo of Jerusalem's sacred sites" to be respected as Palestinian protesters and Israeli police clash on a daily basis in the city.
Hundreds have been injured in riots at Jersualem's Al-Aqsa mosque over the past several days, after an Israeli court ordered the eviction of several Palestinian families from the city's Sheikh Jarrah neighborhood.
"The parties discussed the current situation in the Palestine-Israel conflict area in detail, with an emphasis on the need to de-escalate tensions as soon as possible and ensure proper security of Israeli and Palestinian civilians," Vershinin said in a Friday statement.