Putin's Response to Russia's Coronavirus Crisis Angers Medical Workers on Frontline
Anger is growing among medical professionals in Russia at insufficient COVID-19 protections and promised bonus payments that have not materialized, adding to the mounting discontent with President Vladimir Putin's handling of the coronavirus crisis.
At the start of April, Putin announced that nurses, paramedics and ambulance drivers would get monthly payouts of between 25,000 and 50,000 roubles ($300 and $600) with doctors at the frontline being told to expect payments of around 80,000 roubles ($1,000).
However a month later, most are yet to see the money and many have shared images on social media of payslips that display bonuses up to 100 times smaller than promised. Those who have formally complained have received visits from law enforcement, according to multiple reports.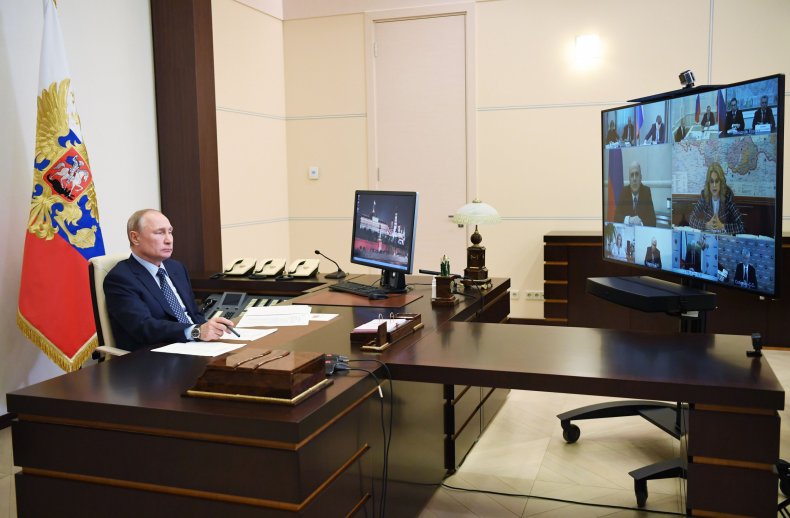 The head of the Moscow-based League for the Protection of Doctors, Simon Galperin, has said he fears that Russia will have the highest number of doctors sickened by the virus in the world and that the federal and regional governments are not taking their concerns seriously.
"The problem is that our officials don't want to agree with the situation. In a lot of cases when we found that a doctor became ill, officials have said that this is not because he was working in hospital, this is not connected with his job. It was from outside of his working place," Galperin told Newsweek.
"It is a huge problem but it is difficult to prove," he added.
In early May, medical staff protested outside of a hospital in Armavir in the southern Krasnodar region. One Moscow doctor claimed that the bonuses for April which varied between $2 to $120, were calculated by the hour.
The staff of prime minister Mikhail Mishustin, who was himself diagnosed with COVID-19, have been in the firing line for the unpaid bonuses and he has complained that there was not enough clarity in the Putin's decree for the increased payments, giving regional officials loopholes not to pay out.
Galperin said that medical staff are not getting the money "because of the regional government and regional ministers of health care who are trying to avoid the payment."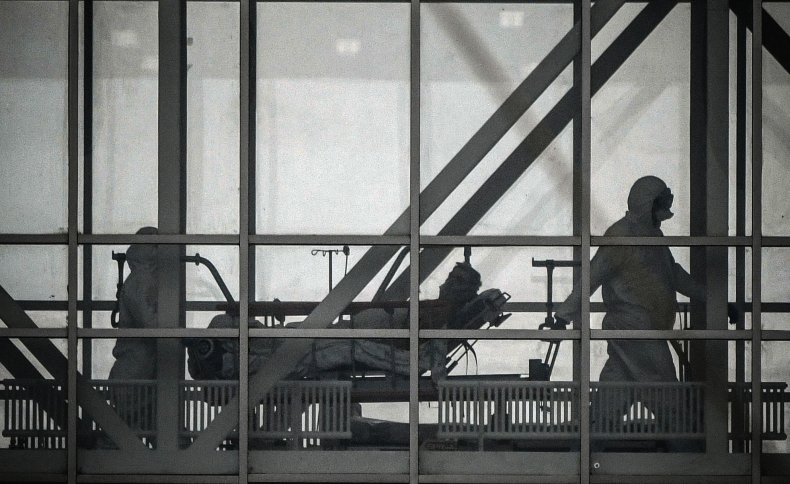 Anna Arutunyan, author of The Putin Mystique and senior Russian analyst at the International Crisis Group, said it has been problematic that the president delegated the COVID-19 response to the regions without giving them sufficient financial and administrative resources.
"Unfortunately the people who bear the brunt of this are going to be the doctors, because they have been traditionally treated like service workers," she told Newsweek.
The dispute about pay and PPE deficiencies has added to rancor against Putin and the authorities, which differs from pro-democracy campaigners' protests about his rule.
More than 116,000 people have signed a change.org petition demanding the payments be made, in an appeal which stated that the lack of payments makes "a mockery of medical workers."
Staff, they say, "are forced to buy [PPE] on their meager salaries or risk their lives and health."
In a teleconference, President Putin publicly leveled the blame at regional officials for not acting on his order to pay the bonus, saying that "they made a bureaucratic mess," according to The New York Times.
However, the issue is a sign of failure for Putin's system of management, according to Nikolai Petrov, a senior research fellow at the London-based think tank Chatham House.
"It is clear that he is afraid and he has isolated himself," Petrov told Newsweek.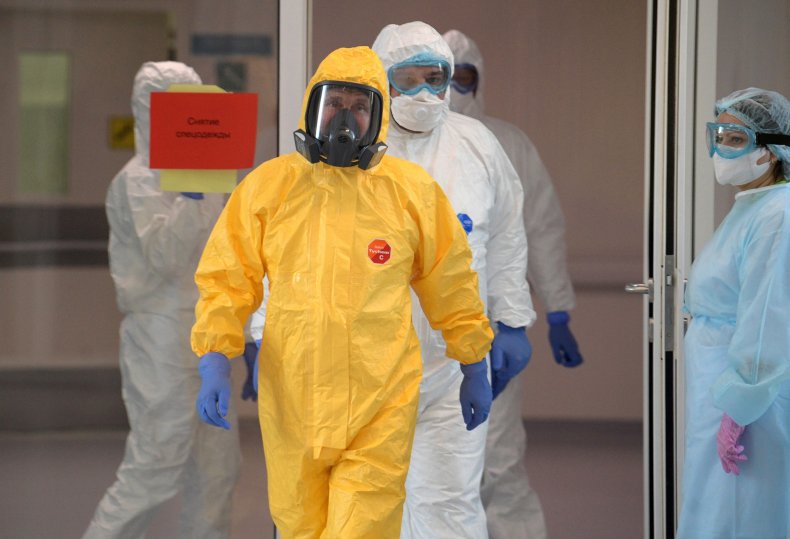 This is because the so-called "power vertical" that consolidates the president's authority has created a disconnect between the Kremlin and the regions that has become pronounced in the crisis caused by the coronavirus outbreak.
Over the last three years regional leaders have been replaced by those who are sent from Moscow to ensure tighter central control.
"All of a sudden the system came into a time of trouble, there are very different abilities required now from regional leaders and the majority of them do not correspond to these new requirements," Petrov said.
"What has happened is a zeroing of Putin's public capital. No more are citizens focused on his achievements in the past, either real or virtual achievements, this doesn't matter now.
"What is needed from him, as commander-in-chief, is to provide security and an efficient response to the epidemic and this is exactly what he is not delivering in a good way," Petrov added.
Putin's popularity, which had been on the wane before the coronavirus crisis, is at its lowest level since he became president in 2000, according to the latest poll by the independent Levada Center.
Andrei Kolesnikov, a senior fellow from Moscow's Carnegie Institute wrote earlier this month that Putin was able to take credit for everything good in the eyes of most people but "now he is forced to take on everything bad and all the unhappiness resulting from the pandemic and economic crisis."
The official death toll of 3,800 out of more than 362,000 confirmed coronavirus cases as of Tuesday, according to Johns Hopkins University, has sparked doubts among some critics about the relatively low mortality rate.
Authorities deny that they have manipulated official statistics, attributing the lower rate to an effective testing regime and the fact that unlike other countries, autopsies are carried out after all suspected coronavirus deaths.
The infographic below, provided by Statista, shows the countries with the most confirmed COVID-19 cases, as of May 26.