Vladimir Putin Defends J.K. Rowling in Speech About Cancel Culture
Vladimir Putin has shown support for J.K. Rowling with the Russian leader defending the author in a speech condemning the notion of so-called "cancel culture" in the west.
The Russian president claimed that the west is attempting to cancel markers of Russian culture amid his ongoing invasion of Ukraine and the works of composers such as Pyotr Tchaikovsky, Dmitry Shostakovich and Sergei Rachmaninov are being shunned.
Putin then referenced the Harry Potter creator as an example of someone who has been a victim of "cancel culture."
"They canceled Joanne Rowling recently—the children's author, her books are published all over the world—just because she didn't satisfy the demands of gender rights," Putin said during a televised speech on Friday.
"They are now trying to cancel our country," he continued. "I'm talking about the progressive discrimination of everything to do with Russia."
Rowling has been embroiled in numerous controversies surrounding her comments about the transgender community.
Accusations of transphobia have been leveled at her for a number of years but she has denied feeling negatively toward transgender people.
Newsweek has reached out to Rowling's representatives for comment.
In his speech today, Putin went on to compare the modern concept of cancel culture to Nazis burning books in the 1930s.
"We remember the footage when they were burning books," he said.
"It is impossible to imagine such a thing in our country and we are insured against this thanks to our culture.
"And it's inseparable for us from our motherland, from Russia, where there is no place for ethnic intolerance, where for centuries representatives from dozens of ethnic groups have been living together."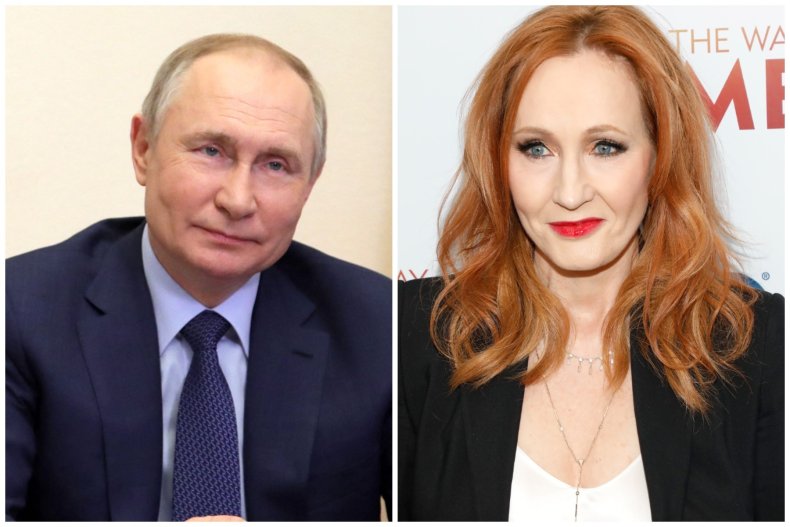 Rowling was involved in another controversy earlier this month for a tweet that referenced International Women's Day while also hinting at past comments she's made that have been widely deemed to be transphobic.
Tweeting about Scotland's Gender Recognition Reform Bill, the author wrote: "Will harm the most vulnerable women in society: those seeking help after male violence/rape and incarcerated women. Statistics show that imprisoned women are already far more likely to have been previously abused."
The legislation would change current gender laws in the country to make legally changing gender easier for citizens.
On the same day, International Women's Day, Rowling criticized the British Labour Party for its stance on gender and equality.
"Apparently, under a Labour government, today will become We Who Must Not Be Named Day," Rowling wrote in a tweet that garnered much backlash.
Follow our live blog for updates on the Russia Ukraine conflict.
Update 03/25/22, 9:55 a.m. ET: This article was updated with additional information.