Vladimir Putin Defends Rights of Protesters As Activist Is Jailed for 3.5 Years for Hitting Police Officer With a Garbage Can
Russian President Vladimir Putin has publicly defended the rights of the anti-government demonstrators marching against his regime, even as protesters are handed long prison sentences related to clashes with police.
Hundreds of people have been arrested this summer, during demonstrations sparked by the government's refusal to allow some opposition candidates to stand in this month's elections for the Moscow city parliament. The activists, many of them students, have clashed repeatedly with police.
The president addressed the protests at the Eastern Economic Forum being held in the far-eastern Russian city of Vladivostok on Thursday, and actually defended the rights of those marching against him, though stressed any action taken must be in accordance with the law.
A moderator at an EEF session suggested that the young people involved should be treated leniently, to which Putin replied. "[All of them should be treated] equally, according to the law," state news agency Tass reported.
"Whenever people go out and express their point of view, like they do during protests, I believe that this is their right to do so, and I have said that before," Putin added. "Sometimes that leads to positive results," he continued, suggesting popular discontent pushes the government to "tackle and iron out those problems that people are facing more effectively."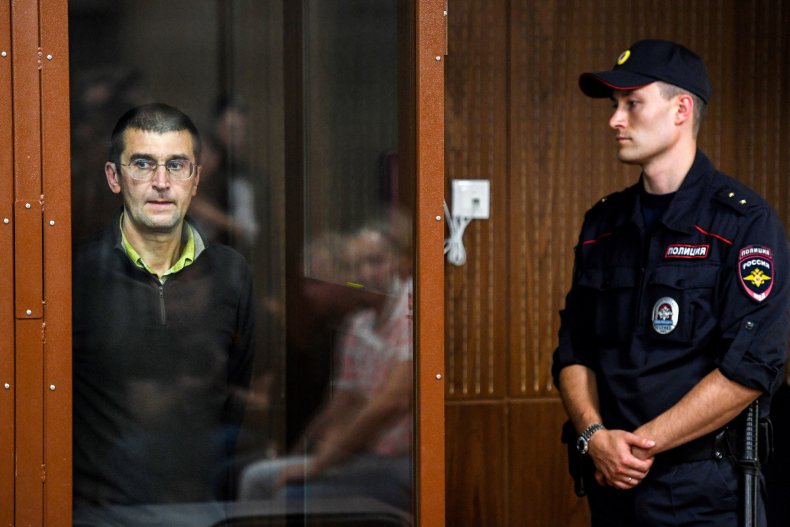 But the president warned that protesters should behave "in a positive way" and consider the national—rather than their individual—interests. This includes acting "within the framework of the established rules and laws," he explained. "I assume that all of us, above all young people, should spend [their] energy on constructive processes," Putin continued.
"I have always adhered to that standpoint, and the developments in the world and in neighboring countries indicate that this is the right approach," he added.
The president made no reference to the accusations—and evidence—of police brutality against the protesters. A trove of photos and videos has emerged showing riot police beating unarmed, peaceful demonstrators in the streets and violently dragging them into police vehicles.
Some of those arrested face tough custodial sentences. These include two men jailed this week for violence related to the demonstrations. On Thursday, 48-year-old activist Yevgeny Kovalenko was sentenced to 42 months in prison for assaulting a police officer during a July rally, Radio Free Europe/Radio Liberty reported.
The court ruled that Kovalenko had pushed one officer and thrown a trash can at another during the unsanctioned July 17 event. Kovalenko plead not guilty, arguing that his actions "were dictated by the lawlessness of the situation and were aimed at preventing the beating of people by police forces."
Another defendant—28-year-old Kirill Zhukov—was sentenced to three years behind bars on Wednesday for using illegal force. Zhukov was accused of pulling up a riot police officer's visor during a protest.