Vladimir Putin Defies Donald Trump as Russian President Comes to Venezuela's Rescue Following U.S. Sanctions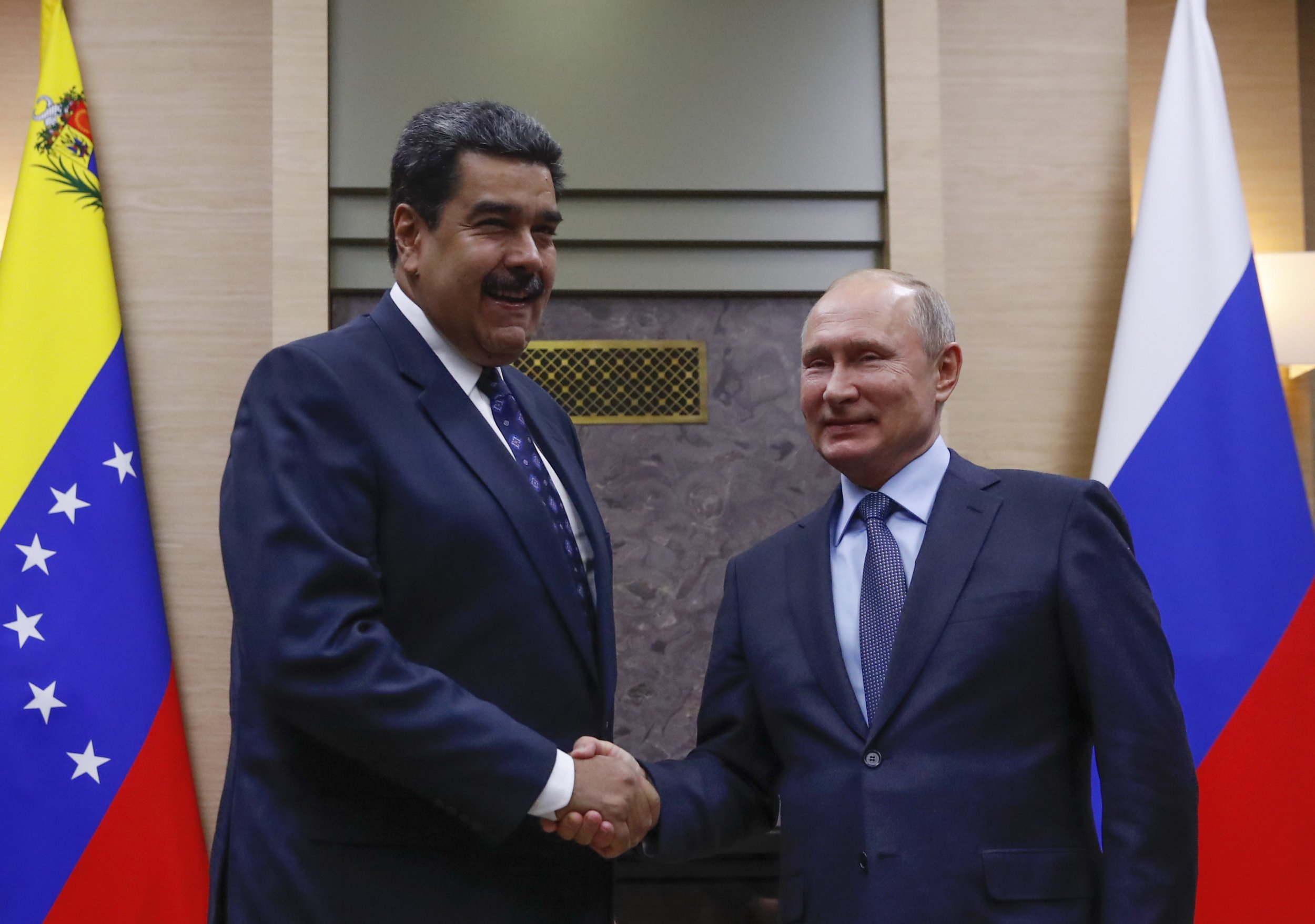 Russian President Vladimir Putin has expressed support for Venezuelan strongman Nicolás Maduro during his visit to Moscow on Wednesday, in the hopes of receiving help for the South American country's ailing economy.
"We support your efforts to achieve mutual understanding in society and all your actions aimed at normalizing relations with the opposition," the Russian president told Maduro during a meeting at Putin's residence in Moscow, The Guardian reported. "Naturally we condemn any actions that are clearly terrorist in nature, any attempts to change the situation by force."
Venezuela's economic crisis has been exacerbated by sanctions from the Trump administration, which prohibit Caracas from issuing new debt or restructuring its debt obligations.
Maduro wrote on his official Twitter account that "our business day in the Russian Federation kicks off with President Vladimir Putin [meeting] to review several topics, under the framework of a vast agenda of bilateral cooperation #MultiPolarVenezuela."
Prior to their meeting, Putin's spokesperson Dmitry Peskov told reporters that Maduro had asked the Kremlin for financial assistance. "The talks will focus on the help that the Venezuelan leadership needs," he said, although he did not offer more details about the kind of aid Caracas would receive.
Venezuela has been embroiled in a crisis critics say started with populist policies adopted by the late former President Hugo Chávez in the early 2000s. The country's socioeconomic woes deepened when Maduro assumed power in 2013 after the death of Chávez, who heavily depended on high oil prices to fund his social programs at home and abroad.
Despite plummeting oil prices in 2014, Maduro did not overhaul currency controls or stop oil subsidies to poorer Caribbean nations. The rapid depreciation of the Bolivar currency on the black market that boosted hyperinflation, food and medicine shortages, an unrelenting crackdown on opposition leaders and dissidents, a decline in oil output, inability to refinance its foreign debt and mounting violence on the streets have forced 3 million Venezuelans to flee their country since 2015.
In the wake of the socioeconomic crisis, the U.S. Treasury Department has imposed sanctions on at least 59 Venezuelan officials since former President Barack Obama signed an executive order to implement the "Venezuela Defense of Human Rights and Civil Society Act of 2014," which "imposes sanctions on persons responsible for violations of human rights" in the South American nation. To date, Venezuelan officials have seen their assets and properties blocked or frozen, while U.S. citizens are barred from entering any business dealings with them.
Russia has also been the subject of sanctions from the Treasury Department. Last month, the department's Under Secretary for Terrorism and Financial Intelligence Sigal Mandelker announced sanctions against Russian and Ukrainian entities and individuals connected to Moscow's ongoing occupation of Crimea, a move the West—including the United States—considers illegal.
This is not the first time the Kremlin offered help to Caracas. In 2017, Moscow agreed to the restructuring of almost $3 million in loans Venezuela had taken from Russia. Both countries have attempted to circumvent U.S. sanctions with the launch of cryptocurrency.