Vladimir Putin Didn't Count on 'Courage' of Ukraine: Pentagon Chief
Russian President Vladimir Putin did not count on the "courage" of the Ukrainian people when he launched the unprovoked attack on the country last February, the U.S. Defense Secretary Lloyd Austin said Friday, during a visit to Europe to meet Ukrainian officials and allied defense ministers.
The Pentagon chief and Chairman of the Joint Chiefs of Staff Gen. Mark A. Milley met with the Ukrainian Defense Contact Group on Friday at Ramstein Air Base in Germany.
Defense ministers and chiefs of defense from nearly 50 countries joined them to discuss Russia's ongoing war in Ukraine, and how Kyiv can defend itself against its neighbor.
Austin made the comments on Putin during opening remarks ahead of the meeting. Austin and Milley are due hold a press conference after the meeting at 4:30 p.m. local time.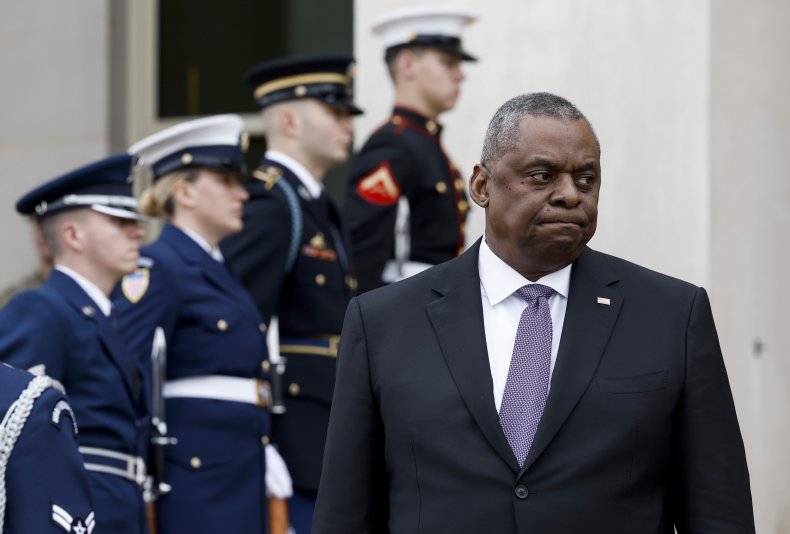 "When Putin launched his wreckless and unprovoked invasion 11 months ago, he thought that Ukraine would just collapse," the U.S. Defense Minister said. "And he thought that the world would just look away, but Putin did not count on the courage of the Ukrainian people."
"And he did not count on the skill of the Ukrainian military. And he didn't count on you, on everyone on screen, and around this table. But we need to keep up our momentum and our resolve and we need to dig even deeper. This is a decisive moment for Ukraine in a decisive decade for the world—so make no mistake—we will support Ukraine self-defense for as long as it takes."
Putin had anticipated to take over the Ukrainian capital Kyiv in just a few days, but his army was met with fierce opposition.
Russia has captured some parts of southern and eastern Ukraine, but has faltered as Kyiv has reclaimed territory, including the city of Kherson that was captured in the early days of the war, in several counteroffensives.
Newsweek has contacted the Kremlin for comment.
Newsweek also reported on Friday that Russia's Wagner Group of mercenaries continues to expand to "up to 50,000" fighters in Ukraine, amid reports that the organization's founder and main financier Yevgeny Prigozhin is becoming "increasingly bold" in his criticism of the Russian military that it is starting to pose a problem for Vladimir Putin.
Ukrainian President Volodyr Zelensky addressed the meeting via videoconference.
"The war started by Russia does not allow delays and I can thank you hundreds of times for all that you have already done, but, hundreds of thank yous are not hundreds of tanks," he said.
"I am truly grateful to all of you for all the weapons you have provided. Every unit helps to save our people from terror but time, time remains a Russian weapon. You and I have to speed up. We have to do it," Zelensky added.
"We must act as fast as a father or mother who saves their child, as a son or daughter who sees their parents need immediate help."