Putin's Russia Serves as a 'Cautionary Tale' for Trump's America, Says 'Citizen K' Director Alex Gibney
Director Alex Gibney has a long filmography documenting the abuse of power by individuals and organizations all over the world, including secretive religions, driven sportspeople and reckless corporations, to name only a few.
His new film—Citizen K, released in Los Angeles theaters Friday—delves into perhaps the most successful criminal enterprise in history: the post-Soviet Russian government.
The documentary follows the rise, fall and apparent rehabilitation of Mikhail Khodorkovsky—one of the wealthiest and most powerful of the oligarchs who fattened themselves on the carcass of the Soviet Union, exploiting the lawless chaos following the collapse of Russian communism to seize control of lucrative national industries.
But Khodorkovsky would eventually fall foul of the new star on the scene, who rose from an obscure KGB agent to become the hand-picked successor to President Boris Yelstin—Russia's first post-Soviet leader—and usher in the age of Vladimir Putin.
Having challenged the new president on government corruption, Khodorkovsky found himself in the crosshairs of the revitalized Kremlin. He was accused and convicted of a range of offenses related to his Yukos oil company, eventually serving 10 years in prison.
Released by Putin in an amnesty ahead of the 2014 Winter Olympics in Sochi, Khodorkovsky left Russia. Now living in exile in London, Khodorkovsky—who is believed to have retained hundreds of millions of dollars in personal wealth—is funding efforts to topple President Vladimir Putin and establish a true democratic system in Russia.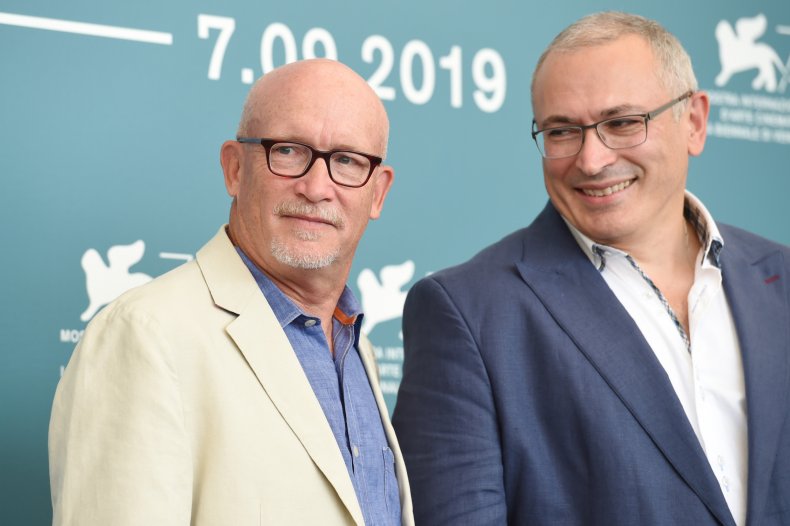 In an interview with Newsweek ahead of Citizen K's release, Gibney explained how making the documentary deepened his understanding of Putin's Russia and lead him to re-evaluate the divisive and corrupt state of politics in the U.S.
The opening portion of the film takes viewers into the chaos of the collapse of the Soviet Union, as the communist faction battled with pro-democracy groups over the country's future.
At points the country appeared on the verge of civil war, and in the bloodiest incident Yeltsin ordered the Russian military to storm the national parliament to oust lawmakers who had occupied the building.
The central government was weak, and the rule of law loose. Deregulation and privatization shifted key industries into the hands of a wealthy few, who soon came to wield fearsome influence over the state.
Gibney said the early history of the Russian Federation serves as "a cautionary tale" of what can happen when a nation indulges in "unregulated capitalism" and ends up with a strongman leader.
At that time, many Russians saw the capitalist system as their highway to prosperity, but did not consider that a free-market shift would strip them of key elements of the Soviet welfare state.
Ultimately, the benefits of the change stayed with a small number of the wealthiest, while normal Russians struggled to survive the years of economic chaos and falling living standards.
Putin eventually emerged to take the place of an ailing Yelstin, who was propped up by the oligarchs in an effort to keep the power from the communists, who were threatening to win the 1996 election. He won, but Yelstin would not see out his term, instead making way for his deputy Putin in 1999.
Putin has gone on to become synonymous with Russia, having now ruled the world's largest nation either as president or prime minister—to abide by term limits—for 20 years.
Gibney suggested that the love of power itself, rather than wealth or some ideological goal, is the explanation of Putin's ruthless politicking and ability to survive.
Indeed, Putin is hardly in need of more money. Some reports have suggested he could be the richest man in the world, with a personal fortune of as much as $200 billion.
"He's one of those people who's just hungry for power and learned how to get it, and now is determined to keep it," Gibney said. "In a way, that's what makes him such a potent figure and such a good politician. Politicians tend to be narcissists, and I think Putin is no exception."
Putin was a KGB officer in East Berlin when the Berlin Wall fell, where he was no stand out agent. Nonetheless, Gibney suggested that the espionage trade craft he learned helped his meteoric rise to power, catapulting him from obscure KGB agent to president in just nine years.
Gibney reflected on one portion of the documentary, in which Khodorkovsky suggested that Putin's ability "to be anything to anybody" gave him an edge over the other major players in transitional Russia.
"Depending on who you are, he'll change to suit you," Gibney said. "He's always playing a game."
Putin's rise and consolidation of power should serve as a warning to Americans, Gibney suggested, given the current political turmoil gripping the U.S. The idea of a power-hungry president building an administration on "crony capitalist favors" is not too far from the reality of President Donald Trump's government.
While filming in Russia, Gibney said he was "hearing a kind of vague echo of where things might go" in the U.S. "I was trying very hard not to directly connect it and to just focus on Russia, but some of the parallels were ineluctable."
Putin's control of the media and thus the national narrative was vital in facilitating his rise and protecting him against the inevitable failures that any leader must grapple with.
"Storytelling becomes terribly important for people in power," Gibney reflected. "I think one of the reasons why Trump is as charismatic to his followers as he is—he's a good off the cuff storyteller," he added.
"Putin learned over time to be a good storyteller," Gibney continued. "There's certain stories you tell, and they may be fictional. They may be completely false. But you tell them often enough and forcefully enough and people begin to believe them," he said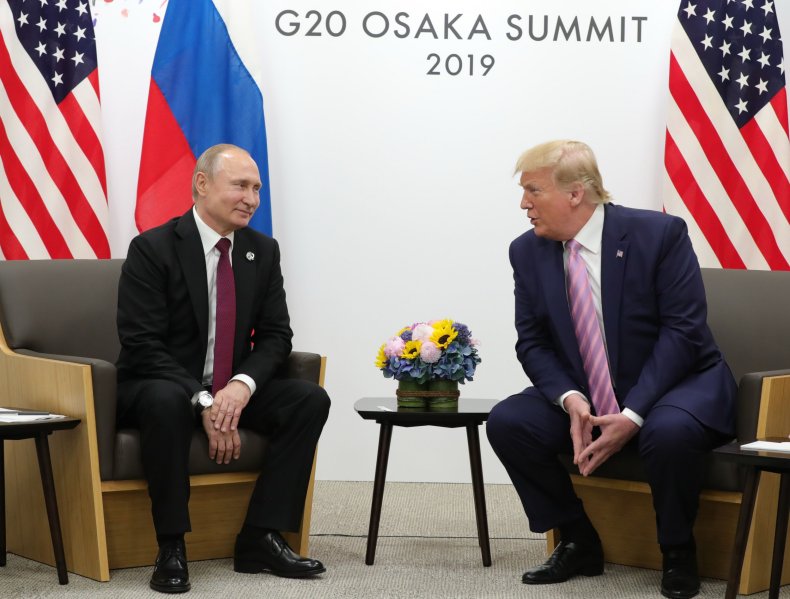 Here the press must also play its part, the director explained. When Russia's new media moguls propped up Yeltsin and helped him win power in 1996, they eased Putin's ascent and set a dangerous precedent.
"There are consequences to that, and the consequences in Russia where that Putin learned a lesson, which is that you can employ fakery in order to be able to undergird power," Gibney said. "That's not where you want the press to go, because then over time people stop believing in what the press has to say."
He added it was a "cautionary tale" for Americans, raising questions about how far the press should go "in terms of being the opposition as opposed to fact finders and truth tellers."
Americans should be wary of such false narratives, Gibney said, and of the "vilification or undermining of the rule of law," also common in Putin's Russia and during Trump's presidency to date.
Gibney cited a specific example of such behaviour—the attempted murder of former Soviet agent Sergei Skripal by Russian agents in the U.K. in 2018. It was quickly clear that the culprits were Russian, and it later emerged that both are operatives for the GRU—Russia's military intelligence agency.
The Kremlin flatly denied any involvement despite conclusive evidence, even allowing the two men to appear on television and claim to have been visiting the U.K. as tourists.
"The Kremlin is basically saying: 'We're telling you a lie, and we know we're telling you a lie, and you know that we're telling you a lie, but we're going to tell it to you anyway,'" Gibney explained. "So what are you going to do about it? Right? That was scary to me, because that seems very Trump."
A defense can be "as ridiculous as possible," but the power of the denier leaves critics with little recourse. "That's the scary part," Gibney reflected.