Vladimir Putin Whispered to Donald Trump About Deep State Conspiracies Ruining Their Friendship: Book
Russia President Vladimir Putin reportedly told President Donald Trump that the pair of leaders were not to blame for the lack of friendship between the two, instead pinning the responsibility on a "deep state" working against them, according to an upcoming new book.
For over a year, Trump had routinely claimed a so-called deep state within the CIA, FBI and Justice Department were working to subvert his administration due to political bias. Putin appeared to reinforce the president's conspiratorial allegations in phone calls, reporter and author Greg Miller wrote in the book The Apprentice: Trump, Russia and the Subversion of American Democracy. An excerpt of the book was published by The Washington Post, where Miller works, on Wednesday.
Miller wrote Putin would "whisper conspiratorially" to Trump about the forces working against them.
"It's not us. We get it," Putin told Trump, according to White House aides cited by Miller. "It's the subordinates fighting against our friendship."
The book also detailed former CIA director John Brennan attempting to tell President Barack Obama in July 2016 that Russia's attempts to meddle in the upcoming election were coming directly from Putin. Also included was an account of Trump's first visit to CIA headquarters a day after he was inaugurated.
Miller explained Putin's background in military intelligence and that the Russian leader knew how to play to a person's "insecurities and ego."
"A trained intelligence operative, Putin understood the power of playing to someone's insecurities and ego. On cue, he reciprocated with frequent praise for the president he had sought to install in the White House," Miller wrote.
Putin has denied conducting a hacking and meddling campaign in the 2016 election in order to prop up Trump over every other candidate, while Trump has issued repeated denials of any collusion between his campaign and Russia to claim the White House.
But Trump had been plagued throughout his campaign and administration about kind words toward Putin and his urging for improved diplomatic relations between the two former Cold War foes.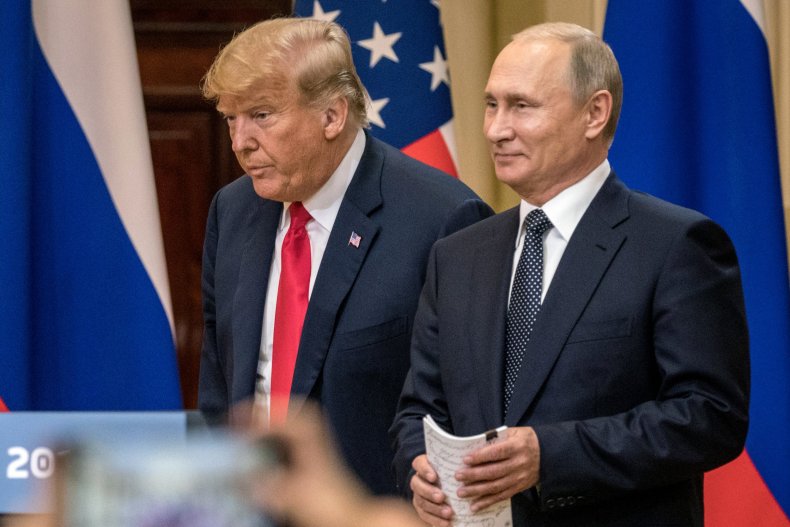 The president fueled speculation about his relationship with Putin and Russia in July when he initially said during a summit in Helsinki that he believed Putin's strong denials of hacking and had no reason to believe the U.S. intelligence community's assessment that Russia had indeed interfered.
Trump would walk those comments back, stating he misspoke, but the calls between him and Putin and described in Miller's book will likely only further suspicions about the pair's relationship.
Miller's book was scheduled for release on October 2, and would likely be the latest damning account of Trump's administration. A week ago, Washington Post reporter Bob Woodward released his book Fear: Trump Inside the White House, in which many top aides questioned the president's mental acuity and fitness for office.