Trump Describes Reports on Secret Putin Meeting as 'Sick'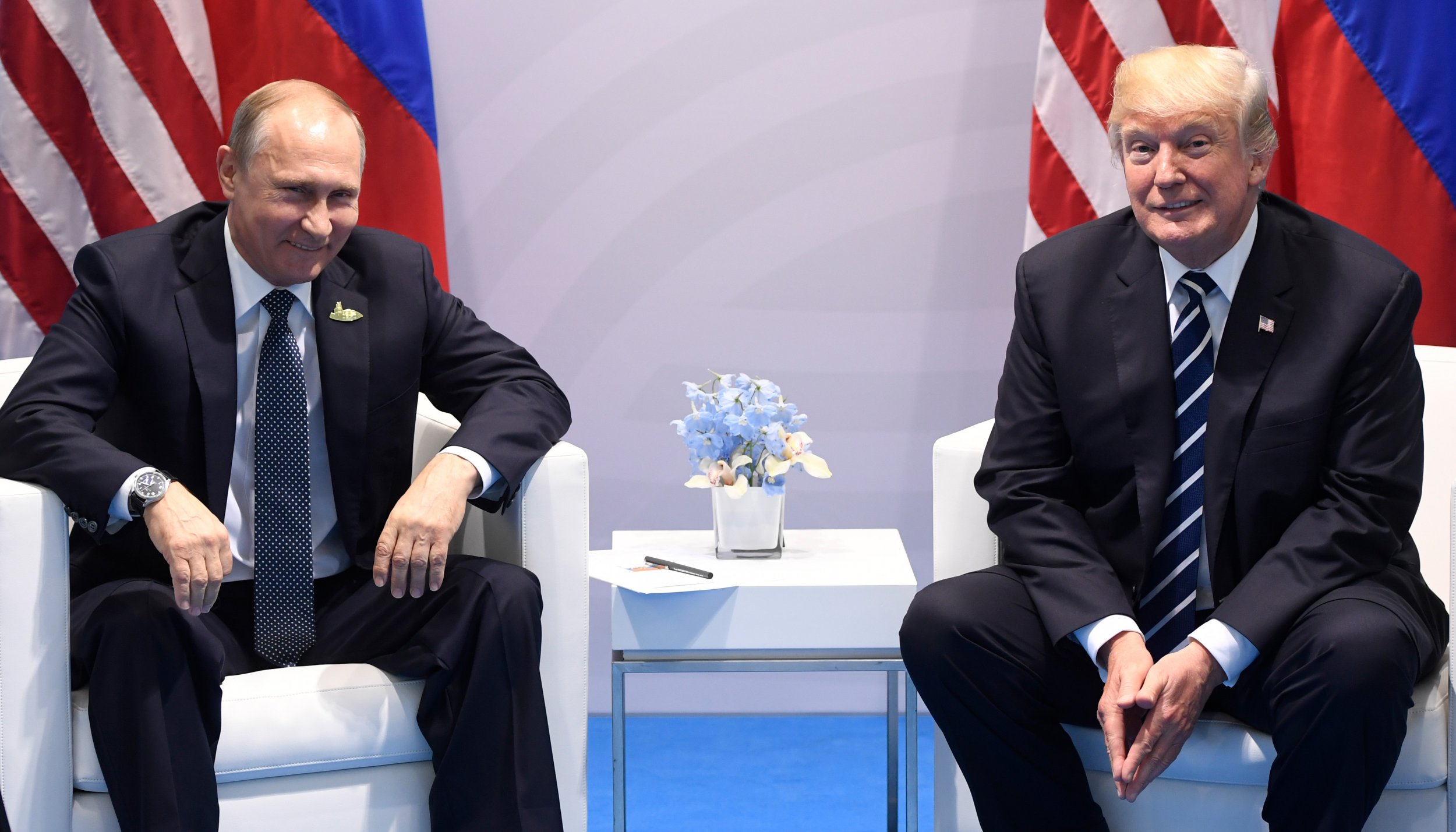 Donald Trump held a previously undisclosed meeting with Russian President Vladimir Putin at the G20 summit in Germany the White House confirmed, however the president described media reports of the meeting as "sick.'
The leaders talked for an hour at the end of a formal dinner at the summit, but the White House has not revealed what was discussed.
Reacting to reports of the meetings, Trump tweeted "Fake News story of secret dinner with Putin is "sick." All G 20 leaders, and spouses, were invited by the Chancellor of Germany. Press knew!"
"The Fake News is becoming more and more dishonest! Even a dinner arranged for top 20 leaders in Germany is made to look sinister!"
According to a memo sent by the Eurasia Group to subscribers, Trump left his seat to sit next to Putin, who had been seated next to Trump's wife, Melania. The two spoke with only Putin's translator present.
Trump had been seated next to Japanese Prime Minister Shinzo Abe, so the U.S. translator present spoke only Japanese, not Russian.
"Donald Trump got up from the table and sat down with Putin for about an hour. It was very animated and very friendly," wrote Eurasia Group co-founder Ian Bremmer in the newsletter, adding that no-one else was seated near to them so it was not known what was discussed.
Bremmer said he had not been at the dinner, but details of the meeting between Trump and Putin had been relayed to him by attendees who were "flummoxed, confused and startled" by the break with protocol.
The two leaders had earlier that day held a formal meeting at the summit, at which Trump claimed he pressed the Russian leader on allegations Russia meddled with the 2016 presidential election, and Putin denied the allegations.
John Kirby, a State Department spokesman under the Obama administration, told CNN: "While smaller pull-aside meetings are common, it is strange that a pull-aside with someone like Putin -- especially Putin -- would not include at least another national security official and a translator."
In a statement, the White House denied there had been a "second meeting" between the leaders at the summit, and said the two had held a brief discussion after dinner. A senior White House official confirmed to CNN that the discussion lasted "nearly an hour."
National Security Council spokesman Michael Anton said: "The insinuation that the White House has tried to 'hide' a second meeting is false, malicious and absurd. It is not merely perfectly normal, it is part of a president's duties, to interact with world leaders."
Trump is currently under pressure over connections between members of his team and Russia, who are accused of colluding with the Kremlin to help secure Trump's election. Special counsel Robert Mueller is leading a probe into the allegations, which are also being investigated by House and Senate committees.
Trump Describes Reports on Secret Putin Meeting as 'Sick' | U.S.