Russia's Vladimir Putin Says Trump Administration Attack on Iran Would Be a 'Catastrophe'
During his annual question and answer session with reporters Thursday, Russian President Vladimir Putin weighed in on the potential for a U.S. conflict with Iran, arguing that any American attack on the country would be a "catastrophe."
"I want to say at once that this would be a catastrophe for the region" that could result in "a surge in violence and perhaps an increase in the number of refugees," Putin told reporters during the press conference.
It looked increasingly likely on Thursday morning that the U.S. could enter into a conflict with Iran. The country's elite Revolutionary Guard (IRGC) announced that it had shot down a U.S. drone that had gotten too close to Iranian airspace near the Strait of Hormuz.
"The U.S.-made Global Hawk surveillance drone was brought down in the country's southern coastal province of Hormozgan," the IRGC's website read, adding that "it was shot down when it entered Iran's airspace near the Kouhmobarak district in the south."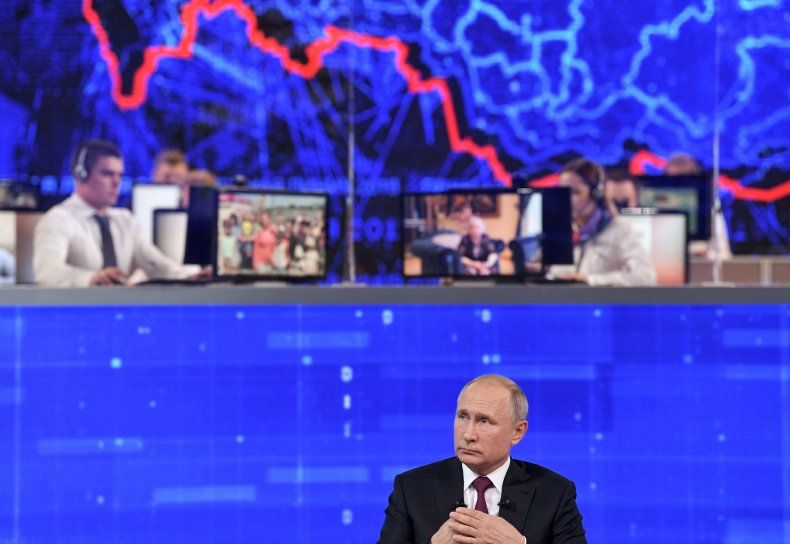 U.S. officials later confirmed the incident. "Iran made a very big mistake!" President Donald Trump tweeted Thursday.
The IRGC's Commander-in-Chief Hossein Salami later appeared on television and assured that Iran is "fully prepared for war."
"Today's incident was a clear sign of this precise message so we are continuing our resistance," Salami said. "The downing of the American drone was a clear message to America… borders are our red lines."
The confrontation came shortly after the U.S. pledged to send an additional 1,000 U.S. troops to the Middle East in an effort to protect U.S. interests against Iran's influence. Already strained relations have worsened in recent weeks after an attack on two commercial oil tankers in the Gulf of Oman, for which the U.S. has blamed Iran.
Experts have warned that the U.S. may be laying the groundwork to launch a conflict with Iran. Trump administration officials have been briefing members of Congress on alleged ties between Iran and the militant group Al Qaeda in what appears to be an effort to use the 2001 Authorization for Use of Military Force (AUMF), which allows the government to use force against "nations, organizations, or persons" linked to the September 11 terrorist attacks. But many experts have noted that the ties between Shiite Iran and Sunni Al Qaeda are tenuous, if they exist at all.
House Democrats made moves on Wednesday to pass an appropriations bill that included a repeal of the AUMF, but it is unlikely to pass the Republican-held Senate.