Donald Trump Says Vladimir Putin 'Probably' Has Killed His Critics but Suggests He Doesn't Really Care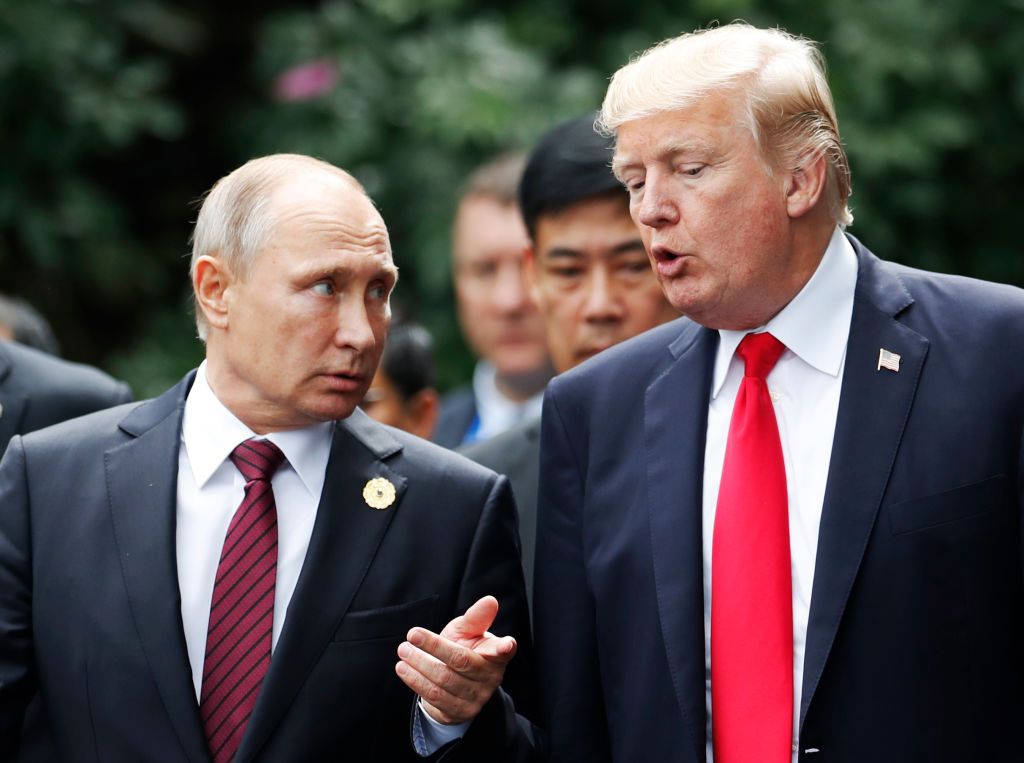 President Donald Trump said he believed his Russian counterpart Vladimir Putin had "probably" killed his critics, and suggested it didn't concern him a great deal.
In an interview with CBS newsmagazine 60 Minutes, which aired October 14, Trump was asked by host Lesley Stahl whether he believed the Kremlin head, whom he has long praised, had been involved in the assassination of his critics.
"Do you agree that Vladimir Putin is involved in assassinations? In poisonings?" Stahl asked.
"Probably he is, yeah. Probably," the president responded. Then, appearing to brush aside the concern the claims would raise for many, he added, "But I rely on them. It's not in our country." Trump also said, "Of course they shouldn't do it."
No specific names or allegations were mentioned in the interview, thought several prominent Kremlin critics have been killed in unusual circumstances. Anna Politkovskaya, an investigative journalist, was killed in 2006, and former Deputy Prime Minister Boris Nemtsov was killed in 2015. Aleksandr Litvinenko, a former Russian security officer, was poisoned in 2006. The Kremlin has consistently denied any involvement in the deaths.
Prior to Trump's remarks about the alleged murders, Stahl pushed the president to explain why he had appeared reluctant to criticize Putin publicly. Trump responded by pointing to the actions his government had taken to counter Russia.
"I'm the one that gave Ukraine offensive weapons and tank killers. Obama didn't," he said. "You know what he sent? He sent pillows and blankets. I'm the one—and [Obama's] the one that gave away a part of Ukraine…"
Stahl interrupted, saying Trump hadn't criticized the Russian leader directly.
"I think I'm very tough with him personally. I had a meeting with him. The two of us. It was a very tough meeting and it was a very good meeting," he said.
Confronted about allegations of Russia meddling in the 2016 presidential election, Trump admitted that Moscow had done so, but also pointed to China's efforts, arguing that the latter country was "a bigger problem."
The president has frequently spoken fondly of Putin, hailing his July summit with the Russian leader as "even better" than one he'd had with NATO allies days before. Since his presidential campaign, Trump has often referred to the strongman leader in positive and respectful terms, drawing substantial criticism from Democrats and Republicans alike.
Trump's 2016 presidential campaign remains the subject of an investigation into possible collusion with the Russian government. Several top aides have faced indictments and convictions in the probe, and the president is reportedly preparing with his legal team to answer questions by special counsel Robert Mueller as part of the inquiry.
While Russia's election meddling has drawn significant national attention as a result, with analysts warning that Moscow has continued to interfere in the upcoming November midterm elections, intelligence and security experts pointed to China as a larger threat.
Last week, FBI Director Christopher Wray, who was nominated by Trump, testified before the Senate Homeland Security Committee that China is the "broadest threat" currently facing the nation.