In Moscow, Vladimir Putin Calls Journalists 'Curious Bunch,' Claims Trump-Russia Collusion 'Invented'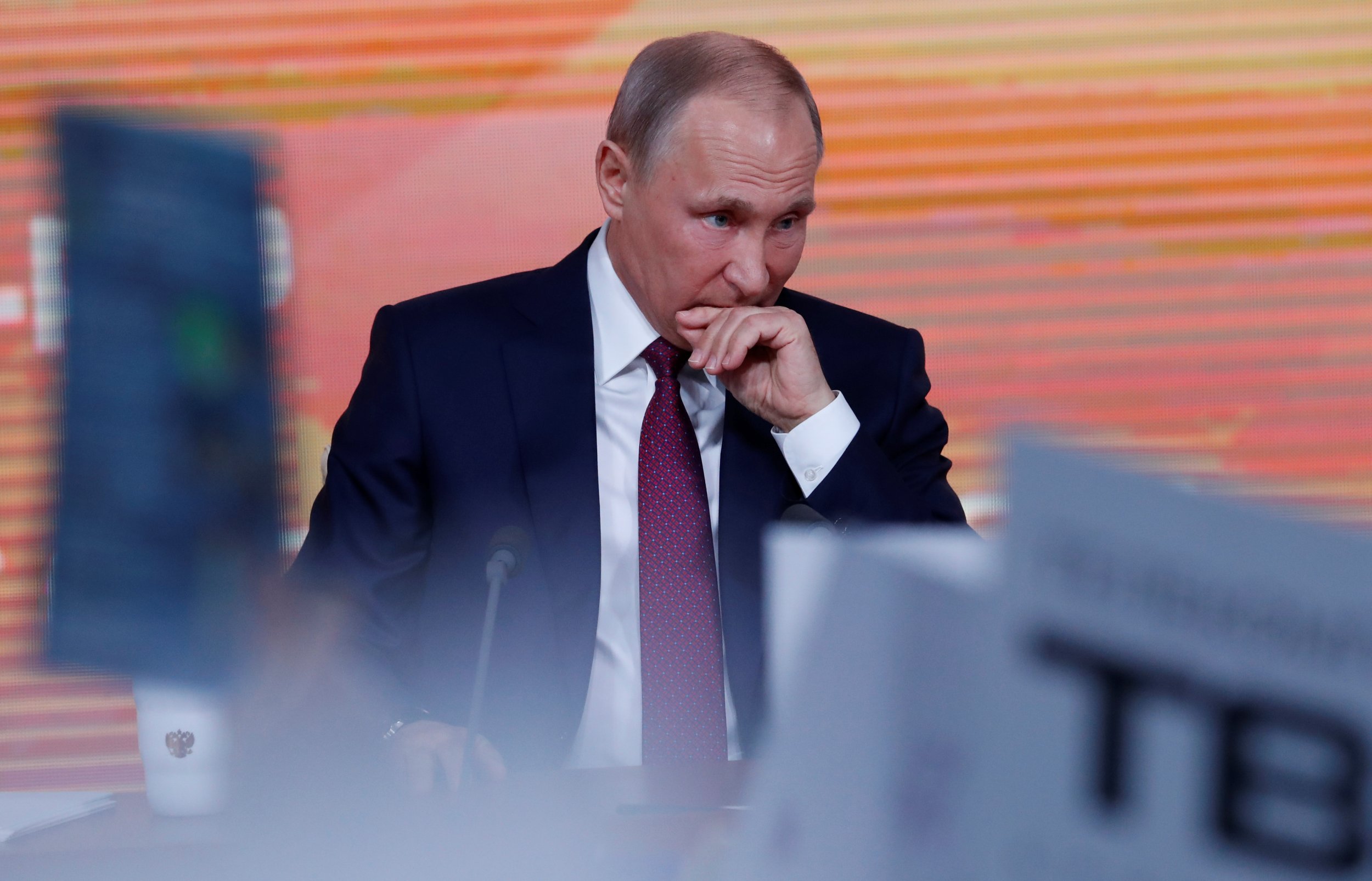 Russian news channels wrapped up their morning broadcast Wednesday with footage from an empty desk beneath a bright orange screen in one of the crowded halls of Moscow's World Trade Center.
After a series of news anchors had billed his hotly-anticipated upcoming press conference as must-see, Russian President Vladimir Putin emerged to roaring applause.
The event—Putin's annual press conference—has become an annual political spectacle, ingrained as deeply into Russia's December TV schedule as Christmas specials and end-of-year retrospectives are elsewhere.
As usual, members of global and U.S. media outlets rubbed shoulders with some of the most obscure Russian local titles, as journalists jostled for the president's attention with large banners, advertising the topic they wanted to discuss.
Questions about roads in Pskov and taxes in Novgorod receive as much attention as Russia's ongoing doping problems, the U.S. election meddling scandal and the global conflicts in which Russia is involved.
Read More: Putin's thoughts on sex, drugs and cloning himself, revealed in bizarre call-in show
Putin himself chose the questions and occasionally even took two at once. Follow ups or even very long questions were reprimanded by his spokesman, Dmitry Peskov, who sat nearby. Interspersed between a sea of placards with captions such as "Save the Children" and "Russian Folklore," here are some of the most interesting exchanges the Russian leader picked out.
Putin on a new arms race with the U.S.
A rare foreign policy highlight from the event's first hour that dwelled mostly on domestic issues were Putin's thoughts on missile treaties between Moscow and Washington, which has repeatedly accused Russia of violating agreements that prevent powerful missiles with much of Europe in range.
"It appears that the conditions are being created and there is an information propaganda campaign for the United States' possible withdrawal from this treaty," Putin said. "They have de-facto already left it."
"We will pay the necessary attention to the development of the army and navy without getting involved in an arms race," Putin concluded.
Putin on U.S. election meddling
Speaking about the ongoing investigation into alleged Russian collusion and interference in the election that helped elect President Donald Trump, Putin accused the U.S. of being gripped by "spymania" in suspecting impropriety in the expanding list of contacts with Russian officials that Trump campaign team members have confessed to.
"All of this is invented," Putin said. "It has all been invented in order to give Trump's work the appearance of illegitimacy. To me this is even strange, I am telling you honestly, as this is being done as if without any understanding that the people who are doing it are harming the internal political state of the country."
Putin did not refer to either Donald Trump Jr.'s meeting with a woman whom he thought represented the Russian government and wanted to help the Trump campaign, or the now dismissed Trump confindate Mike Flynn who admitted to holding undisclosed conversations with Russia's ambassador on the eve of new U.S. sanctions on Russia being introduced. But the Russian president appeared to defend both.
"How do you imagine it?" he told a journalist from ABC. "What, all contacts are to be banned? What are you seeing here that is abnormal and why does it have the appearance of spymania? What nonsense."
Putin on U.S. Senators and sanctions
Asked by the Associated Press later about the potential of mending ties under Trump, who can no longer lift sanctions on Russia without backing from U.S. lawmakers, Putin smirked.
"You're a curious bunch," Putin answered, to giggles from the corners of the room. "Did you not notice that your congressmen, your senators, who look very nice, dressed in suits and ties, they are like smart people, they put us on par with North Korea and Iran," Putin said, referring to the U.S. sanctions on all three nations.
In Russia's case, only a handful of businesses owned by individuals close to Putin are blacklisted as punishment for their support of the annexation of Crimea and backing for separatist groups in Ukraine. North Korea is at the other extreme, as the U.S. has called for the global community to cut off the country entirely for their nuclear programme.
"Then they push the president to talk us into resolving the problems of North Korea and the Iranian nuclear programme with you. All in all, (these are) normal people, are they not?"
Laughter and applause erupted from the room, as Putin chuckled to himself. "This is strange, you must agree," Putin said.