Russia's formalized occupation of separatist-held eastern Ukraine marks a new phase of Moscow's war against Kyiv, and against the Western partners publicly resolved to protecting its sovereignty.
It remains to be seen whether Monday's developments mark the beginning of a offensive into Ukrainian-held territory or a marginal victory for President Vladimir Putin that will allow him to step away from the brink of devastating war.
But even if Russian tanks roll no further than the Donbas contact line, there will be no respite for besieged Ukraine.
Former senior Ukrainian officials have told Newsweek that Putin does not necessarily need a large-scale invasion to achieve his strategic goals of a cowed Ukraine shut out of the West's security club, stranded in an eastern European buffer zone as easy prey for the kleptocracy next door.
Ukraine is already paying a high price for the Russian build-up on its borders. President Volodymyr Zelenskyy's office reported this week that the country is suffering between $2 and $3 billion in irretrievable losses each month due to the invasion threat.
Foreign tourism has more or less disappeared. Dutch airlines KLM and Air France are among the airlines that have suspended services to Ukraine, while insurers have withdrawn coverage for operators that continue to fly over the country.
Ukraine's currency, the hryvnia, has fallen to a four-year low against the dollar, and a January poll by the European Business Association found that 17% of its 130 companies in Ukraine were considering relocating to the country's west, and 10% were thinking of abandoning the country entirely.
"It's going to get us to the brink of economic collapse," former foreign minister Pavlo Klimkin told Newsweek.
Such a collapse would be the ideal situation for the Kremlin, sowing chaos across the country without risking Russian dead.
"This war is about money, first and foremost," Alexander Khara — a former adviser to the minister of defense and National Security and Defense Council official — told Newsweek. "If there is no running economy, we cannot defend ourselves."
"It was one of the key reasons why Zelenskyy was not happy with Biden saying that the invasion is going to happen next week, or this day, or that day," said Khara, who is now working for the Centre for Defence Strategies think tank in Kyiv.
"Certainly he has economic statistics in front of him," he added, "and he understands that even without a single bullet shot, we're losing the struggle because of economic conditions."
Khara said it's all part of Putin's strategy.
"He's a rational actor, and he would love Ukraine to destroy itself by its own hands," he said. "And if there is a possibility just to threaten Ukraine and the Ukrainian economy collapses, it's the best strategy he can invent."
Former Prime Minister Oleksiy Honcharuk said that Ukraine's economy is not yet facing collapse.
"We have a pretty strong financial system," Honcharuk told Newsweek. "We have a good, professional national bank. I believe that we have a stable macroeconomic situation. We have a stable currency."
However, he warned that a long face-off with a Russian invasion force would be costly.
"But we are losing our potential and we are losing, in the midterm and long term perspective, our economic pace, and this is very important," Honcharuk said. "For Putin it's very important to contain Ukraine in a bad situation, to keep it from developing. He is achieving this goal."
Russian aggression has galvanized unprecedented Western unity on Ukraine. Weapons are being flown in from across the NATO and European Union blocs, and a troupe of leaders have traveled to Ukraine in solidarity. This week, the EU approved an emergency $1.3 billion loan package for Kyiv, the first $680 million to be distributed "swiftly."
Divisions remain, however, primarily on the important questions of fresh sanctions and future NATO membership. But the Western blocs have appeared resolute in standing up to Russia, at least in public.
But Ukrainians want more to help soothe investors scared off by the risk of Russian aggression. The cost-benefit calculations of investing in Ukraine are increasingly not in Kyiv's favor.
"That's why it's very important for Ukraine to receive some help from the West to cover these additional risks," Honcharuk said. "This is a main threat."
"If the Western alliance could create some tool to cover at least part of these additional risks, it would be great," he added, "to make sure that foreign investors — investors from the United States, from Europe — will be safe."
He said the EU emergency package alone is insufficient.
"It's a good start, but it's not enough," Honcharuk said.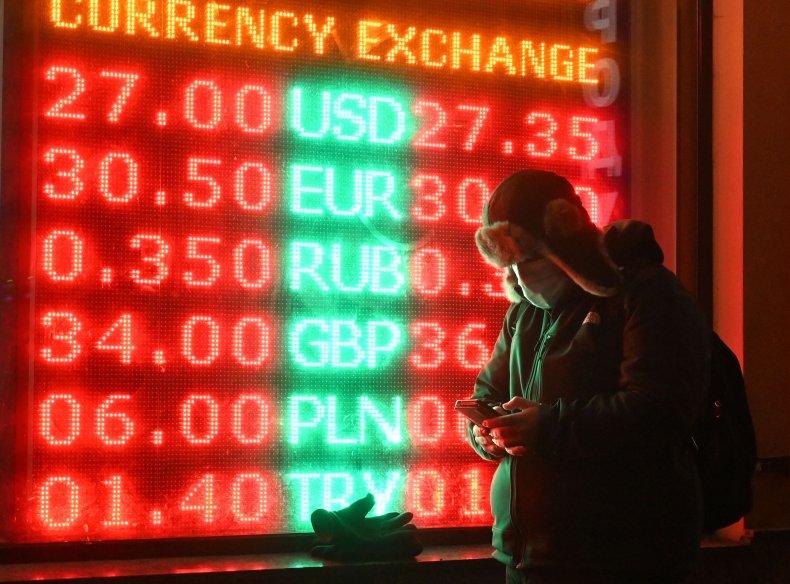 Ukraine's Ambassador to the U.K., Vadym Prystaiko, told Newsweek that Kyiv needs a historic level of economic support; an ambitious proposal in an age of global economic instability, European political flux, and American partisanship.
"There will always be a deficit of resources," he said in an interview at Ukraine's London embassy. "We need something which will allow us to pull Ukraine out of this situation."
"I believe that Ukraine can be helped," Prystaiko added. "But the help provided is not enough. It's not a Marshall Plan."
Russian control of occupied Donbas territory is primarily a means to an end, a springboard for Russian dominion over the entire country through peace or war.
Putin may yet bide his time, keeping troops in place around Ukraine and in occupied Donbas long into 2022 and beyond. The price of oil and gas are both high. As key contributors to Russia's mineral-dependent economy, they are swelling Kremlin coffers and giving Moscow powerful leverage over energy-starved Europe.
"I believe he has time and he will exploit it," Khara said.

Dragging out the crisis also gives more time for cracks in the Western alliance to widen.
"A real push for Putin is that the West is still very cautious in coming up with clear points on how it will react to a case of Putin breaking their red lines," Khara added.
"A number of states are not willing to really support real sanctions," Klimkin said. "They're willing to talk further with Putin and to have communication lines with him on other issues...There's still a lack of clear strategic vision of what to do with Putin's Russia. It's very clear now."
The Kyiv Independent reported last week that French President Emmanuel Macron and German Chancellor Olaf Scholz are already trying to force Zelenskyy to accept Russia's interpretation of the Minsk II peace agreement, signed in February 2015 to stop fighting between Ukrainian and Russian-backed separatist forces.
The deal, like its predecessor Minsk I, was signed after separatist battlefield victories facilitated by Russian troops and equipment.
The deals would give as-yet undefined autonomy to the self-declared separatist republics, something the government in Kyiv and most Ukrainians see as an unacceptable threat to Ukrainian independence.
Putin's decision to recognize the self-declared separatist republics is the coup de grâce for the two Minsk accords, already considered defunct by many in Moscow and Kyiv after years of no progress.
Russia and Ukraine are both members of the Normandy Format, along with France and Germany, formed to oversee Minsk's implementation. Macron, who faces the first round of presidential elections in April, has seized the role of mediator in recent months, pushing for fresh Normandy talks and proposing another Biden-Putin summit.
"Macron, and probably Germany and Russia, will be pushing us to find a solution within the Normandy format," Oleksandr Danylyuk, formerly the secretary of Ukraine's National Security and Defense Council," told Newsweek.
"We understand very well that Russia is not going to give anything," added Danylyuk, who is a co-founder of the Center for National Resilience and Development (CNRD) think tank in Ukraine. "It will be at the cost of Ukraine."
He said this could yet prove to be a "long-term trap" for Kyiv.
"If now our government, or Zelenskyy specifically, agrees to this compromise, he will have a challenge on implementing it in Ukraine," Danylyuk said. "That could cause a very serious destabilization."
"If he doesn't agree to this compromise, then the pressure will be mounting and I think France and Germany will be less willing to support sanctions against Russia," he added. "They will feel that they lost in the Normandy talks because of Ukraine's position."
"We're now in Minsk III," Danylyuk said, hours before Putin's recognition of the separatist states. "What is going to happen in these Normandy talks is pushing a new version of the agreement on us. It will be called an 'implementation of Minsk,' but in reality, it will not be Minsk II, there will be some amendments there that would be detrimental to us."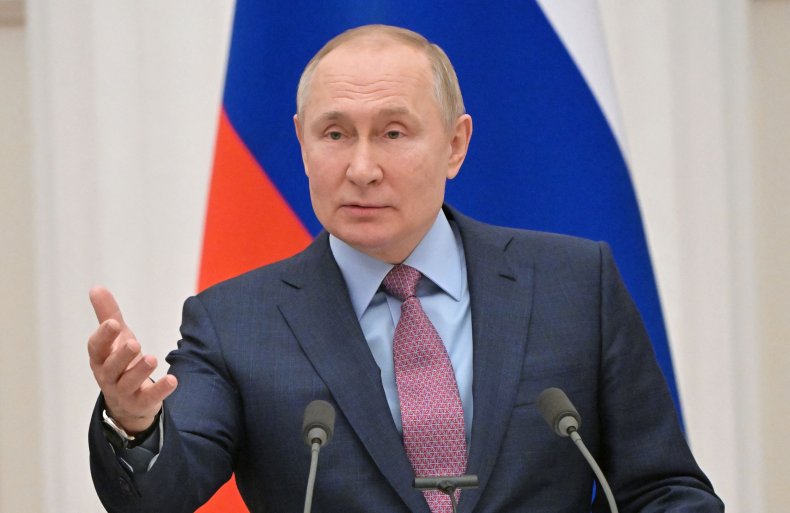 He said that Ukraine is caught between friend and foe.
"We are in a very difficult position, a very weak negotiating position," Danylyuk said. "We're being attacked and the West is trying to find a solution. It's very difficult to protect our own interests with so much pressure to find a solution."
If France and Germany are leading the Normandy push, it remains to be seen what the U.S. will do. Biden and his top officials have publicly maintained their "nothing about Ukraine, without Ukraine" rhetoric, and repeatedly threatened severe costs for Russia in the case of further aggression.
But Biden has also ruled out sending American combat troops to Ukraine, and warned that Kyiv's NATO membership is a long-term prospect.
The president's failure to take a tough line on Russia's Nord Stream 2 natural gas pipeline also caused consternation in Ukraine. Germany's surprise decision to scupper the project on Tuesday provided much needed salve to this wound.
"I don't think that the U.S. will swallow anything," Danylyuk said of any proposed deal via the Normandy format or another forum. "They will be looking at what it will mean for implementation. If that means destabilization of the country then they will be against it, because they will have to deal with this as well. But if it's something reasonable, they might actually agree to it."
Putin's ambition does not end with Donbas or even Ukraine as a whole, former officials said.
"He's going to do something, and he needs to prove that Biden's deterrence doesn't work and that NATO deterrence doesn't work," Khara said.
"He is not going to be just against us, but I believe that he will do something against possibly the Baltic states to show that all those words from Biden and [NATO Secretary-General] Jens Stoltenberg and others do not really meet with reality," he added.
Many in Ukraine think Putin is playing the long game.
"He believes that in the months to come, Ukraine will become more fragile," Klimkin, also a co-founder of the CNRD along with Danylyuk, said of Putin. "He can afford to keep his troops around our borders. Of course it's costly, but for him it's fine because oil is expensive and gas is expensive."
Meanwhile, artillery strikes, staged clashes and other incidents in and around Donbas will continue. "He's good at creating provocations," he added. "What's going on now in Donbas...it's about creating pretext and provoking us. They will keep provoking us."
A stable, democratic and Western-integrated Ukraine poses an existential threat to Putin's neo-tsarism, Ukrainian former officials said. The Kremlin, they say, cannot allow the project to succeed, lest its drive for greater transparency and accountability infects Russians.
"Strategically he needs to undermine democracy," Honcharuk said. "The main threat is having a democratic successful country as a neighbor. This is very important to understand. That's why this war is not a war against Ukraine. It's a war against democracy."
And domestically, he said, it's a public relations war for Putin.
"Putin's main threat is the Russian street," Honcharuk said. "And we should understand that Putin speaks to his people, the Russians. And this is the only audience he is now interested in. Because if he decides to invade Ukraine, he will need some level of support in Russian society, for sure."
He argued that Ukraine's Western partners must be prepared for both a long, sprawling ideological confrontation and a combined arms blitzkrieg toward Kyiv.
"In general, he needs to divide the allies," Honcharuk said, "so he will take some small steps to provoke conflicts inside NATO and misunderstanding in the West."
"He will organize some traditional crises like a migration crisis, an energy crisis," he predicted. "He will create pressure on Ukraine's economy to make sure that Ukraine can't develop."
"He will create crises. He will raise the stakes. He will press, corrupt, and bribe politicians," Honcharuk said. "He will play in the Balkans. He will build relations with guys like [Hungarian Prime Minister] Viktor Orban, who is almost a strongman in the middle of Europe. Putin will use all possible tools to undermine democracy as a model, because this is his war."
This "strategy of 1,000 cuts," he said, will undermine Putin's enemies without risking a costly invasion.
"This is his main strategy, and I don't see any reasons for him to change this," Honcharuk added. "Strategically, you don't need a direct military invasion. I believe he understands that this would be his last military operation."
Russian tanks are already once again rolling into Ukrainian territory. No one, perhaps not even Putin himself, knows yet where they will stop. Brinkmanship is a dangerous game, and with Russia's campaign to create a pretext for further incursions well underway the risks of miscalculation and unintentional escalation rise each day.
"I believe that Putin is rational," Khara said. "That's why he would love to get all he wants with less resources applied before the threshold of war.
"But if he fails in using these non-military means," he said, "he would resort to the military means, there is no doubt."
"Certainly I wouldn't say that we should rule out a full invasion or some decisive actions against Ukraine," Khara added. "He's weighing his options and he's looking at the weaknesses in Ukraine, and certainly in the position of our partners."
Some observers have suggested that the Kremlin strongman has become detached from his government during the coronavirus pandemic. Putin, the theory says, has lost his edge and his judgement. Monday's stunning diatribe against Ukraine and other former Soviet states has left the world wondering.
"At the end of the day, the question is, 'Is he crazy or not?'" Honcharuk said. "If he's crazy, he will attack."
"I don't think that he has totally lost his mind and understanding of situations," he added. "He's a very experienced politician, and I think that he's very practical. He wants to look like a mad man to raise the stakes."
"If he's not crazy," Honcharuk said, "he won't invade Ukraine."