Putin Facing Revolt After Soldiers Aren't Paid
Over 100 conscripted Russian soldiers staged a revolt, saying that they have not been paid by the Russian government since being mobilized.
The men from Chuvashia staged a strike in the training center in Ulyanovsk, reported independent Russian news organization 7x7 Horizontal Russia. The soldiers told the news outlet that they were promised 195,000 rubles (about $3,170) but never received the money, so they stopped fighting.
One of those striking said that all mobilized soldiers have been "deceived" and that "they are sent to war for a penny," according to a translation of a November 2 Telegram post published by 7x7.
Prior to riot police showing up to put an end to the display, another mobilized soldier reportedly said that Russian officials stopped letting soldiers' relatives visit and declined providing leave.
Gulagu.net, a self-described human rights project aiming to fight corruption and torture in Russia, posted on Telegram that soldiers questioned why they left their families without allegedly receiving financial support.
"The mobilized servicemen of the Chuvash Republic are turning to you!!" the Telegram post said. "We are risking our own lives, going to certain death for your safety and peaceful life!...We refuse to participate in the Special Military Operation and will seek justice until we are paid the money promised by our government headed by the President of the Russian Federation!!"
Following the protest, the Sota news outlet reported that shooting classes at the Ulyanovsk training center had been canceled and the center's weapons storage rooms had been locked.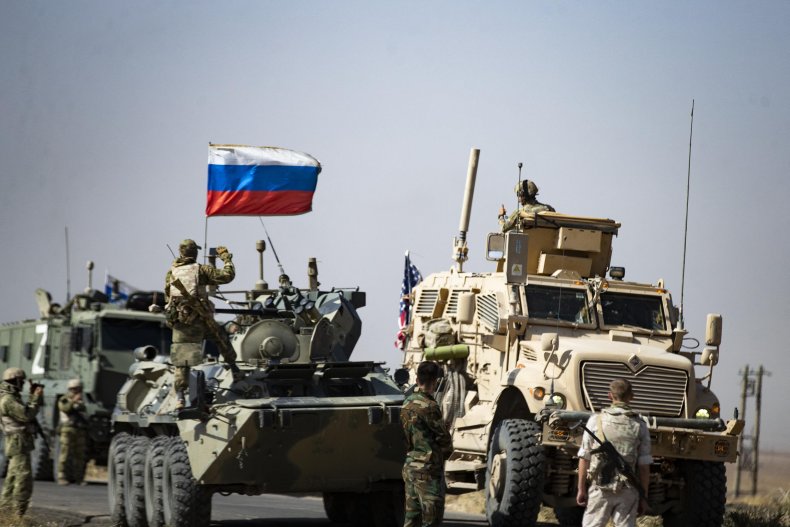 Reported complaints from other mobilized Russian soldiers have occurred.
A video posted online Wednesday shows soldiers complaining that their families were not given the 300,000 rubles (roughly $5,000) they were promised for joining the Russian military cause.
"Russian mobiks [mobilized troops] are demanding the 'promised' one-off payment of 300,000 rubles, which the military rep says was never actually promised to them," the tweet accompanying the video read. "They yell that the deputies should go fight themselves in this case."
Reuters reported that Russia's 2023 budget does not take into financial account the cost of mobilizing some 300,000 soldiers to fight against Ukraine—in addition to the cost of annexation of four Ukrainian territories Russia now claims as its own.
The Russian military is continuing to "covertly" mobilize soldiers to fight in the Ukraine war, mere weeks after some 10,000 conscripted soldiers were sent home by Russian officials for "various reasons."
Newsweek reached out to the Russian Defense Ministry for comment.