Vladimir Putin on Fox News: Influencing Millions During U.S. Presidential Election from Russia is an 'Utterly Ridiculous' Claim
Russian President Vladimir Putin sat down with Fox News Sunday anchor Chris Wallace in an exclusive interview, in which the leader once again denied Moscow's interference in the U.S. presidential elections two years ago.
The one-on-one interview with Wallace aired on the news channel hours after Putin met President Donald Trump in Helsinki, Finland, for a two-hour summit on Monday. When Wallace tried to hand over a copy of special counsel Robert Mueller's indictment of 12 Russian members of the GRU—a Russian federation intelligence agency inside the country's military intelligence directorate—that explains their involvement in the hacking of Democrats' emails and computer networks, the leader refused to look at the document and asked the anchor to leave it on top of a table next to them.
"Let's look at it this way. I mentioned this in 2016 and I say this again. First of all, Russia has never interfered with the U.S. affairs, let alone its election," Putin said. However, Wallace interjected and asked whether this was Russia's interference based on the indictment. "Do you really believe that someone acting from the Russian territory could have influenced the United States and influenced the choice of millions of Americans?" Putin retorted, "That is utterly ridiculous."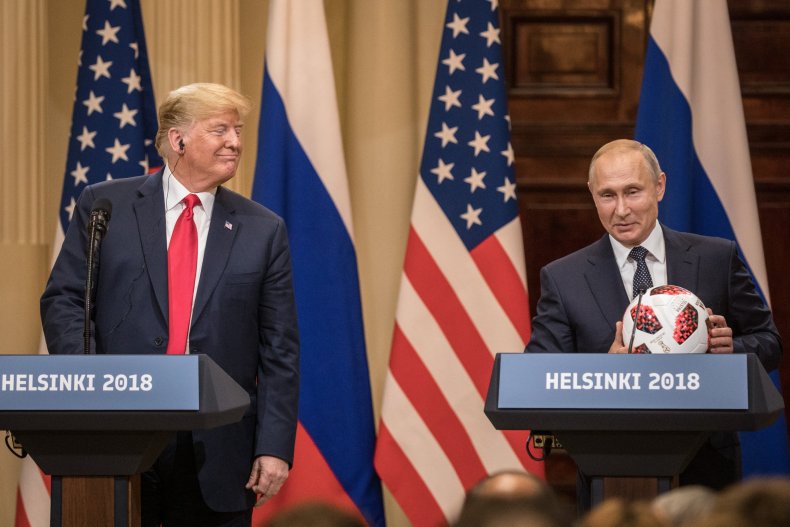 After Wallace asked whether Mueller was intent on sabotaging U.S.-Russia relations after his indictment announcement prior to the summit, Putin replied: "It is for [U.S.] Congress to assess Mueller's performance."
Following the closed-door meeting, both leaders offered a joint press conference that has sparked outrage stateside. After Trump said that Putin's denials that the Kremlin meddled in the 2016 presidential election were "strong and powerful," Democratic and Republican leaders alike vehemently rejected the president's remarks.
"There is no question that Russia interfered in our election and continues attempts to undermine democracy here and around the world." House Speaker Paul Ryan said in a statement, according to NPR. "The president must appreciate that Russia is not our ally. There is no moral equivalence between the United States and Russia, which remains hostile to our most basic values and ideals."
Meanwhile, House Minority Leader Nancy Pelosi (D-CA) believed that Trump's behavior during the press conference is an indication Putin may have "dirt" on the Republican leader. "Every single day, I find myself asking: what do the Russians have on Donald Trump personally, financially, & politically? The answer to that question is that only thing that explains his behavior & his refusal to stand up to Putin," she tweeted.
Putin, nonetheless, denied having any "kompromat" or compromising material on the president. "We don't have anything on them," the Russian leader told Wallace. Putin went on to say that "I don't want to insult President Trump when I say this—and I may come as rude—but before he announced that he will run for presidency, he was of no interest for us."
The interview also addressed several topics, including Syria, NATO and Crimea. On the latter, Wallace asked Putin if Trump would ever recognize its annexation, to which Putin answered: "First of all I want to make a correction, the joining of Crimea [from Ukraine] to Russia is not an annexation. People voted [in a referendum] to join Russia, so that's not annexation."
Regarding the possible addition of countries like Ukraine and Georgia as NATO member countries, Putin said that "this is an immediate threat to our national security. Moving this NATO infrastructure near our borders is extremely negative."
This is not the first time Putin talks to a U.S. media outlet. Last year, Putin talked to NBC News' Megyn Kelly, in an interview that promised to be rough. But for many, the Russian leader outmaneuvered Kelly. "The interview, which was teased for weeks on NBC as a must-see exclusive, lasted less than 10 minutes. But that was just about enough time to confirm that she's still not a great interviewer, and he's still one of the most deceptive interview subjects around," Los Angeles Times reported at the time.