Russia has stumbled again. Its southern offensive, the second phase of the Ukraine war, has failed to be the "biggest tank war since World War II," as some analysts were predicting. Instead, Russia's ground forces have shown the same lackluster performance on the ground, unable to break through anywhere.
The towns and villages of the south, Ukrainian President Volodymyr Zelensky said Friday, "are the places where the fate of this war and the future of our state is being decided, now."
Experts point to May 9th—Victory Day in Russia commemorating the surrender of Nazi Germany in 1945—as the next decisive milestone for Vladimir Putin. By that date, they say, Russia will either find some way to declare some kind of victory and cease fighting, or May 9th will trigger a transition from Russia's "special military operation" to "war." Then Russia will undertake a mobilization on a national scale to defeat Ukraine, with the threat of Moscow escalating further.
On the ground, though, Putin's forces are now spread thin, exhausted, and show no real signs of renewal. U.S. military and intelligence observers tell Newsweek the big offensive expected in the south has already turned into a deadlock: neither side can fully defeat the other, they say.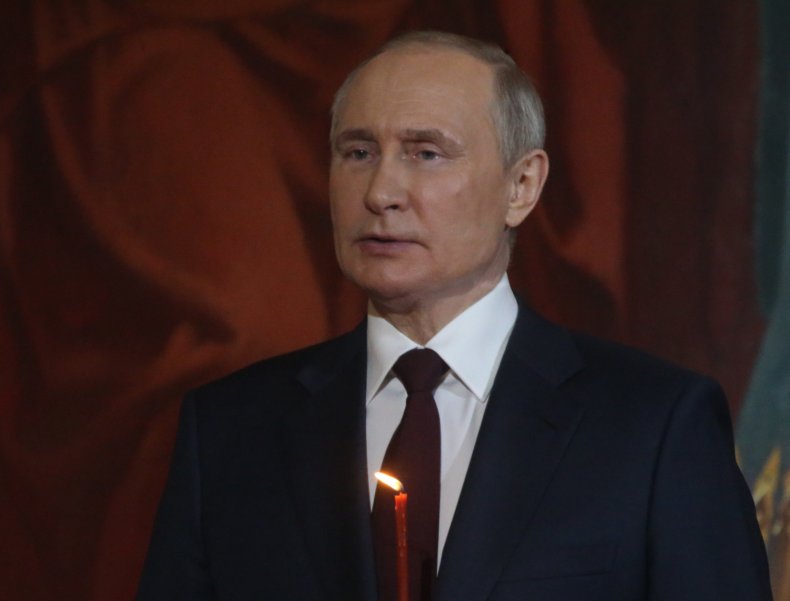 "Russia is again depending on long-range air strikes, artillery and rocket fire to pave the way for the ground forces to be able to advance," a senior U.S. Army officer, granted anonymity in order to discuss operational matters, told Newsweek via email. "But it can't support an offensive on the giant front it has now created. Super-motivated Ukrainian forces have not only held their own and even advanced in some places, but they are watching the enemy again stumble. Yes, Russia is fighting—but Ukraine is winning."
An hour before midnight last Monday, April 18, Russia launched what it is now calling the second phase of its invasion of Ukraine. The primary goal, the Kremlin said, was to capture Donbas (the Donetsk and Luhansk Oblasts) in the southeast, half of which they took control over in 2014.
One of Ukraine's top security officials, Oleksiy Danilov, says that in its new offensive Russian forces attempted to break through Ukrainian defenses "along almost the entire front line of Donetsk, Luhansk and Kharkiv regions." Kharkiv is the province north of Donbas, and home to Ukraine's second largest city, constituting a symbolic trophy and an important line of communication reaching from western Russia onto the eastern battlefield.
As heavy artillery and rocket strikes commenced, Russian troops started a "pincer movement" from Kharkiv in the north to occupied Donetsk in the south. Imagine this Russian offense as a horseshoe, with forces at two open ends attempting to join together to make a circle, enveloping all of the territory contained in the middle (the remainder of Donbas).
Success in such a pincer movement requires the complete defeat of remaining Ukrainian defenders in the beleaguered port city of Mariupol, analysts say. That would free up almost 20 percent of Russia's total force. The Russian army has about 10 battalion tactical groups (BTGs) deployed around the city.
On Thursday, Putin declared Mariupol "liberated" after 53 days of fighting, urging his army to move on. "There's no need to climb into these catacombs and crawl underground through these industrial facilities..." he said, referring to the Azovstal steel works in the north of the city, one of Europe's largest. There, some 2,000 Ukrainians are holding on, more than half of them civilians.
"Block off this industrial area so that not even a fly can get through," Putin said.
Putin was answered by Serhiy Volyna, commander of Ukraine's 36th Marine Brigade, one of the main units defending the city: "No matter what Russian propaganda tells you, we fight in fierce battles every day and hold back thousands of enemy troops, preventing them from advancing. This is at the cost of superhuman efforts and great losses."
The defenders in Mariupol held on.
By Sunday, Russia's pincer offensive in Donbas had also stalled. Russian air attacks intensified after Monday, and the army increased its rocket and artillery firings to some 1,000 projectiles daily, triple the average going into the new effort. But on the ground Russian forces moved mere kilometers, losing as much territory as they were gaining.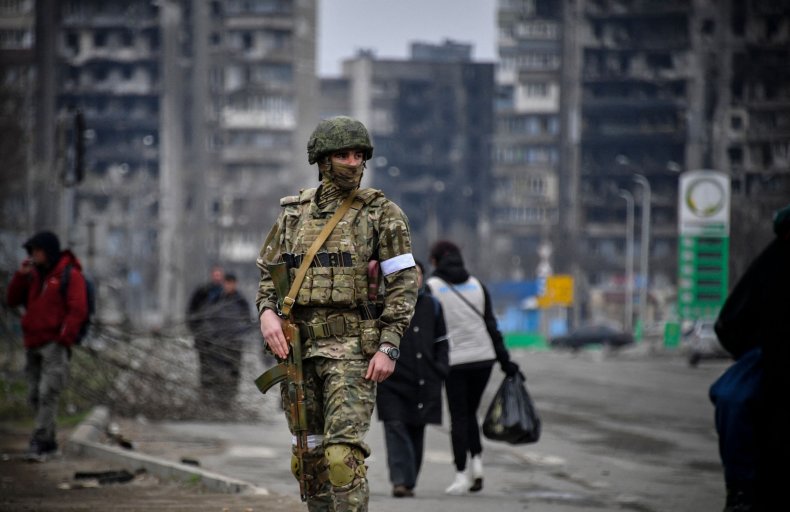 And Russia opened yet another front, beyond Donbas. On Friday, a senior Russian commander, Major General Rustam Minnekaev, told Russian news media that the task of the armed forces was to establish "complete control over Donbas and southern Ukraine." U.S. intelligence saw his statement as a fresh definition of Moscow's mission, adding the entire south in its territorial objective: a daunting task.
This second southern front to the west of Donbas extends roughly 250 miles from Donetsk in the east to Mykolaiv in the west (the distance from New York City to Niagara Falls on the Canadian border). Russian forces in this area are being resupplied more freely from occupied Crimea, and they seem stronger than those tired forces in the Donbas area. But they are also stymied in their new advance, meeting heavy Ukrainian resistance.
Closer to Russia border, in and around Kharkiv, Moscow lost the most during the week. Though Russia continued intense artillery attacks and air strikes into built-up urban areas, the perimeter of Ukrainian territorial control around the city widened. Ukraine also managed to liberate a number of towns and villages around the periphery of the city, according to governor Oleh Synehubov. In fact, U.S. intelligence observers say, Russia seems to have given up altogether on the goal of taking eastern Ukraine's largest city—just as it gave up on Kyiv, another major defeat.
South of Kharkiv, on the northern part of the pincer movement, Russian soldiers advanced a few kilometers, seizing Kreminna and threatening the urban conglomeration around the city of Severodonetsk, which sits upon an important obstacle, the north-south flowing Siverskyi Donets river. Before the war, some 250,000 Ukrainian lived in the area, including the towns of Rubizne and Lysychansk. Here the fighting has been intense since February 24th, Russia unable to make any major breakthrough.
Some 25,000 Russian troops are now deployed along these front lines. Their objective is to reach the towns of Sloyansk and Kramatorsk, some 35 miles away. Those two cities would be key to the ability on the part of Russia to join its forces north to south and complete the circle. Ukrainian headquarters for the entire Donbas defense is located in Kramatorsk and it is fully fortified.
On the southern side of the pincer, Russia has made even less progress that in the north. Three Ukrainian brigades have held this territory for weeks and are now being reinforced. The only major change during the week is a seeming Russian breakthrough further west, where Putin's forces managed to take the town of Zelene Pole, south of Kramatorsk but far outside Donbas. Some U.S. observers say the new move north might be a sign that some forces may have already been freed up from the fight in Mariupol.
On the southern front, further to the west, where Russia says it is seeking to take all of southern Ukraine, Putin's forces have also stalled. Russian forces there have not been able to move north out of Kherson to take Mykolaiv, a city of almost a half a million people.
As for occupied Kherson itself, the region north of Crimea, Zelensky adviser Mykhailo Podoliak pledged this week that Ukraine wouldn't give up—that it would not only hold off Russia but liberate all of the province. "You cannot even doubt that the state has a strategy to de-occupy all towns and villages in southern Ukraine," he said in a message to the people. "There will be no freezing of the conflict ... There will be only the Kherson region of Ukraine."
Since Russia's defeat in northern Ukraine and withdrawal from the Kyiv region, Putin's forces have been flowing into southern Ukraine to bolster this second phase. Mostly these forces have come from Russia itself (the forces from northern Ukraine are too battered to immediately join the fight). Before the offensive, Russia had some 65 battalion tactical groups (BTGs) in the south, which equals some 50,000 front line soldiers. An additional 20 or so BTGs have now joined those forces, for a total of some 82-85 battalion tactical groups now inside Ukraine. Russia has also collected 100,000 troops near Ukraine's borders.
But these reinforcing troops are neither fresh nor ready. Kyiv sources are now quipping that Ukraine has more tanks on the ground inside the country than Russia does. Russian forces are not only short on supplies, but they are poorly coordinated.
Experts say it's a matter of density of the battlefield: how many forces Russia can congregated and operate together. In nearly two months of fighting, Putin's army has shown little ability to coordinate between adjacent forces, or to successfully command large formations. Logistical troubles—the supply of ammunition, fuel and even food—have never been solved. Environmental factors—weather, terrain, the spring thaw—have also stymied Russia, impeding off-road movements. The Russian army also continues to be beset with severe morale problems, hampering operations and advances.
Nearly two months of failed offensives on the ground have given Western aid a chance to make a difference, first with anti-tank weapons and surface-to-air missiles, and now with heavy equipment. Soon, Western artillery will be in the hands of Ukrainian defenders—the first purely offensive weapons to be shipped into the country.
As the second week of Russia's second phase begins, Russian forces find themselves split between north, south and eastern formations around Donbas, still fighting in Mariupol, and thinly deployed along the 250 mile plus southern front. Putin may be able to make some progress in Donbas in the next two weeks in order to enable him to declare victory on May 9th, but overall, the prognosis on the ground is grim. That leaves declaring war and ordering a national mobilization as Putin's second option on May 9th: a decisive move to match the gravity of the Russian national day.
"Given the human cost of the war so far—as many as 20,000 soldier deaths [for Russia]—and the fragility of domestic support for continued fighting, there's little possibility of a successful national mobilization back home," says a second military officer working in the Pentagon, granted anonymity in order to speak candidly to Newsweek.
It is a reminder that the human cost of the stalemated war is high. This scale of soldier casualties—more in fewer than two months than Russia lost in its entire decade-long Afghanistan war in the 1980s—has an impact back home, even if Moscow has clamped down on internal debate and news.
"We have plenty of anecdotal evidence that the Russian people are unhappy about so many soldiers dying," says a senior Defense Intelligence Agency official. "At this point, it can no longer be covered up."
The DIA official points to the effect of sanctions on the ordinary population. "It's like Soviet days are returning, with constraints on everything and severe food shortages," the official says. "Mobilizing tens of thousands of draftees is a task that is in-and-of-itself complex. Add to that, that the Russian people might not support a larger-scale war and you really find Putin in the ultimate corner."
Meanwhile, as the fighting continues, and as Russia continues long-range strikes, Ukrainian military casualties also accumulate. U.S. military and intelligence observers estimate that Ukrainian soldier deaths are about the same level as Russian (in the area of 20,000), with roughly equal forces facing off at the line of contact.
It is in the civilian cost of the war that the tragedy of continued fighting becomes most obvious. The United Nations now says that it can verify some 5,000 Ukrainian civilian deaths since the start of fighting; this number does not include the south or the zones where active fighting persists.
In Mariupol alone, Ukrainian local officials say that as many as 20,000 civilians have died (some 100,000 civilians are still trapped in the city). The rest of the south probably has suffered some 6,000-8,000 additional civilian deaths from the fighting. Overall, as many as 30,000 civilians have lost their lives. Since Russia's invasion on February 24, about 25 percent of Ukrainian civilians have also been forced to flee their homes.
In announcing the additional $800 million aid package to Ukraine last week, President Joe Biden declared that Putin "will never succeed in dominating and occupying all of Ukraine." All of. It was a tepid call to arms, one that not only doesn't reflect Russia's unsuccessful second phase but one that imagines the war will last months more.
"U.S. politicians might be talking months or years, but in the trenches, where the war is being closely followed, that analysis is ridiculous," the senior DIA official tells Newsweek. "Beyond Donbas, there is no second wind. And in the south, in Russia's newly declared combat zone, the Ukrainian defenses are the strongest."
Writing last week in a report of the Royal United Services Institute (RUSI) in London, experts Jack Watling and Nick Reynolds said it "appears increasingly likely that rather than use it [May 9th] to announce victory, the Russian government will instead use 9 May as the day on which the 'special military operation' is officially framed as a 'war'."
Michael Kofman, director of Russian studies at Washington's Center for Naval Analysis, tweeted this weekend that: "Without national mobilization, I think the Donbas is the last major offensive the Russian military can attempt given the current state & availability of forces. Whether it succeeds, or fails, the Russian military will be largely exhausted in terms of offensive potential."
Still, negotiations continue. The two countries again held virtual talks on Thursday and Friday, with Russian Foreign Minister Sergey Lavrov complaining that the Ukrainian side has not yet responded to the latest version of Russia's "proposals."
UN Secretary General Antonio Guterres is due to arrive in Moscow for talks with Lavrov, and to meet with Putin. On Thursday, Guterres will travel to Kyiv meet with President Zelensky.
But in another pessimistic sign for Russia, Ukrainian Foreign Minister Dmytro Kuleba predicted that the war will be resolved on the battlefield, not at the negotiating table.