Vladimir Putin Health Rumors Dismissed by Russia as Hearsay
Rumors about Russian President Vladimir Putin's poor health have been slammed by Kremlin press secretary Dmitry Peskov, who called them "ducks"—a Russian euphemism for "hearsay."
Speculation about Putin being ill has circulated for years and the rumors have increased in number and severity since the Russian invasion of Ukraine on February 24.
Videos showing Putin's hands shaking or of him fidgeting his feet while meeting with international leaders have been watched by millions of people and closely analyzed for clues of possible illness in the Russian president. Rumors of Putin suffering from Parkinson's or having just recovered from cancer have been widely covered by the media.
In late May, the British tabloid Mirror even reported that Putin might already be dead—"for weeks, if not months"—as reportedly suggested by the country's secret intelligence service MI6 chiefs.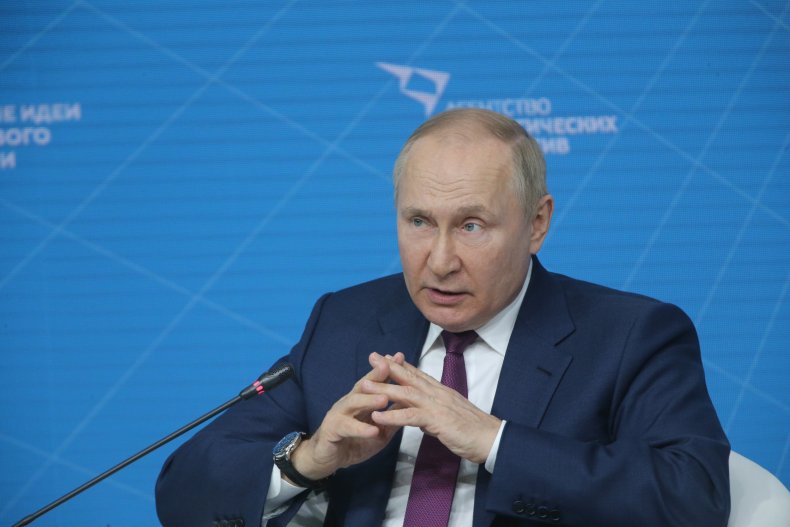 Peskov denied there was any truth behind such claims.
"Ukrainian information specialists, in quotation marks, both American and British, have been throwing various ducks about the state of the president's health in recent months. It's nothing but ducks," he said, as quoted by Russia's online newspaper Gazeta.
Russian foreign minister Sergey Lavrov had already tried to disperse the rumors surrounding Putin's health in May.
"President Vladimir Putin appears in public every day," he said in an interview with French television. "You can watch him on screens, read and listen to his performances. I don't think that sane people can see signs of some kind of illness or poor health."
But it's unlikely that the Kremlin's word on Putin's health will be able to dissipate doubts among the Western public over what is actually going on with the Russian president. It's expected of Moscow to deny any weakness in its leader. Still, no rumors have so far been sustained by enough evidence to be able to stand on their own legs.
While some footage of the 69-year-old Russian president can appear baffling, like Putin fidgeting, there have been no verified reports of a decline in his health, suggesting that rumors could be no more than wishful thinking on the observers' part.
Rumors around Putin's health have also been unofficially denied by CIA Director William Burns on Wednesday, who has dismissed them saying Putin is "too healthy."
Speaking at the Aspen Security Forum in Colorado, Burns said his assessment was "not a formal intelligence judgment," but a personal one.
"There's lots of rumors about President Putin's health and as far as we can tell he's entirely too healthy," he said.
Update 7/21/22, 10:27 a.m. ET. This article was updated with more context.