Meduza, an independent outlet covering Russian news, is reporting that as the country's elite grow more dissatisfied with President Vladimir Putin, many have come to terms with the fact that the only way Putin would be ousted from office is if he were to suffer deteriorating health conditions.
The Russian- and English-language independent news website said that based on its reporting, "sources said Russia's elites recognize that only a major health issue could drive the president from office."
"As a result, dissatisfaction among senior officials amounts to little but idle conversations in private," Meduza wrote on Tuesday. "As one source with ties to the government put it: 'People are disgusted, but they're still at their jobs, helping to put the country on a war footing.'"
"There's probably almost nobody who's happy with Putin," another anonymous source close to the Kremlin told Meduza. "Businesspeople and many cabinet members are unhappy that the president started this war without thinking through the scale of the sanctions. Normal life under these sanctions is impossible."
Newsweek was unable to independently verify the outlet's reporting.
Amid Putin's steadfast determination to declare victory in Ukraine, many have monitored the Russian leader's health closely, speculating that severe illness could either explain why he has created such devastation or open up a path to a ceasefire from Russia.
The Kremlin has denied claims that Putin had cancer and has not responded to speculation that the president may be dealing with Parkinson's disease. That speculation emerged after Putin was seen gripping the table during a meeting with his defense minister last month.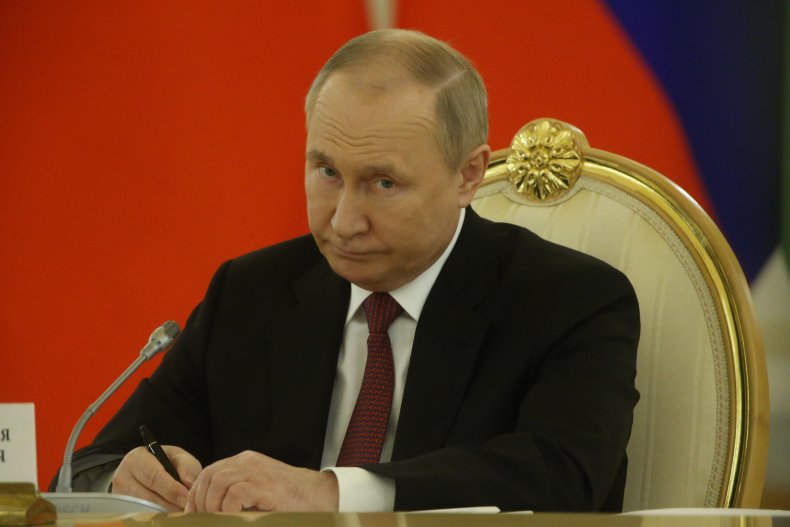 Although Putin's inner circle has largely remained silent about the three-month-long war that Putin has waged in Ukraine, independent reports have suggested that Russia's elite are becoming increasingly fed up with the unprecedented sanctions imposed on their home country.
"Vladimir Putin simply doesn't want to think about the economic difficulties that are obvious to most officials, and he's especially unwilling to link these problems to the war in Ukraine, two sources with ties to the Kremlin told Meduza," the outlet reported.
Joshua Tucker, Kroll Institute fellow and director of the NYU Jordan Center for the Advanced Study of Russia, previously told Newsweek that health claims about Putin may have originated from his detractors in Russia, who are reaching their wits' ends with the ongoing war.
"It would not be surprising for domestic enemies of an autocratic leader to circulate rumors that the leader was terminally ill in an effort to weaken their hold on power," Tucker said.
"If someone was interested in weakening an autocrat's hold on power that was not facing term limits to their rule anytime soon—as is the case with Putin—suggesting that their health was failing would be one way to try to do this," he added.
Meduza's reporting suggests that this reasoning could be likely.
"Meduza's sources with ties to the Kremlin and the federal government say talk about 'the future after Putin' is increasingly common among Russia's elites," the outlet wrote on Tuesday. "'It's not that they want to overthrow Putin right now, or that they're plotting a conspiracy, but there's an understanding (or a wish) that he won't be governing the state maybe in the foreseeable future,' explained one individual."