Vladimir Putin's Iron Grip on Russia Begins To Slip
Russian President Vladimir Putin's famously iron grip on his country could be loosening, amid several signs of dissent as he continues the invasion of neighboring Ukraine.
Since Russia launched what it described as a "special military operation" on February 24, there have been widespread protests, prominent individuals speaking out against the invasion, and a senior adviser to Putin leaving the country and being removed from his position.
More than 15,000 protesters have been detained across 151 Russian cities since the start of the war, according to OVID-Info, an independent human rights media project that describes itself as monitoring "political persecution in Russia."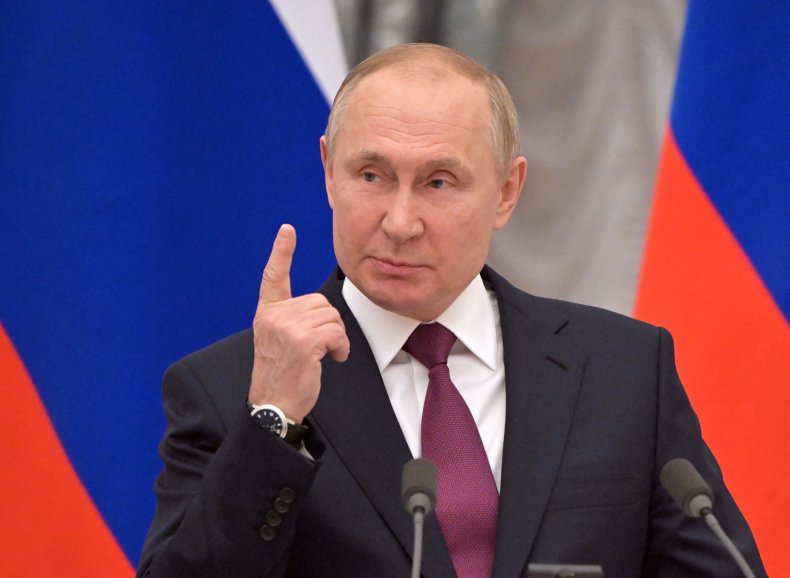 OVID-Info reports that there have been daily antiwar protests. The group is offering legal assistance to those detained and providing information about their situation.
Public Criticism
There has also been other dissent in the form of public criticism of the war from both politicians and clergy.
Three Communist Party members of the Russian parliament have criticized the attack on Ukraine, with Senator Vyacheslav Markhaev writing on Facebook on February 27 that Russia "hid plans to unleash a full-scale war with our closest neighbor" under the pretext of recognizing two separatist republics in the Donbas region of Ukraine.
Markhaev and the two other Communist lawmakers had voted in favor of recognizing the self-proclaimed People's Republics of Donetsk and Luhansk, but he said they had not been told about the plans for an invasion.
Lawmaker Oleg Smolin said that he was "shocked" by the invasion, while Mikhail Matveyev called for the war to be stopped in posts he later deleted, saying he hadn't changed his mind but his comments had been reproduced "across the world, most often anonymously, to incite mutual hatred."
It is highly unusual for members of the Russian parliament to publicly criticize Putin.
Clergy Speak Out
The Russian Orthodox Church has typically been closely aligned with Putin's government and the head of the church, Patriarch Kirill of Moscow, is widely seen as supporting and helping to justify the war in his homilies.
However, more than 280 Russian Orthodox clergy in Ukraine, Russia and other parts of the world have signed an open later calling for "the cessation of the fratricidal war." Some Russian Orthodox clergy have also stopped mentioning Kirill during their services.
One Russian Orthodox priest, the Reverend Ioann Burdin, made headlines around the world last month for speaking out against the invasion. The priest was informed by parishioners that police were asking questions about his remarks and he presented himself at a local police station, where he was questioned.
Burdin was later fined around $445 in a ruling that accused him of "discrediting the use of the Armed Forces of the Russian Federation."
The Security Services
There have also been indications that the war has taken a toll on the Russian security services, with Andrei Soldatov, a leading expert on the country's security services, reporting that a senior member of the FSB intelligence agency had been sent to prison.
Sergey Beseda, head of the Fifth Service of the FSB, was placed under house arrest in March and was reportedly transferred last week to Lefortovo jail, an FSB prison outside Moscow, for intelligence failures relating to Ukraine.
Around 150 agents belonging to the FSB's Fifth Service have been dismissed, according to a report from The Times of London on Monday. Putin established the Fifth Service in 1998 to carry out operations in former Soviet states. He was head of the FSB at the time.
A High-Profile Adviser
In what many saw as a personal blow to Putin, Anatoly Chubais became the most high-profile individual connected to the Russian government to apparently protest against the invasion when he reportedly resigned from his role as special representative for relations with international organizations and left Russia on March 23.
Chubais was a close adviser to Putin and is widely considered the architect of Russia's post-Communist economy. He was formally removed from his role in the Russian government after leaving the country.
On Tuesday, Putin said that Russia had "no other choice" but to invade Ukraine and there is no immediate indication that the long-serving leader will lose power anytime soon.
However, protests in the country are continuing and there are clear signs of dissent, with some willing to state their opposition to the invasion publicly and Putin reportedly engaging in reorganization of the FSB. Putin's future remains unclear as the war continues.
Newsweek has asked the Russian Foreign Ministry for comment.