Vladimir Putin Says Russia 'Bears No Grudges' Against the EU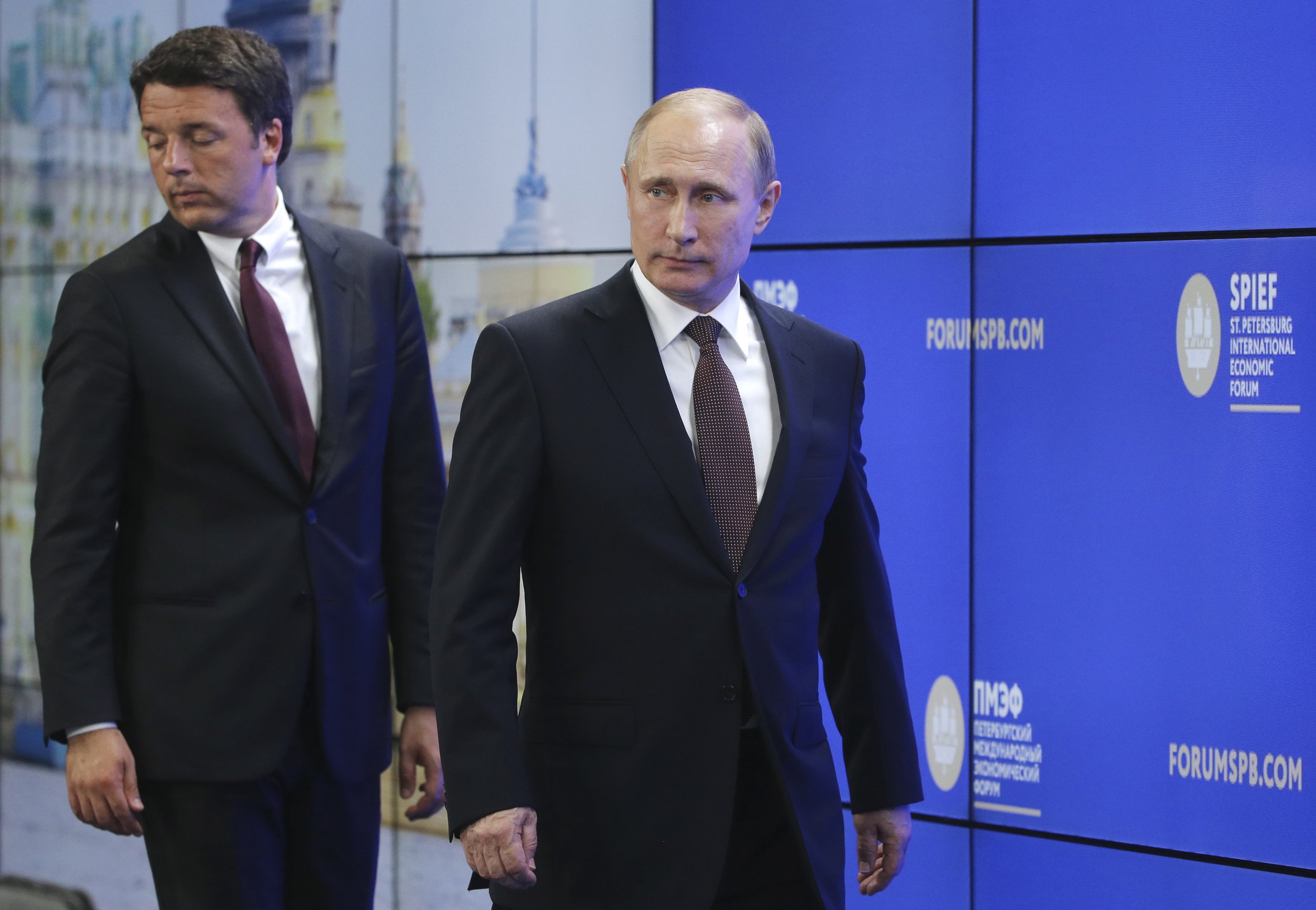 Amid a landmark visit of European leaders and growing calls to ease sanctions against Russia, Vladimir Putin said Friday that he "bears no grudges" against the European Union over the Ukraine crisis.
The annual St. Petersburg Economic Forum was attended by European Commission President Jean-Claude Juncker, the only senior EU figure to have visited Moscow in over two years, and Italian Prime Minister Matteo Renzi, who shared a stage with Putin during his keynote address.
"European business wants to, and is ready to, cooperate with our country. Politicians should meet business half way and show wisdom, farsightedness and flexibility. We need to return trust to the Russian-European relationship," Putin told a hall filled with the Russian business and political elite, foreign investors and the heads of major international companies.
While neither side appeared ready to offer any concessions, the high level political contact and warming rhetoric is the first sign of a thaw in relations between Russia and the EU since they collapsed in the wake of Russia's 2014 annexation of Crimea and support for separatists in eastern Ukraine.
The EU is currently considering whether to roll-over sanctions for another six months, a decision that must be taken unanimously by all 28-member states before the end of June.
Splits within the bloc over sanctions have been increasingly evident in recent months, as countries including Greece, Italy, Hungary and Austria stress Russia's role as a trading partner and efforts to end the civil war in Syria. Other members, particularly the Baltic republics, United Kingdom and Poland, argue sanctions are essential to control Russia's imperial ambitions.
During his speech in St. Petersburg on Thursday, Juncker, who faced criticism from within the EU over his decision to travel to Russia, was unapologetic. "I want to build a bridge," he told the gathering, "people who live, work and trade together have little desire for war."
Renzi said that he wanted to strengthen ties between Italy and Russia, and emphasized common values between Russia and Europe. Former French President Nicolas Sarkozy, who also traveled to St. Petersburg, told journalists Thursday he backs the removal of EU sanctions.
The United States is taking a harder line than Brussels on Russia—and there were no high-ranking U.S. officials present at the forum. Some senior U.S. business leaders also stayed away, but many decided to return to the event after a hiatus of several years. Exxon Mobil chief executive Rex Tillerson, who skipped the event in 2014 and 2015, was the highest ranking member of the U.S. business community present.
Putin has sought to highlight apparent divisions between the U.S. and the EU over sanctions—and at one point Friday asked Renzi why he "put up" with being dictated to by Washington.
Sanctions imposed by the EU and U.S. in 2014 have contributed to a collapse in the value of the Russian currency, higher inflation and and the longest economic recession Russia has experienced for almost 20 years. But the economy is now showing signs of recovery, and Putin said Friday that Russia will target annual growth of as much as 4 percent.
The less harsh economic outlook was reflected in an uptick in the number of international attendees at the St. Petersburg forum, long considered a barometer of foreign interest in Russian assets.
However, Warmer words between Putin and EU leaders did not appear to indicate that the Ukraine crisis is about to be forgotten. Neither side offered any new political initiatives, no major business agreements were announced despite speculation of a gas deal outline, and Putin made markedly combative remarks Friday on what he described as aggression towards Russia from the North Atlantic Treaty Organization in recent years.
One Kremlin insider told Newsweek there was disappointment Juncker did not offer any constructive proposals, and that his visit was all but pointless. "To balance the fact that he [Juncker] was coming he was critical, extremely critical about everything," the insider said.
Juncker told the forum that Russian actions in Ukraine had "shaken the foundations of European security," and both he and Renzi insisted sanctions could only be lifted when Russia complies with its obligations under a 2015 EU-brokered Minsk agreement between Russia and Ukraine—an agreement that looks increasingly impossible to implement.
Many experts believe the EU could ease its sanctions early in 2017, but they seem likely to be extended this time. German Chancellor Angela Merkel said earlier this month she sees no reason to lift sanctions later this month.
The current sparring shows Russia and the European Union are grasping towards ways to re-construct ties in the wake of the Ukraine crisis, according to Fyodor Lukyanov, the head of the Council on Foreign and Defense Policy in Moscow, which advises the Kremlin and other government institutions.
"The model of relations between Russia and Europe that was in place since the 1990s is exhausted," he told a panel at the forum Thursday.