Vladimir Putin Meets Hungary's Viktor Orban: What's on the Agenda?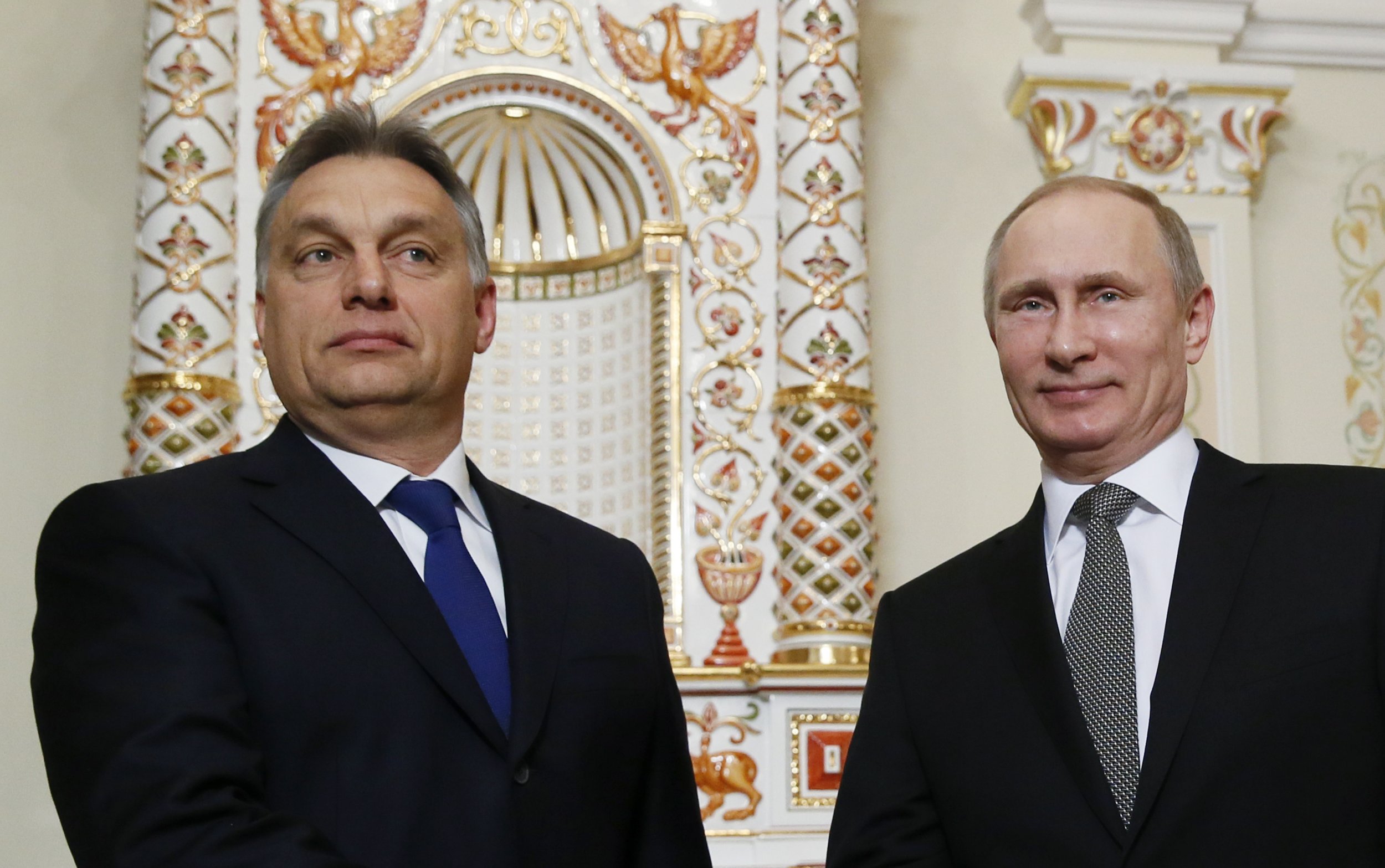 While the western world waits in suspense for the next frisson in the "bromance" between Russian President Vladimir Putin and his U.S. counterpart, Donald Trump, Moscow has turned its attention to an older political romance—Hungary.
Putin arrives in the capital of Budapest on Thursday with an agenda spanning energy, trade and cultural ties. A Hungarian delegation visited Moscow on January 23 as a preface to Putin's visit, with overtures of lucrative deals and mutual understanding. Putin's trip to Budapest, his second to the city in two years, will make clear how far he and Hungarian Prime Minister Viktor Orban plan to strengthen ties.
Here are the likely points on their agenda:
Nuclear Power
Probably the "most tangible deal" that the leaders will discuss is the expansion of Hungary's PAKS nuclear power plant, says Lauren Goodrich, Eurasia analyst at private intelligence firm Stratfor. Budapest chose Russia's state nuclear company Rosatom to carry out the expansion and Moscow extended a €10 billion loan for the project, the subject of scrutiny by the European Commission.
Thursday will be Putin and Orban's first meeting since the European Commission deemed the deal in compliance with competition regulation in November.
"It will be very symbolic for the two leaders to sit down over the nuclear power plant in which EU vetting was seen as an obstacle between them for a while," says Goodrich.
The symbolic significance of overcoming perceived EU opposition is likely just as important as any contracts that may be signed or announced on the day.
Putin and Orban's EU Message
Putin's return to Brussels after several victories for euroskeptics at polls in Europe will serve to amplify both Putin and Orban's criticisms of the EU, Peter Kreko, European policy expert at Budapest's Political Capital think tank, says.
"It will be more about expressing the strong relationship between the two leaders," he says. "Firstly, Orban can show the world that he has a big superpower as a friend; secondly, Putin will be able to express that there is an EU country that wants to abolish the EU sanctions on Russia."
Kreko notes that since the EU announced sanctions on Russia in 2014 over its armed incursion in Hungary's neighbor, Ukraine, Orban has sought to increase diplomacy with Moscow and criticized sanctions.
"The specificity of Hungary is important because since 2015 Orban and Putin have had bilateral meetings every year," he says. "Putin has come to Hungary for the second time in two years. No other EU state has done the same since the annexation of Crimea."
In a further statement against EU sanctions, Hungarian Foreign Minister Peter Szijarto told Russian newspaper Kommersant on January 24, just one week ahead of Thursday's meeting, that Hungary had lost $6.5 billion from sanctions. He did not explain how he arrived at the figure but Kreko considers it exaggerated, while Goodrich believes it likely includes more speculative figures such as "potential investment deals which the government believes it has not received as a result of sanctions."
Hungary has so far voted in support of sanctions, every time the 28-member union has voted to renew them, however, Goodrich argues that Hungary could become the focal point of an "anti-sanctions bloc" in Europe by the time of the next vote in the summer.
Russian Gas
Russia's top export is a central part of its foreign policy. Hungary is a long-time customer of Russia's state gas giant Gazprom, with four delivery contracts currently in place, the last of which expires in 2021. Orban and Putin agreed to maintain gas deliveries during Putin's last visit to Budapest and Szijjarto said Thursday's meeting will also focus on deliveries after 2021. At the time Orban also opposed the EU's plan to create an "energy union" in order to maintain Hungary's autonomy over energy deals.
According to Kreko, Putin may leverage a cut price deal to Hungary as a reward for persistent rapprochement, while Orban may view cheap gas as a way to secure another electoral victory.
"These are long-term gas contracts that are in place and the governments will want to prolong them," Kreko says. "The Hungarian government has emphasized that there is a chance that there will be a long-term gas contract agreed. This is something that is essential for Orban."
"Russia bases gas and oil prices on the level of bilateral relations," he says. "But this is domestically important for Orban as well. In 2014 he won a two thirds supermajority in parliament partly because he reduced the household energy spending for Hungarians by 10 percent."
Although Russia played no major part in that policy, Kreko thinks Orban sees Russia as a way of achieving a similar result ahead of the 2018 parliamentary election.
"I think Orban has high hopes of receiving such a gift from Putin which could help him in 2018," he says.
Russia's Import of History
As an Eastern Bloc country during the Cold War, Hungary was one of Moscow's westernmost satellites and one of its most weakly associated by history.
Most other Soviet states shared a Slavic language with Russia, the Eastern Orthodox faith or had at least been an imperial conquest by Russia's czars. Such historical ties have driven Russia's approaches to its former sphere of influence. Hungary, one of the first countries to rebel against Soviet domination in 1956 and now governed by anti-Communist Viktor Orban is an unlikely place for pro-Russian nostalgia.
However, Putin will arrive in Hungary with the Kremlin noting that the two will discuss "cultural and human issues."
In October, Orban pledged to use money from the Hungarian budget to restore the central cathedral of the Russian Orthodox Church in Hungary and last month Szijjarto said three other Russian churches would also be restored. Budapest also issued an invite to Russia's top cleric, Patriarch Kirill in January, and the foreign ministry said that culture would be part of agenda for Putin's visit.
"I don't fully understand these initiatives, considering the Orthodox population in Hungary is less than one percent," Goodrich said. "There is a wider strategy by Russia to export its Orthodoxy abroad but these are symbolic moves in Hungary."
Kreko believes a deeper shift in the Hungarian government's agenda is taking place, noting the visit comes less than two weeks after the unveiling of a monument dedicated to Soviet troops killed on the eastern front in World War II. During the latter stages of the conflict Moscow's troops were instrumental in defeating the Nazis but then installed a spate of repressive Communist regimes in liberated countries.
"The timing of the unveiling, ahead of Putin's arrival is symbolic of the U-turn that Orban has performed with regards to Putin," Kreko says. "In Poland and the Baltics these monuments are removed, not built anew. Also Orban had the fame of an anti-communist and now he has allowed for open appreciation for Soviet forces."
The issue of monuments in Europe arose a week before Holocaust Memorial Day, when Russian Foreign Minister criticized EU countries for destroying monuments to Red Army soldiers, citing their role in World War II. Putin's previous visit to Hungary included a controversial trip to another monument for servicemen who died defending Hungary's Communist regime against protesters. The revolution of 1956 and its brutal suppression remains a sensitive issue for Hungarians and the visit was criticized in the Hungarian media. This time round he is unlikely to make the same move and visit the statue, if only because his visit will only last a day.