Putin: Russia Being Persecuted Like Jews, Megyn Kelly Needs a 'Pill' for Her Hysteria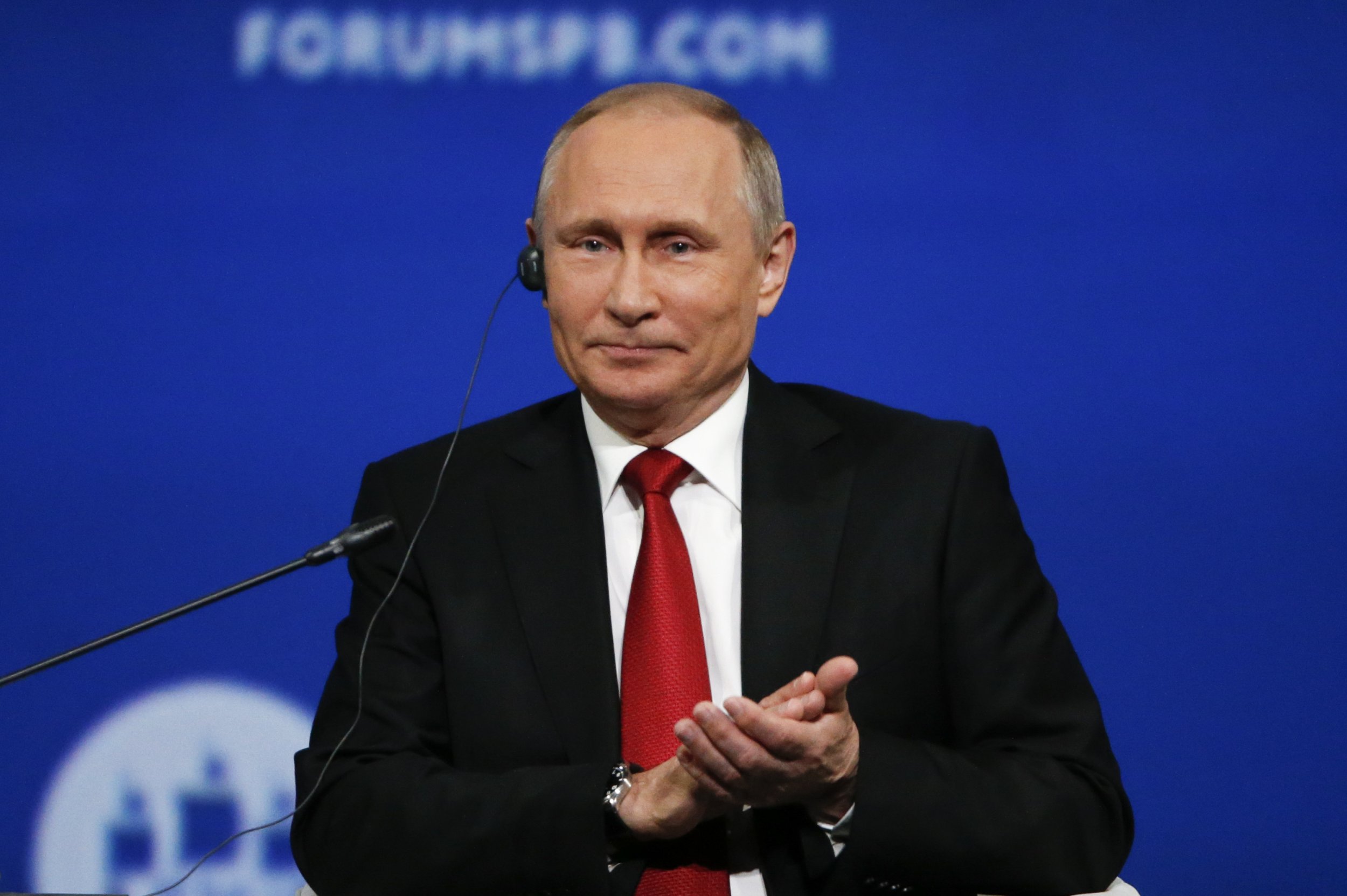 UPDATED | While Russian President Vladimir Putin appeared in a humorous mood on his second day at St. Petersburg's economic forum, the mood soured as questions from American journalist Megyn Kelly turned to the subject of the U.S. election and Russia's alleged role in it.
He started his exchange with Kelly, who was moderating a panel of world leaders, cracking frequent jokes, notably remarking that with Donald Trump axing U.S. participation in the climate change deal, Russia had "American imperialism" to thank for the frosty summer in Moscow and Petersburg.
Related: PornHub posts Putin-critic's documentary after Russian court orders it to be deleted
Putin wrapped up his initial response to Trump's exit from the Paris agreement with the English phrase "Don't worry, be happy."
When Kelly asked if he would join European leaders in their condemnation of Trump's decision on the deal, Putin forced another chuckle from the crowd when he remarked that he is not regarded as a European leader.
"In any case, they don't think so," Putin said, referring to the EU bloc, with which Moscow has had a frosty relationship since Russia's annexation of Crimea in 2014.
Putin got a laugh at Kelly's expense early on when he asked her if she had read the Paris deal herself. "She has not read it, I see," Putin grinned at a crowd full of Russian officials laughing.
But the tone changed as Kelly's questions turned to the thorny issue of alleged Russian interference in the U.S. presidential election. The FBI is currently investigating the claims, as well as possible collusion between Trump's team and Russia. Putin grew more animated than usual, voicing loud denials that Russia was part of such a ploy to influence the election.
Responding to Kelly's unrelenting line of questions about reports of Russian interference in the U.S. and European political systems, Putin reached for a controversial comparison, complaining that blaming Russians for the U.S. election had become a cliché tantamount to the anti-Semitic idea of "blaming the Jews."
"This reminds me of anti-Semitism," Putin said. "The Jews are to blame for everything. An idiot cannot do anything himself, so the Jews are to blame. But we know what such attitudes lead to. They end with nothing good."
Instead, he said, Trump's opponents had to accept the election's result.
The tension mounted after an apparent fault in the translation track that translated Kelly's paraphrasing of Trump's comments that he thinks Russia conducted cyberattacks on his opponents, to Kelly saying "I think" Trump made that claim. "She thinks," Putin exclaimed, noting the issue required certainty.
Putin was also riled when discussing Russian Ambassador Sergey Kislyak's undisclosed meetings with two Trump allies—former national security adviser Mike Flynn and Attorney General Jeff Sessions. "Should we not talk about improving tensions?" Putin asked. "What should an ambassador do? That is his job. That is why he gets paid. He should hold meetings, discussing current affairs."
Putin turned even more combative when Kelly touched on the subject of Russian foreign news coverage spreading "disinformation." Putin accused her "colleagues" of dragging Russia into their coverage unfavorably.
"Let's end this," Putin told her. "You will feel better, and we will feel better." Kelly did end her line of questioning to Putin, turning to Indian Prime Minister Narendra Modi. Prompting another roar of nervous laughter from the crowd and facial histrionics from Putin, she asked if Modi could trust Putin, given his claims about the U.S. election.
As the conversation grew tenser, Kelly asked Putin about allegations that the Trump administration may have colluded with Russia and that the president sought a quick removal of sanctions on Russia. Putin declared it "amazing" that suspicion about Russian collusion persisted. Turning to the crowd, he asked "does someone have a pill," suggesting medication was required to stop Kelly's "hysteria." Once again, the crowd gave the president a burst of laughter and some applause.
During the lead-up to the U.S. presidential election, Trump sparked outrage with his comments about Kelly's moderation of a Republican candidates' debate, saying she had "blood coming out of her wherever." Despite widespread criticism of his comments as sexist, Trump refused to apologize.
In his closing speech, Putin did not ignore the fact that this was likely the most combative most TV viewers would have seen him, possibly since the start of the Ukraine crisis in 2014. Ending with another joke, Putin noted Kelly was proof that the multipolar world had not materialized.
"The American, sits and commands all," he said. "She has the final word."
Kelly will again sit down with Putin for a one-on-one interview later Friday. It will air at 7 p.m. ET Sunday, during the debut of her NBC news magazine show, 'Sunday Night With Megyn Kelly.'
This post was updated with news of Kelly's NBC show premiere.