Vladimir Putin Openly Mocks Donald Trump for Sharing Secret Intel With Lavrov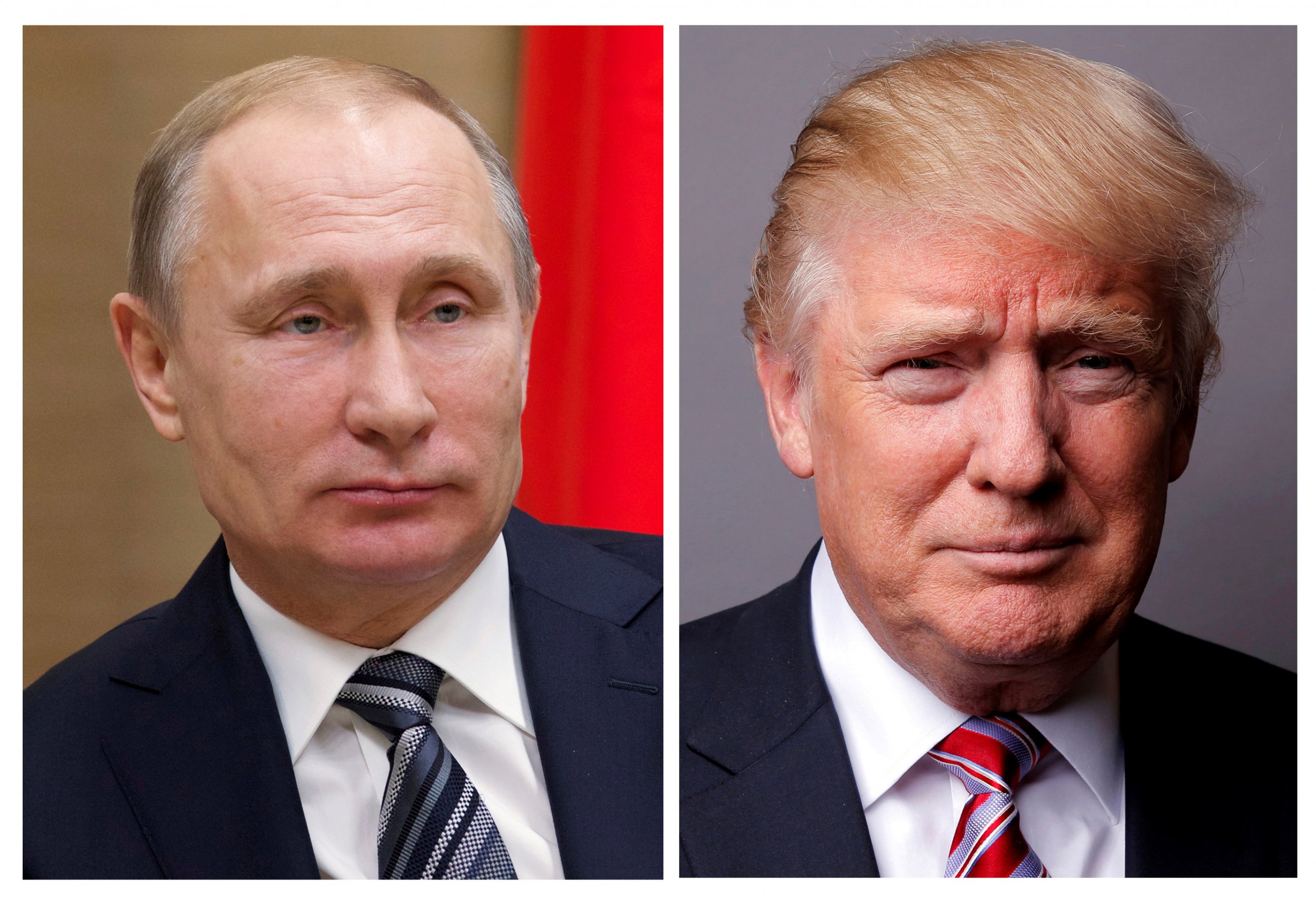 While President Donald Trump reportedly criticizes his own staff as "incompetent" following a barrage of controversies over the Russian election probe, James Comey's firing and beyond, Vladimir Putin and his Kremlin seems to be enjoying every minute of it all.
The Russian president openly mocked an encounter shared between Trump, Sergey Lavrov, the Kremlin's foreign minister, and Sergey Kislyak, the Russian ambassador, in which the president reportedly divulged highly classified intel to the Russian visitors in the Oval Office last week. Putin and Lavrov shared a laugh over the incident in a moment captured by Russian state-sponsored media that immediately went viral across the web.
Related: Can Trump be impeached for obstruction of justice?
Putin jokingly said his top diplomat needed to be punished because "he has not shared these secrets with us" during a meeting with Italian Prime Minister Paolo Gentiloni Wednesday, avoiding an outright confirmation or denial that the reported incident did, in fact, take place. He then said he'd be willing to provide transcripts of the exchange his officials had with the president to Congress, but only if Trump and his administration personally requested the documents be sent over.
"Not with me, not with representatives of Russia's special services, that's very bad of him," a smirking Putin continued, garnering the laughs and side-eye looks of several Kremlin officials toward Lavrov.
The foreign minister smiled back, chuckling at the brief exchange the same way he did when he stood next to his American counterpart, Secretary of State Rex Tillerson, as he was asked about Trump's decision to fire FBI Director James Comey just days after the head of the federal agency reportedly requested additional resources for the Russia investigation.
"Was he fired?" Lavrov quipped at a reporter last week while posing for a photo with Tillerson. "You're kidding!"
The two did not take any further questions from the media, and American reporters were not invited to sit in on Trump's meeting with Russian officials Friday.
Meanwhile, tensions on Capitol Hill are mounting after Trump seemed to undercut the White House's response to the Comey firing, saying that he was considering the "Russia thing" when he decided on termination. The New York Times also has reported that the president asked Comey to scuttle any investigation into former National Security Adviser Michael Flynn. Several Democratic politicians have since called for the president's impeachment, including Texas Congressman Al Green, who made the call for a House inquiry on the floor of Congress Wednesday morning. Republican Congressman Justin Amash also said Wednesday that if the New York Times' account is true, it constitutes grounds for impeachment.
Virtually every agency comprised within the U.S. intelligence community supports the claim that Russia performed a massive series of cyber attacks against last year's general election, hacking email servers for the Democratic Party and former Secretary of State Hillary Clinton's campaign. What the agencies have yet to formally agree on, however, is whether Russian officials working for Putin were attacking the election to sway the vote in favor of Trump, or whether his campaign was involved in any form of collusion with a foreign network.
For now, that's a question left up for debate—much to Putin's pleasure, it seems.