Vladimir Putin's Plane: Five Facts About Russian Air Force One As He Meets With Biden
Wednesday's meeting between President Joe Biden and his Russian counterpart Vladimir Putin in Geneva is the first time the two meet face-to-face since the former was sworn in in January.
It takes place following G7 and NATO summits in Britain and Belgium respectively
Both Biden and Putin have flown into Switzerland on their presidential planes. While there's little left unknown about Air Force One, its Russian counterpart is somewhat more obscure.
Here's a breakdown of five facts about Putin's presidential plane.
What model is the Russian presidential plane?
Vladimir Putin flies on a modernized and heavily modified Ilyushin II-96-300PU.
As per the designer's official website, the plane is a quadjet long-haul wide-body airliner—that is to say a plane powered by four jet engines and boasting a fuselage wide enough to accommodate two passenger aisles with seven or more seats abreast—designed by Ilyushin Aviation Complex and manufactured by the Voronezh Aircraft Production Association.
The four jet engines powering the plane are produced by Russian engine manufacturer Aviadvigatel and are also used on the Tupolev Tu-204 and Tupolev Tu-214 series, two of the most common commercial planes in Russia and broadly similar to the Boeing 757.
Designed in the mid-1980s, the Ilyushin II-96 first flew in 1988 and was first introduced on a commercial route by Russian airline giant Aeroflot in December 1992. The commercial version of the presidential plane entered service the following year.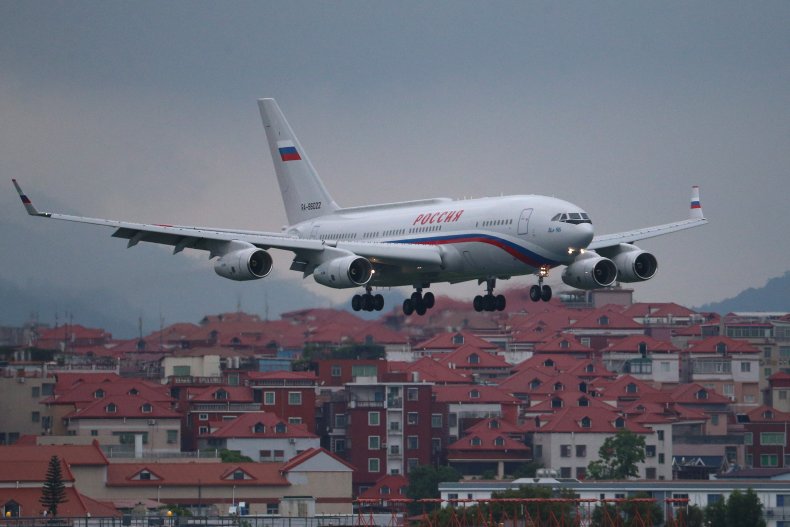 How does the Ilyushin II-96-300PU differ from normal planes?
While nearly identical to the traditional Ilyushin II-96-300, the Ilyushin II-96-300PU is different, not only by virtue of the "PU" letters that identify the presidential planes.
Like all presidential planes, the Ilyushin II-96-300PU is equipped with an advanced communications system and missile countermeasures. According to Simple Flying, the Russian presidential plane costs around $504 million.
The history of Ilyushin II-96-300 and Russian presidents
Putin isn't the first Russian president to fly on the Ilyushin II-96-300PU, which has been carrying Russian leaders since 1996, with Boris Yeltsin. In total, five modified II-96s have been used as presidential planes.
A second Ilyushin II-96-300PU was introduced in 2005, before then President Dmitry Medvedev announced in 2010 that he wanted to expand the fleet and two more aircraft were delivered in 2012 and 2014. The latest plane made its maiden flight just over two months ago.
Prior to 1996, Russian presidents had flown on Ilyushin Il-62, Tupolev Tu-154, and Yakovlev Yak-40 aircraft.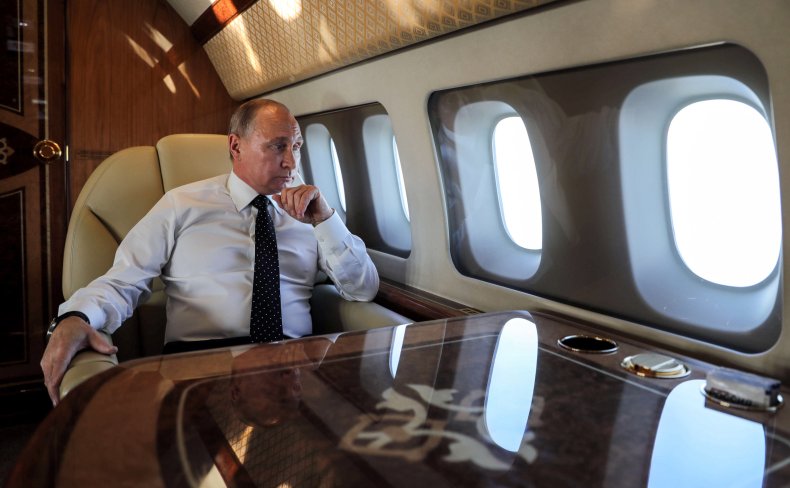 What is the color scheme?
At first glance, the presidential aircraft isn't too dissimilar from standard aircraft operated by Rossiya, one of Russia's oldest and largest air carriers and an Aeroflot subsidiary.
As is the case for Rossiya planes, most of the presidential airplane's fuselage, wings and tail are white. And, as Rossiya planes carry the Russian flag on the tail, the presidential plane also displays Russia's coat of arms of the Presidential Standard at the front.
The interiors, meanwhile, are inspired by Russian art and feature birch-wood furniture.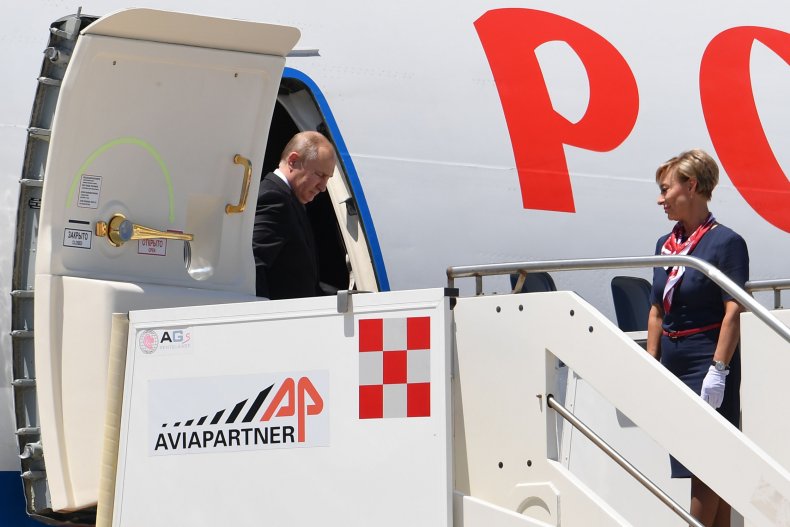 The golden bathroom controversy
Controversy over the plane's interiors erupted in 2007 when a blog published 30 leaked pictures that showed the aircraft was allegedly fitted with lavish golden bathrooms, as well as luxury areas for Putin's study, his aides and security personnel.
Speaking to Russian newspaper Kommersant, the man who claimed to have taken the pictures said he had emailed them to Russian intelligence services "to give them information."
Voronezh Aircraft, however, insisted the pictures portrayed the II-96-300PU that was used by former president Boris Yeltsin.