Vladimir Putin 'Proud' of UFC Fighter Who Started Brawl With Conor McGregor's Team, Watched Highlights on His Birthday
After the undefeated Ultimate Fighting Championship (UFC) fighter Khabib Nurmagomedov trounced his Irish rival Conor McGregor during a fight in Las Vegas on Saturday, he leaped over the fence and attacked one of McGregor's friends who was watching in a cage on the sidelines. The attack sparked a massive brawl that ultimately ended with the arrest of three of Nurmagomedov's supporters.
But instead of being a disgraceful ending to a successful performance, Nurmagomedov, a native of Russia's Republic of Dagestan, said Russian President Vladimir Putin was "very proud" of him.
"Putin just called me to say he is very proud of me, I win, and he says congratulation [sic]," he told reporters after the fight, adding that "I know my father going to smash me." The Dagestani professional fighter later apologized for having started the brawl but said it had been prompted by unacceptable insults about his religion and country as well as his father. The majority of people in Russia's Dagestan practice Islam.
Dagestan, an impoverished region where an Islamist insurgency has long battled against official security forces, is unaccustomed to receiving positive media attention. In 2013, following the Boston marathon bombings, the region gained some notoriety because bombing suspects Tamerlan and Dzhokhar Tsarnaev had spent time there. But over the weekend, international media reports showed people in Dagestan celebrating Nurmagomedov's victory. After all, he was the first Russian ever to win the UFC title.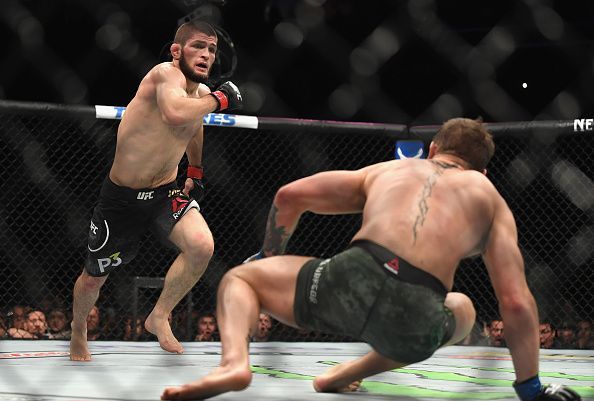 For the first time this year, the Kremlin dispatched a security official from Moscow to rule over Dagestan in an attempt to crack down on widespread violence there. The area had previously been ruled by an appointed clan leader from one of the small region's 30-plus ethnic groups.
The Kremlin later confirmed the reports that Putin, who had been watching the game on his birthday, had supported Nurmagomedov.
"Of course he rooted for Khabib. He's a Russian, after all; it's natural," Kremlin spokesman Dmitry Peskov told reporters, according to local media.
McGregor, however, had had a cozy relationship with Putin. The two met during the 2018 World Cup final in the summer and posed for a picture together. The Irish fighter has called Putin "one of the greatest leaders of our time."
Putin, who loves martial arts, has formed strange alliances with UFC fighters in the past. Jeff Monson, a former American UFC fighter, also received a personal phone call from Putin after he was badly defeated by one of Russia's most famous fighters, Fedor Emelianenko. The Russian broke Monson's leg during a fight in 2011.
Putin told the American he had demonstrated "the Russian spirit" by continuing to fight with a broken leg, Monson told Newsweek. Since then, the American has received Russian citizenship and become a city councilman in the Russian city of Krasnogork, a small city on the outskirts of Russia.
Vladimir Putin 'Proud' of UFC Fighter Who Started Brawl With Conor McGregor's Team, Watched Highlights on His Birthday | World