Vladimir Putin Invites Trump to Moscow, Says He Is Ready to Meet Again
Russian President Vladimir Putin heaped praise on President Donald Trump after their controversial summit in Helsinki—and topped it off with an offer to host the American president in Moscow.
Putin spoke at the BRICS summit in South Africa, weighing in on the unexpected invitation extended to him by the White House, despite a tide of criticism in the U.S. for Trump's performance in their previous meeting. Although Trump has since had to backtrack on some of the many remarks where he leaned closer to Putin's worldview than traditional U.S. policy, his press secretary nonetheless confirmed that Trump would like to invite Putin to Washington for another meeting in the fall.
The Russian leader was unanimously praised for his performance by Russia's state-dominated media and responded to Trump's statement with enthusiasm.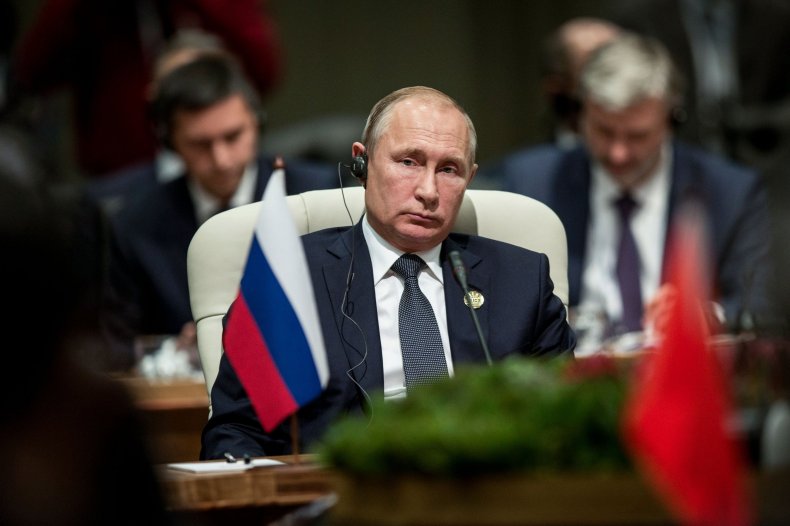 "A big plus of President Trump is the fact that he strives to fulfill his promises, specifically to voters—the American people," Putin said on Friday, according to state news agency RIA Novosti. "As far as a meeting is concerned, I understand perfectly well what President Trump said. He has the desire to hold more meetings. I am also ready for that," Putin announced. "We are ready to invite President Trump to Moscow. He has such an invitation, by the way. I have spoken to him about it."
Putin's remarks shed no new light on his possible trip the the United States in the coming fall, should it materialize. One logistical possibility for the trip may have included combining the visit to Washington with the United Nations General Assembly session to be held in New York in September, which Putin has not attended since 2015.
However, Putin's senior aide Yury Ushakov dismissed the idea that the Kremlin is planning a trip to the Big Apple for the event, state news agency Itar-Tass reported earlier this week.
The reciprocal invitation from the Russian leader to Trump was another example of Putin and his administration revealing details about the two presidents' talks in Helsinki that were not corroborated by Washington.
Read more: We don't trust Putin or Russia, Trump's ambassador insists after Helsinki
Trump's decision to hold a one-on-one meeting with Putin, with only translators present, resulted in the Kremlin repeatedly referring to "agreements" struck in the room—a word U.S. officials have had to walk back, as White House Press Secretary Sarah Huckabee Sanders said "the only specific agreement" made at the meeting was that national security officials should maintain channels of communication.
The White House has issued no formal readout from the meeting, and neither leader signed a communiqué summarizing their discussions.