Putin's Reshuffle Shows He Wants to Become Russia's 'Supreme Leader,' Former Chess Champion Garry Kasparov Says
Russian President Vladimir Putin's government reshuffle is merely a way for him to extend his control of the country beyond 2024—when term limits prevent him becoming president again—according to chess champion and pro-democracy activist Garry Kasparov.
Kasparov—a chess legend who has become a prominent anti-Putin activist since retiring from the game in 2005—said that the mass resignation of the Russian government on Wednesday indicated that Putin is consolidating his power as he builds the foundation to stay in power for longer than the country's constitution allows.
"Dictatorships require the illusion of total control and predictability," Kasparov wrote on Twitter. "Putin wants to make sure there are no doubts as to who's in charge through 2024 and beyond. As I wrote years ago, he wants to be Supreme Leader, not a mere president."
"Stop asking about the new dance Putin's Kremlin puppet show is performing," Kasparov added. "His intent to be dictator for life was clear over a decade ago and the only way he'll leave power is in a box, just like his idol Stalin."
Prime Minister Dmitry Medvedev and the rest of the government resigned Wednesday after Putin gave his annual state of the nation address. In the speech, Putin proposed amending the Russian constitution to weaken the power of the presidency and shift influence to parliament.
Putin said he wants to limit future presidents to two terms in office, introduce stricter residency limits on future candidates, and hand parliament the power to choose prime ministerial and cabinet candidates.
Putin is currently serving his fourth term as president. He has effectively ruled Russia since 2000, either as president or prime minister. The graphic below, provided by Statista, illustrates Vladimir Putin's run of power in office.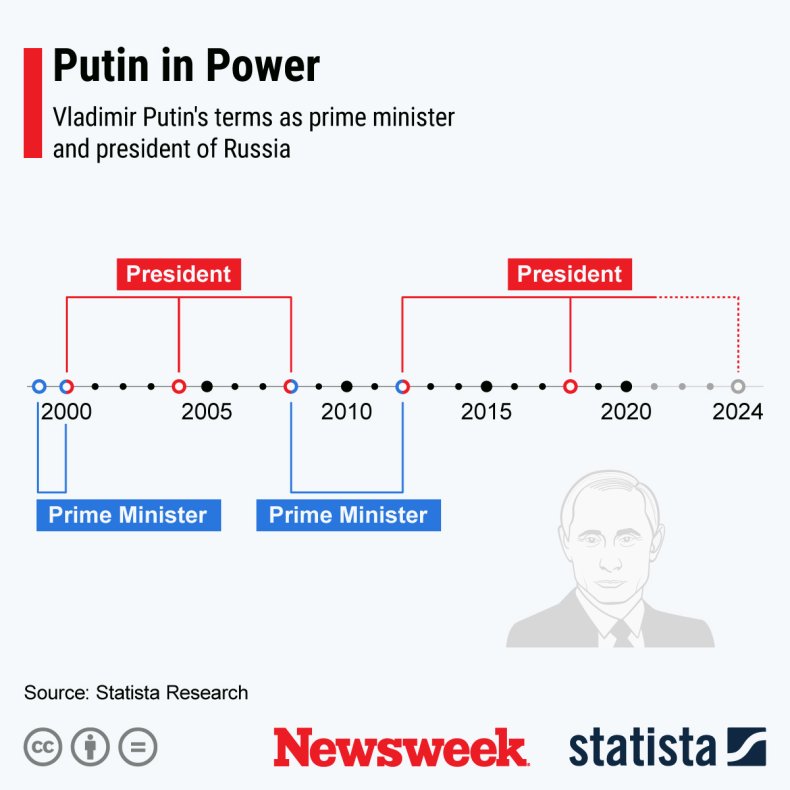 From 2008 to 2012, he became prime minister and handed the presidency to Medvedev because term limits meant he could not serve a third consecutive stint as president. Regardless, he was widely seen as the country's de-facto leader.
Medvedev was often listed as one of the few potential candidates to take the reins in a post-Putin Russia, but he has now been effectively demoted, to become deputy head of the security council.
Medvedev's personal brand and political standing has been damaged in recent years by allegations of corruption, and Putin appears to have finally cut him loose.
It was not clear whether Putin—now 67 years old—would try and stay in power after 2024 or if he would tap a successor and retire from public life.
The reshuffle—in which taxation chief Mikhail Mishustin was appointed prime minister—and proposed constitutional amendments could suggest that the president will choose the former option, but the means by which he will retain control remain uncertain.
Putin has announced a national referendum for his proposed constitutional changes. They appear designed to diminish whoever succeeds him as president, making the question of his successor less significant if the constitutional changes are pushed through.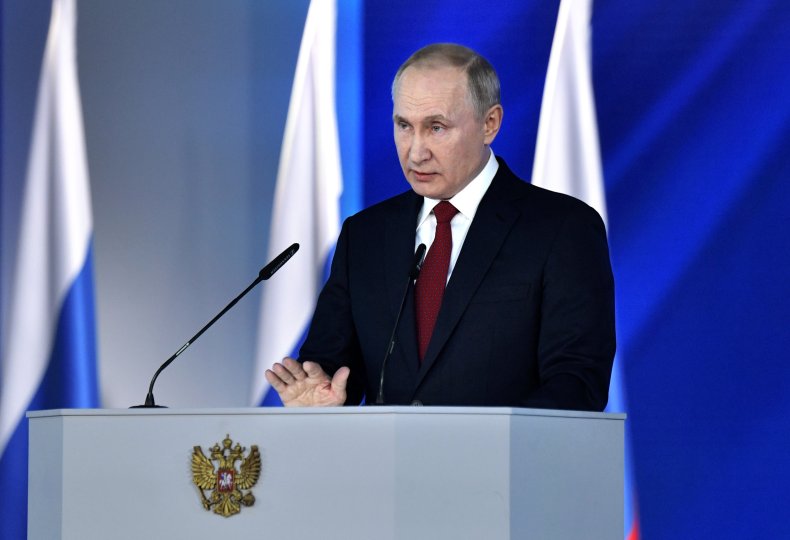 This article was updated to include an infographic.