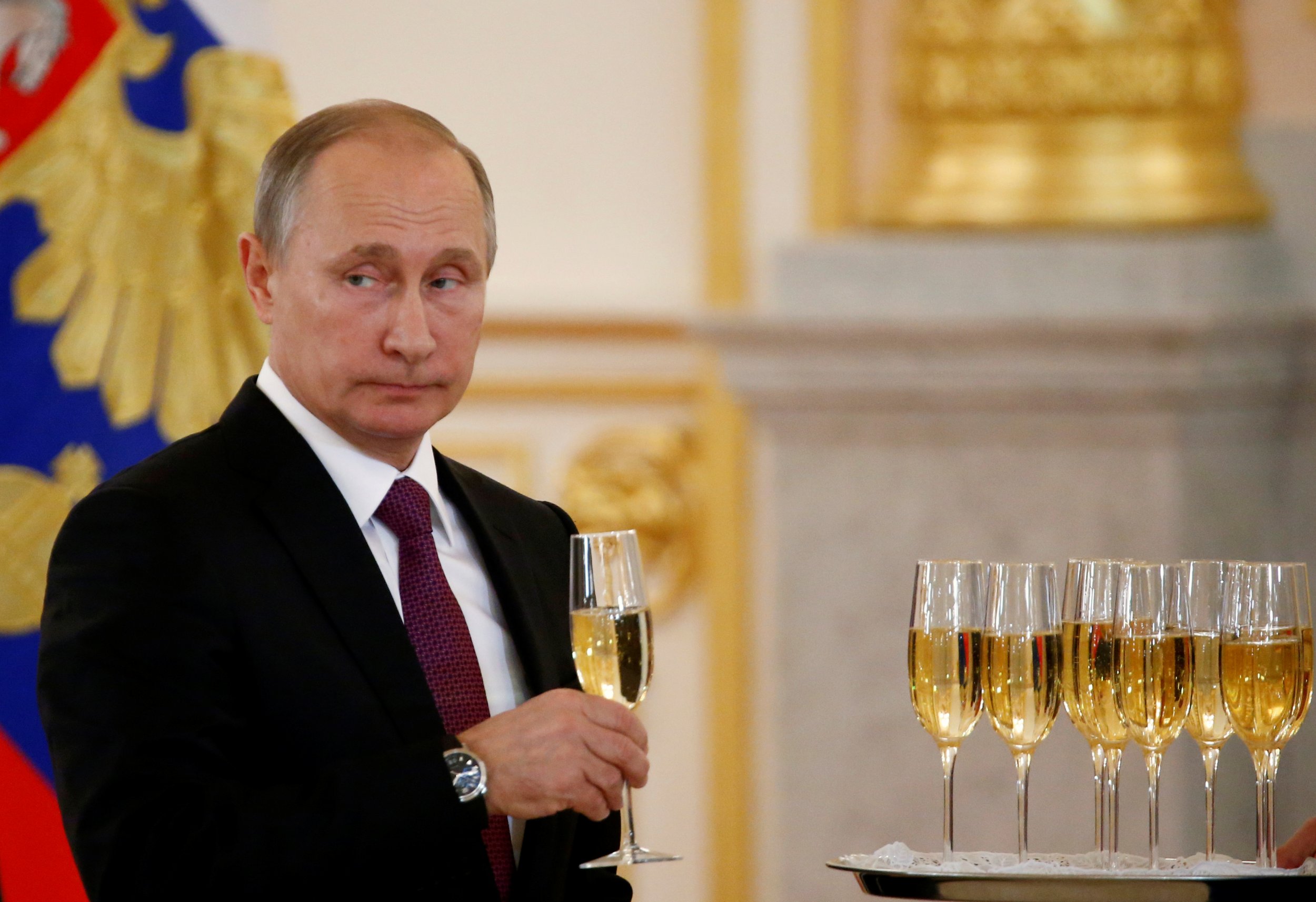 Russian President Vladimir Putin is ending 2016 on a high, with state polls showing his approval rating at nearly 87 percent—the highest it's been all year, and only three points off his all-time record. Despite Russia's financial crisis and controversy abroad, the Russian president continues to be personally the most trusted public official in the country.
However, the more the politics of post-Soviet Russia becomes about its ruler's personal charm, the more Putin has to be all things to all Russians. In 2016 he went from sporty to sensitive; from commanding to communicative; from grizzled outdoorsman to aureate intellectual. Here are some of the most notable of Putin's public relations acrobatics:
Putin Hits the Mat
Putin began his 2016 in a familiar setting—on the judo mat. The Russian leader, who said in December that judo was his "first love," is a long-time practitioner of three martial arts and has wasted few opportunities to remind everyone of his proficiency in the dojo. In January, while most Russians were still warming up leftovers from yesterday's Christmas dinner (Russians mark the holiday on January 7), Putin took on the national judo team aged 63.
After felling the coach of the team, Putin faced a stiffer challenge from 28-year-old black belt Irina Zabludina; he beat her in one round, only for her to even the score, hurling him on his back with his gi a mess and his belt sent flying to the side. Putin said after he bore no grudge towards the "pushy girl."
Hello, It's Vlad
In April Putin held his annual citizens' call-in show, a program that has become a mainstay for Russian TV state channels in the 16 years since Putin became president. The live show, once made in a rickety white-walled news studio where Putin answered questions by phone, was a chaotic spectacle of blaring LED screens filled in front of a live studio audience clapping at every opportunity.
2016's event felt like the Kremlin's mock up of Star Trek's USS Enterprise, complete with a brigade of young female anchors dressed in shades of red or blue, who moved from taking questions from viewers in the studio to bringing up pre-recorded video messages from every communication app imaginable.
Putin answered questions about eating porridge every day, but also laid into corrupt officials and refused to say whether he would save his Ukrainian or Turkish counterpart if they were drowning.
Putin Hits the Ice
One of the president's more recent sporting passions is ice hockey: in 2013, he attended the second ever instalment of Russia's Night Ice Hockey League in 2013 as a spectator, before joining a team as a player. In May, he led a team of ex-professional hockey players to victory against a team of Russian businessmen, scoring in both halves. The game was not a perfect performance for the leader, however, as he took a tumble on the ice —though this didn't make it into the match's highlights reel.
Unhurt, Putin proved more than capable of raising the trophy for his team in the end. In spite of the accolade, he was keen to prove his modesty, saying before the game, "let's not call what I do playing."
Putin Heads to the Beach
Putin is infamous among Kremlin officials for not having much downtime on a daily basis, let alone taking an official holiday. So when he visited a Russian youth club on the beaches of annexed Crimea in the summer, he looked more than a bit out of place. Not exactly a socks and sandals scale faux pas, but given his penchant for shirtless photo ops, his business suit on the beach cut an awkward enough figure.
Russia's Most Eligible Bachelor
Every fall Moscow marks its city holiday, commemorating the first mention of its name in historical chronicles. In September the city shelled out millions for a massive parade and firework display to celebrate its 869th birthday and Putin was part of the show. While walking through the Red Square before festivities, Putin was apparently ambushed by a group of young brides, shrieking and asking for a selfie. More than happy to oblige, Putin embraced the young women, who were suspiciously gathered together in their bridal gowns with no grooms in sight.
Before long, Russian news sites identified some of the would-be brides on social media, some of whom had been posting images from rehearsals for this not-so-coincidental meeting with Putin in central Moscow. Local newspaper Moskovsky Komsomolets called them the "fake brides" of the Red Square, claiming the women were actors, while opposition activist Leonid Volkov called some of the women "prostitutes."
Putin and Medvedev Go Fishing
In the same month, Putin's detractors took issue with another one of his photoshoots, this time set far from the steps of the Kremlin in the wilderness of Novgorod region, north of Moscow. Here he and Prime Minister Dmitry Medvedev appeared for photo opportunities dressed in their finest camping gear. The two joined a group of fishermen aboard their boat, before sitting down with them for a rustic meal around a campfire. The countryside getaway was stranger still, given that it came during the run-in for Russia's parliamentary elections, which the Kremlin went to great pains to portray as democratic beyond doubt.
Bloggers quickly started picking the images of the two officials apart, focusing particularly on one fresh faced fisherman whose appearance and wardrobe did not quite match the grizzled, seaman archetype. His shiny watch looked a tad too expensive for the average Russian, let alone for wearing during hard work on deck.
Putin Hits the Hay
For any fans of Putin's shirtless horseback riding photoshoot in the Siberian Tuva region, 2016 was a year of disappointment. The closest the president came to his 2009 publicity heyday over the last 12 months was during October's visit to Orenburg region, when he visited the local horse reserve.
The reserve houses the Przewalski's horses—a breed that is nearly extinct in the Russian wild. Putin took his time to feed the stubby-legged animals and though he never set foot in any stirrups, he still made a strong fashion choice, donning a camouflage uniform, and riding off into the steppes on a buggy.
Putin's Interview Goes to the Dogs
It was probably a sense of politeness that convinced two Japanese journalists to ask Putin how his Japanese Akita dog is doing, ahead of their visit to the Kremlin in December. And it was arguably a lack of any sense at all that convinced the president's team that he should enter the interview, kickstarting his final foreign visit of the year, with the dog in his stead.
Yume, the 2-year-old Akita, was confused and instantly fascinated with the camera crew and photographers in the room, and began a barrage of barking, as the two interviewers stood wearing their most patient smiles for nearly three minutes. The dog fired some barking at the journalists too, before receiving some treats from Putin and being escorted from the room, still barking at the crew on her way out.
"They told me you wanted to see Yume," Putin smiled, after the dog had left the room. "I showed her to you. She is in great shape. You were right to be scared, because she's a no-nonsense dog."
Missed Opportunities
Although starting the year on the judo mat, Putin made no appearance at the Rio 2016 Olympic Games in August, where he usually follows the martial arts medals and attended the judo final at the previous two games.
In December he avoided joining in on the grappling when visiting Japan's Kodokan Institute for martial arts, and he is yet to square off against Aikido practitioner Steven Seagal, whom he granted Russian citizenship in November.