Vladimir Putin Running Out of Options as Ukraine Gains Ground
Vladimir Putin's botched mobilization, alleged sabotage of Europe's gas supply and annexation of Ukrainian regions his forces do not fully control have raised questions over what the Russian leader will do next.
The cheering crowds in Red Square marking the seizure of the partially occupied Ukrainian regions jarred with images of thousands trying to flee Russia to avoid mobilization.
Within a day of Putin's declaration that the Luhansk, Zaporizhzhia and Kherson regions were Russian, enshrined by referendums the U.S. has labelled a "sham", Ukrainian forces said they had surrounded the City of Lyman in Donetsk oblast, which according to the Russian leader, is another extension of Moscow's sovereignty.
The annexations to consolidate politically what may be difficult to hold militarily point to Putin feeling increasingly cornered, according to Lawrence Freedman, author of Command: The Politics of Military Operations from Korea to Ukraine.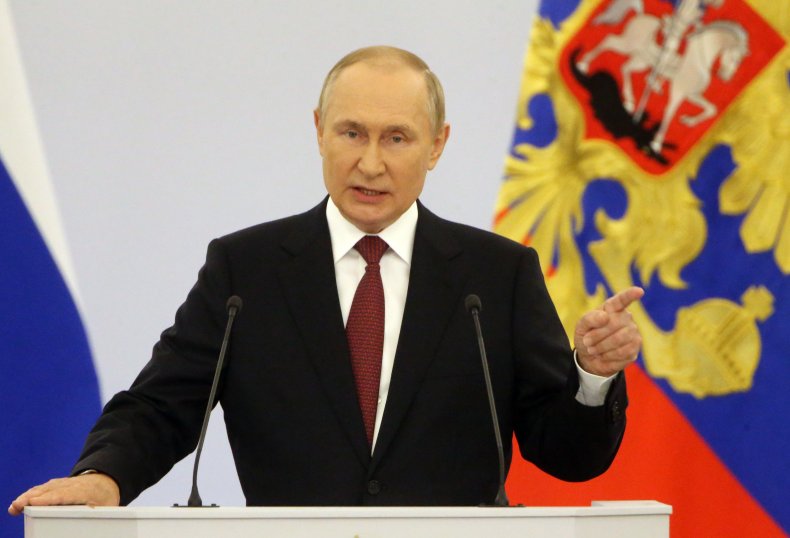 "In terms of diplomacy, it complicates things, because the expectation now is that he has to withdraw from territory that is claimed as being Russian, as opposed to territory that he had acknowledged as being Ukrainian," he told Newsweek.
"If he has to climb down in the end, it makes it even worse because he has since raised the stakes without having the means to hold on to the territory he's claiming," he said, "I think it's pretty desperate stuff."
Freedman believed that until the Kharkiv offensive in which Kyiv's forces made lightning gains, Putin had thought his troops could push on and that Ukrainian troops did not have the capacity to turn things around themselves.
"So he has thrown everything that's available at the problem," said Freedman, including mobilizing 300,000 reservists, a process beset by mistakes as well as the "sabotage of pipelines."
The European Union suspects that the Nord Stream 1 pipeline between Russia and Germany was deliberately targeted. The Kremlin has denied involvement with Putin instead blaming Western adversaries.
Putin had hoped that "somehow Ukraine will be delivered to him by the West because we want to get out of the door, or that the Ukrainians will will stagger back," said Freedman, "but none of that is working."
Meanwhile, Putin admitted to mistakes being made in his effort to call up at least 300,000 reservists to join his invasion of Ukraine. This followed criticism of the process—not of the president himself—by Russian state media after reports that older and sick conscripts were drafted.
Freedman, who is emeritus professor of war studies at King's College London, said that the annexation has tied Putin's hands diplomatically, without offering him an advantage militarily.
"If the Ukrainians finish off what they seem to be doing in Lyman, then there's quite a bit of Luhansk opened up to them and this is the only bit that he thought he'd secured," Freedman said.
"He's running out of options and the coming weeks are important because we'll have to see if he's able to find a way of turning it round."
Newsweek has contacted the Russian Foreign Ministry for comment.
Marie Dumoulin, Director of European Council on Foreign Relation's (ECFR) Wider Europe program, said that Putin was banking on fears of a nuclear escalation would lead the West to pressure Ukraine to negotiate.
But the annexation leaves little space for negotiation for either side because Kyiv cannot let Russia define where its territory ends while Putin cannot consider giving it back.
"We are probably entering a very dangerous phase of the conflict," she told Newsweek. "Ukraine will continue to fight and hopefully succeed in taking back its territories, but it is very unlikely that Putin may accept defeat.
"The mobilization is part of an escalation strategy, but by mobilizing Putin is doubling down and raising the stakes," Dumoulin said.
Former U.S. ambassador to Ukraine and senior director of the Eurasia Center at the Atlantic Council, John Herbst said that one of Putin's goals could be to stop the West from sending Ukraine heavy weaponry like tanks, fighter jets and long-range artillery systems.
This would be "a tactical win" for Putin by giving him "breathing room to fight another day," Herbst said in a media statement emailed to Newsweek.
Some see Putin as daring Ukrainian President Volodymyr Zelenskyy to continue the war while facing a veiled nuclear threat, some military experts have doubted that Putin would resort to such weapons because they would not deliver him a strategic advantage.
"I just can't see just how you would begin to use nuclear weapons in this situation to turn the tide of war as opposed to some coercive role," Freedman said.
Although NATO is supporting Ukraine, the alliance is taking pains to hold to its current restraint of avoiding direct involvement, which Putin understands. "As soon as a nuclear weapon is used, then that restraint is over. Russia is in no fit state to fight a war with NATO—it can't even fight a war with Ukraine."