Russians' Trust in Vladimir Putin Falls to Record Low: Poll
At a time when unprecedented protests in Russia's far east have posed a challenge to the Kremlin, a poll has suggested that Russians' trust in President Vladimir Putin has fallen to a record low.
Some of the demonstrations in the city of Khabarovsk since July 10 following the arrest of the regional governor Sergei Furgal, and Putin's appointment of Mikhail Degtyarev to replace him have attracted as many as 40,000 people.
A poll by the independent Levada Center was conducted asking Russians to identify the politician they trusted the most. Respondents were given a list of 16 people, including Putin, and were asked to "name five or six politicians, or public figures, whom you trust the most."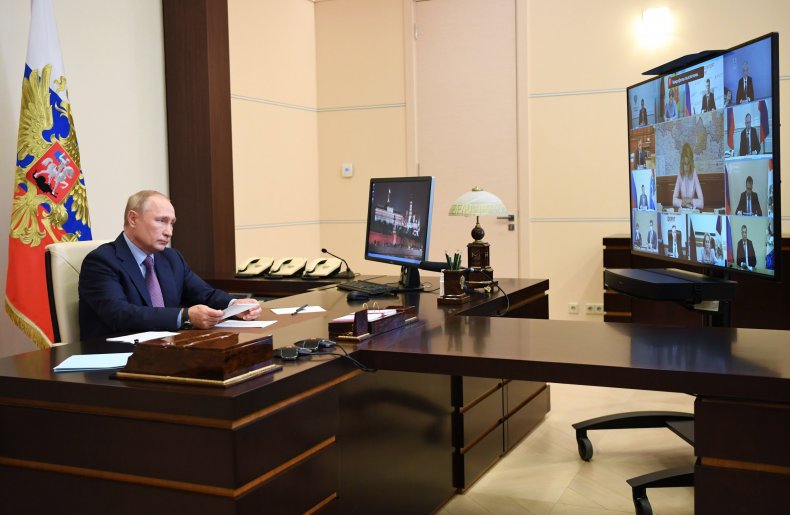 Less than a quarter, or 23 percent, named Putin, which is two points less than the previous lowest figure of 25 percent in May. It was the lowest figure provided by the pollster dating to November 2017, when he was considered the most-trusted politician by 59 percent of respondents.
However, Putin was ahead of all other politicians who all polled 10 percent. These were the prime minister Mikhail Mishustin, defense minister Sergei Shoigu, and leader of the Liberal Democratic Party (LDPR) which Furgal and Degtyarev belongs to, Vladimir Zhirinovsky. Furgal polled at three percent.
In a separate question, some 60 percent of respondents said they approved of Putin's presidency, which was slightly higher than the record low of 59 percent recorded in May at the height of the coronavirus shutdown.
Meanwhile, 42 percent of respondents said they agreed the country was going in the right direction, and 40 percent said it was going in the wrong direction, in figures that stayed relatively stable throughout the year.
The poll carried out on July 24 and July 25 of 1617 adults aged over 18 across the country, had a margin of error of 2.4 percent.
Putin's appointment of Degtyarev, 39, as an interim governor was seen by many as disenfranchising an electorate that had voted for Furgal who is extremely popular in the region which borders China. A poll earlier this week by the Levada Center found that 45 percent of Russians approved of the protests.
Nikolay Petrov, senior Research Fellow on the Russia program at the Chatham House think tank said that the protests pose a problem for the Kremlin.
"They cannot not demonstrate their weakness but it is hardly possible to use brute force if there are 40,000 people on the street" he told Newsweek.
"Even if it were possible, it can have very negative consequences. What they are trying to do is to find some kind of compromise, in order not to lose face but at the same time, to stabilize the situation."
Polls this year have shown a degree of discontent with the way that Putin has handled the coronavirus, which has been compounded by an economic slump that was already occurring before widespread shutdowns.
He devolved the disease response to governors but his latest move to appoint a new governor in the teeth of opposition is at odds with previous moves to delegate responsibility to the regions.
"We are going to see discontent mounting over other situations, and the way the government is dealing with the economy and COVID and everything else," said Anna Arutunyan, Russia analyst and author of The Putin Mystique.
"Does this pose an existential threat to the Kremlin, I don't think so. Is this a symptom of a society in flux? Then definitely," she told Newsweek.