Putin Says NATO Ignored Russian Pleas to Reduce Military Activity During COVID
Russian president Vladimir Putin has said that NATO ignored Moscow's request to conduct less military activity during the coronavirus pandemic, although he boasted that Russia's nuclear capabilities render futile any attempt to pressure his country.
In a meeting in the southern city of Sochi with the heads of his defense ministry and chiefs from Russia's military industrial complex, Putin said that flights and operations by the alliance had increased during the crisis.
Russia has long complained about the build-up of NATO forces on its western borders and dubbed drills, such as alliance maneuvers in the Barents Sea in June this year as "provocative."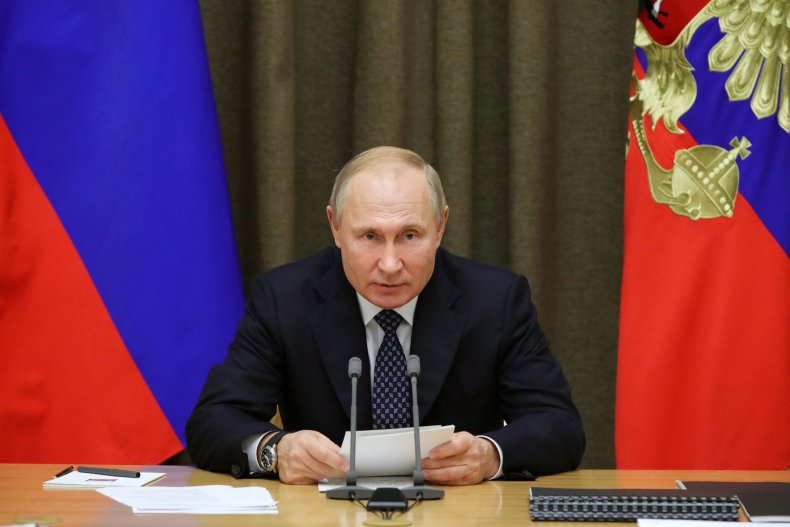 According to news agency Tass, Putin said on Tuesday: "The alliance did not react at all to our proposal to reduce military activity during the pandemic. In fact, the intensity of aviation flights and operations of the fleets of NATO countries only increased."
Putin also told military leaders about his concerns about the U.S. approach to the potential use of nuclear weapons, which posed a risk for Russia. He said the "American nuclear doctrine" puts in place the possibility of using nuclear weapons in response to the use of non-nuclear weapons.
"At the same time, the conditions for their use of nuclear weapons are not specified at all, and Russia is directly declared as the main military adversary, which is by the way, absolutely groundless," Putin said, according to news agency Tass.
However Putin said that Russia's nuclear capabilities on land, sea and air would render useless any attempt to put pressure on his country and he touted the development of new missile and aviation systems for the army and navy.
He referred to the Avangard hypersonic missile system, the latest Yars intercontinental ballistic missile complexes and the advanced Borei-A lead nuclear-powered submarine.
"It is the nuclear triad that remains the most important, key guarantee of Russia's military security, and more broadly, global stability," Putin said.
"Maintaining such a balance of forces nullifies the threat of a large-scale military conflict, in fact makes any attempts to blackmail or pressure our country senseless," the president added, although he said that Russia does not "intend to be drawn into an exhausting arms race."
The Kremlin is weighing up what a new president will mean for Washington's approach to Moscow, with rumors of a NATO summit early on in the administration of President-elect Joe Biden, which would signal his commitment to the alliance, CNBC reported.
Also in the in-tray for Biden regarding Russia will be the New Strategic Arms Reduction Treaty (START), which places limits on deployed nuclear warheads and expires in February 2021.