Vladimir Putin Has a Strange Smell, Number of Oddities—Fiona Hill
Former adviser to President Donald Trump, Dr. Fiona Hill has recalled an engagement where she sat next to Russian President Vladimir Putin, commenting on his behavior and appearance.
While speaking on BBC Sounds' Desert Island Discs show, Hill recalled a dinner she attended while working for the U.S. Government as a national intelligence officer.
She remarked that she was seated so close to Putin that if she reached out she would touch him and commented on the image Putin attempted to project.
Hill also spoke about how the Russian leader smelt, as well as his decision not to eat or drink anything and his potential need for glasses.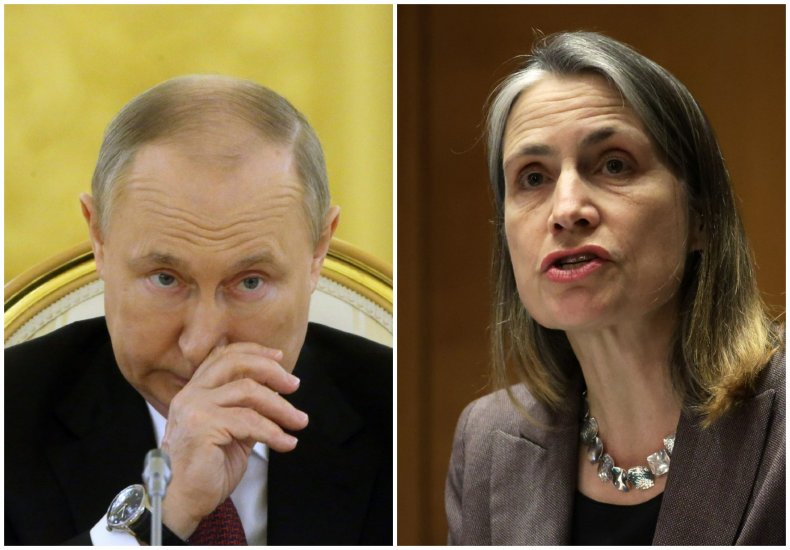 "I took in the suits, one of the finely tailored suits, the way that the little vein pulses on the left hand side of his face," Hill said to the host, Lauren Laverne, on May 8.
"I noticed right away that, like the rest of us, he really could have done with glasses because he had these giant cards. I could read them all, cards telling him who was who and what he should say and things like this.
"I noticed he didn't eat or drink anything. I watched the watch on his wrist, very expensive.
"Now this sound really bizarre, but I could smell that he was freshly laundered, he wasn't wearing cologne but it was almost like he had stepped out of some special preparatory bath or something into the moment.
"He was just all in command of himself projecting this image, I thought 'wow, look at this.'"
"All of this is staged, every little element of this is staged, this is a performance."
Hill was also asked if she said anything to Putin and said that she didn't as the Russian leader "barely gave her a glance."
Hill has also spoken about the ongoing conflict between Russia and Ukraine and what lengths Putin would go to in order to secure victory.
Hill, who is also a former senior director for European and Russian affairs on the National Security Council, spoke on the Times Radio podcast in late April about the ongoing war in Ukraine.
At one point, Hill was asked to what extremes she believed Putin would go in Ukraine following the invasion in late February and whether he would use nuclear weapons.
"Of course he [Putin] would. And the thing is, he's already rhetorically done it, right?" Hill said.
"He's put us in a position that we've never been before with the Soviet Union and Russia, even going back to the Cold War when we knew that part of the military doctrine was to use military weapons and biological and chemical weapons, as well, in extreme circumstances in the context of an existential threat to the Soviet Union, which there isn't right now to Russia."
Newsweek has contacted the Russian Ministry of Foreign Affairs for comment.