Mystery Man Seen With Putin on Victory Day Sparks Succession Rumors
Rumors about a potential replacement for Russian President Vladimir Putin were sparked due to his actions during the Victory Day Parade in Moscow on May 9.
Videos of Putin speaking to a man during the parade have begun circulating on social media with some speculating that this man would one day replace the Russian leader.
Ukrainian race car driver Igor Sushko shared the clip, which has over 45,000 views, on his Twitter page. He claimed that the man Putin was speaking to was named Dmitry Kovalev.
"The young man with whom Putin had a long and frank conversation on Red Square is the head of the presidential administration department Dmitry Kovalev," he tweeted.
Newsweek has not been able to independently verify if this is the true identity of the man. In his tweet, Sushko also said that the identity was still unconfirmed at this time.
"Rumors immediately began to swirl that he could be Putin's hand-picked successor," Sushko added.
News-focused Telegram page Baza, also made the claim that Putin is talking to Kovalev and that he is a potential successor to the leader.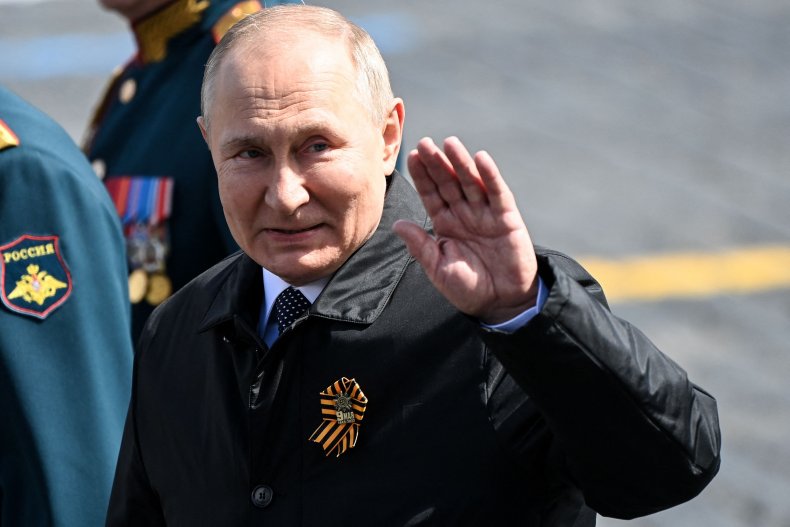 "'Baza' found out the identity of a young man who talked about something with Vladimir Putin after the end of the Victory Parade," the page said in a Telegram post, according to a translation by Google. "During the live broadcast, the camera [caught] their conversation. Some Telegram channels suggested that the young man is a future successor."
The Telegram post also shared other pictures of the person that spoke to Putin and gave details about Kovalev.
"Dmitry Kovalev is walking next to Putin, he is 36-years-old, and according to [Baza], he is in charge of one of the departments of the Presidential Administration," the post continued. "There are a lot of photos from hockey on Kovalev's page. It is possible that he met Putin on the common theme of love for this sport."
Putin has publicly shown his love of hockey and on his 63rd birthday in 2015, he lead a hockey team of retired stars against a team of amateurs at the Olympic ice rink in Sochi.
While Putin has not publicly announced he will be stepping down as Russian leader, there has remained constant speculation about his health.
Multiple rumors have been spread that he may have Parkinson's disease or cancer, due to his behavior during video-recorded engagements.
The Kremlin has denied such speculation, but it hasn't stopped observers from probing small details in videos of Putin holding meetings.
However, it's not only Putin who has been subject to such scrutiny. For decades, political leaders in high office have been caught up in health speculation for even slight details, such as when Richard Nixon was seen sweating under studio lights during a TV debate with John F. Kennedy in 1960 or when Donald Trump sniffled during a debate between himself and Hillary Clinton in 2016.
Newsweek has reached out to Russia's Foreign Affairs Office for comment.