Vladimir Putin Says He Rejected Offers of a Body Double When Asked by Interviewer If He Was the Real President
Russian President Vladimir Putin says he rebuffed offers of a decoy for his own safety while the country was in the throes of fighting terrorism at the start of his leadership.
In a filmed interview with the state-run news agency Tass, Putin said that he had been given the offer during the early 2000s when Russia was engaged in a bitter fight against Islamist separatists in the second Chechen war.
The interviewer, Andrei Vandenko, handed Putin an iPad and asked him to look at what were the most searched terms linked to his name. After the president read out, "Putin lookalike proof", Vandenko said he liked that question and asked him, "Are you the real Putin?"
The president replied "yes" before Vandenko went on to ask, "Do you have a double?"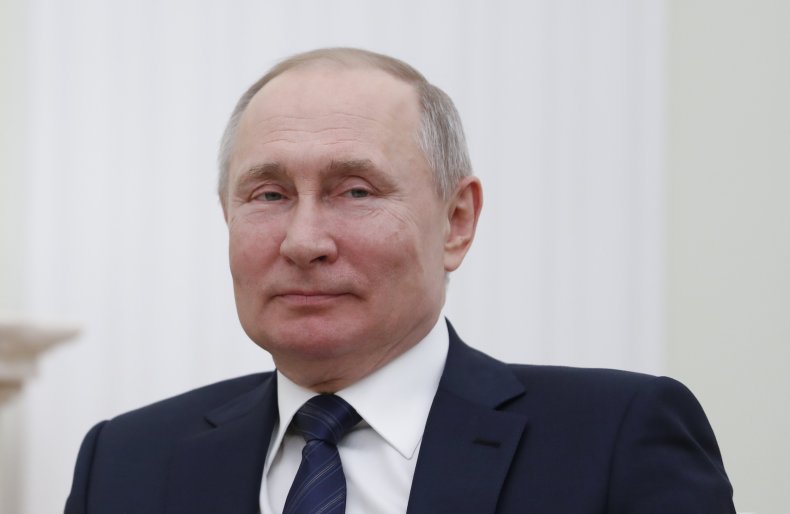 Putin said: "I discarded the idea of any doubles. This was during the toughest time of our war against terrorism," agreeing with the interviewer's follow-up question that this was "at the beginning of the 2000s."
Vandenko asked whether the intention was for the double to go where things were dangerous, with Putin replying, "well yes, go, put in appearances."
Body doubles were used by Soviet leaders such as Joseph Stalin and Leonid Brezhnev and there has been much speculation about whether Putin has ever used them. Tass noted that Putin was asked whether he had a decoy during a televised question-and-answer session in 2001.
The previous year, the then head of Russia's federal bodyguard service, the FSO, dismissed rumors that Putin had a decoy, saying that would be akin to admitting there were shortcomings in the president's protection, Tass reported.
In 2015, Putin disappeared from public view for 10 days which prompted speculation about health issues or even that he had been ousted from power by the army, Reuters reported.
The latest interview was part of a five-part series by called "20 questions with Vladimir Putin," which marked his two decades as the country's foremost politician, although as he did point out, he has not been president the whole time, serving as prime minister for four years.
The end of Putin's second consecutive term allowed under the Russian constitution ends in 2024 and in January, he proposed constitutional changes widely seen as a way for him to try to hang on to power after that. He said the country will vote on April 22 on a raft of constitutional changes.
Putin argues that his proposals aim to boost the country's parliament, but they open up the prospect of being used to start a new count, with his former top adviser Vladislav Surkov saying according to the Associated Press: "The logic of law makes it necessary to start a new count of presidential terms."
This month, pro-democracy campaigner Lyubov Sobol told Newsweek that Putin's intention is to hold onto power. "Putin doesn't want to leave the office. I think he wants to be in power and be the head of state until his end of life," she said. Newsweek has contacted the Kremlin press office for comment.